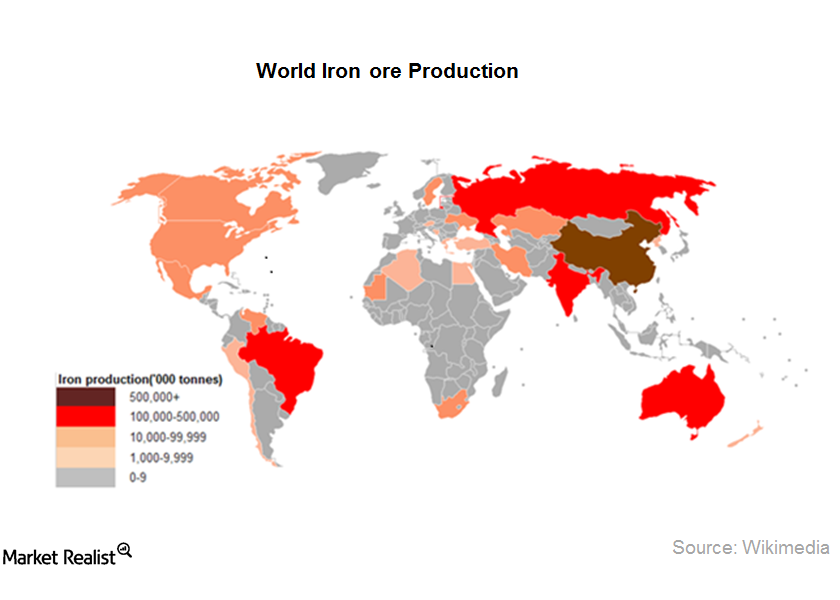 Must-know: The basics of iron ore
The basics of iron ore
Iron ore is the fourth most abundant element on the earth's crust after oxygen, silicon, and aluminium—it forms about 5% of it. It's present in the form of rocks and minerals from which ore can be extracted. It's most often found in the form of hematite and magnetite deposits, although goethite, limonite, and siderite deposits are also common. These deposits vary with the percentage of the iron content present. More content means better quality ore, less cost, and less time consumed during the iron extraction.
Article continues below advertisement
Article continues below advertisement
Hematite has the highest iron ore content of 70%. This type of deposit is most abundant in Brazil, Australia, and some parts of Asia—mainly China and surrounding areas. Major producers Rio Tinto (RIO) and BHP Billiton (BHP) mine from deposits in western Australia, which is rich in iron content. Vale (VALE) also has exposure to high content hematite deposits in the Minas Gerais area which lies in southeast Brazil. However, Cliffs Natural Resources (CLF) is exposed mainly to magnetite deposits in North America. These companies form close to 18% of the iShares S&P Global Materials Sector Index Fund (MXI).
Prior to the industrial revolution, most of the iron ore was mined directly from hematite deposits. However, rising demand for the ore and depleting hematite deposits led to the development of low-grade iron ore sources like magnetite and goethite. Lower grade sources require beneficiation, using techniques like crushing, milling, separation, and froth flotation to improve the concentration of ore and remove impurities.
Production
Total production of iron ore is about two billion metric tons. Australia and Brazil dominate the seaborne trade—iron ore is shipped to other countries—with a 72 % market share. Although China is the largest producer of iron ore, it's also the largest importer, followed by Japan and Europe.
Iron ore is a raw material that is used to make pig iron, which in turn is used to make steel along with other raw materials like coking coal and lime. 98% of the mined iron ore finds its way in steel production. We'll talk more about steel, its uses, and how it impacts the overall supply-demand equation in the following sections in this series.