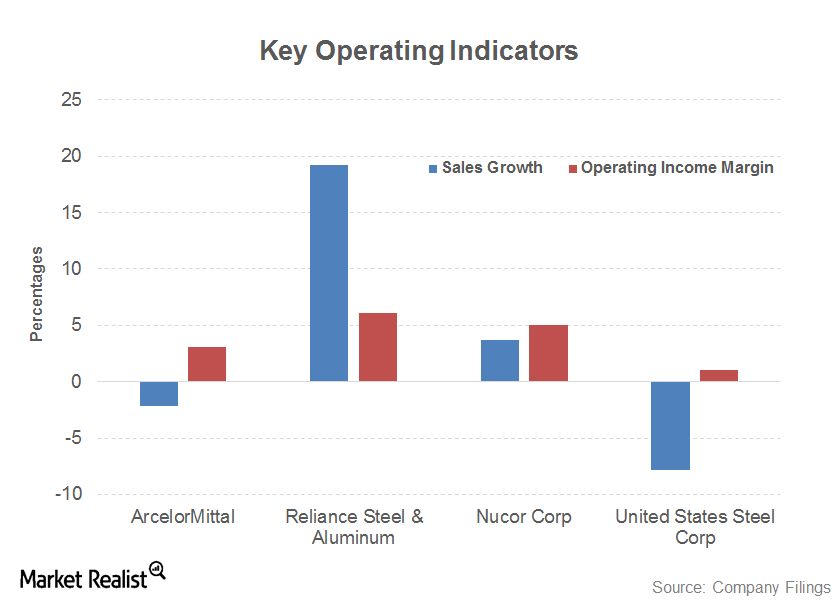 Must-know: ArcelorMittal's competitive landscape
ArcelorMittal's competitive landscape
ArcelorMittal (MT) faces competition from global steel producers and U.S. based steel companies like United States Steel Corporation (X), Nucor Corporation (NUE), and Reliance Steel & Aluminum (RS). Steel is basically a commodity business, so there isn't much difference in products. Lately, the focus of steel producers has been to develop franchises or specially branded steel for key users. However, the competition has been fierce. The industry has been operating at less than optimal capacities, so there have been efforts by steel companies to garner market share.
What has been the comparative performance of ArcelorMittal?
Article continues below advertisement
Article continues below advertisement
In order to compare ArcelorMittal's performance to its peers in the U.S., we look at two metrics—sales growth rate and operating margins. The previous chart shows that the sales growth last year was negative for ArcelorMittal. This was caused by a slowdown in its European operations. The operating margins are also low compared to other U.S. peers with the exception of United States Steel Corporation.
What are the switching costs in the steel industry?
Since the products are similar, the switching costs aren't very high for buyers. Steel forms a major cost for consumers like construction and automobiles. As a result, their profitability is quite sensitive to steel prices. Companies look to optimize their input costs, which reduces the pricing ability of ArcelorMittal.
Automotive solutions: The strength of ArcelorMittal
You've seen in our previous article that about one fifth of global car production is made with steel from ArcelorMittal, while it produces only 6% of global steel. This shows its technological leadership in products used in manufacturing of cars, vans, and trucks. With a global network of 11 research centers, its research and development engineers work with car-makers to develop products which are lighter yet stronger than existing products.
Working closely with its partners in automotive industry, it has developed a set of automotive steel solution named "S in motion" which makes cars lighter without compromising on safety. This helps in reduction of carbon emissions while ensuring that stringent safety standards are met.
An investor who is interested in the steel industry can consider the SPDR S&P Metals and Mining ETF (XME).