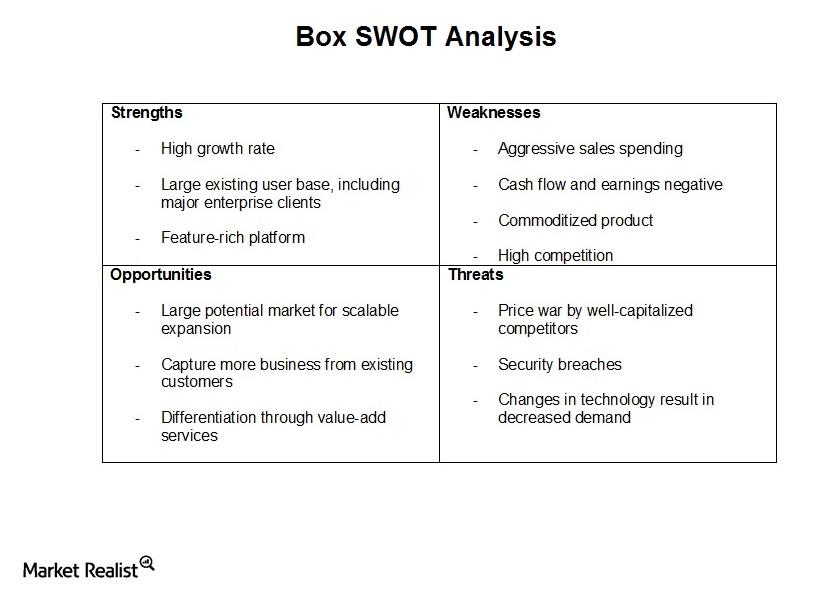 Must-know: An analysis of Box's threats
Box's threats
Box's (BOX) threats include its well-capitalized competitors, a potential security breach, and customer attrition.
Price war from competitors
Well-capitalized competitors such as Google (GOOG), Amazon (AMZN), and Microsoft (MSFT) could initiate a price war or put more resources into their cloud storage platforms and cause customer attrition. These competitors can afford to lose money on this service for a long time if they choose to do so. They could possibly operate this service at a loss indefinitely with cash from their other sources of revenue. However, this is Box's main business. The company can't afford to compete indefinitely on price alone. These large cap companies are components of exchange-traded funds (or ETFs) such as the SPDR S&P500 Trust (SPY).
Security breaches
Security breaches (like what happened with Target) could potentially be disastrous to the Box brand, especially because it's responsible for the safekeeping of sensitive customer data. As a company, Box is known for its privacy and security.
Changes in technology
Box was created due to changes in the way users store and collaborate on files. It's possible that other technological changes could decrease the demand for cloud-based storage and file management.
Article continues below advertisement
Article continues below advertisement