Jeffrey Ubben's ValueAct Capital buys a new stake in Symantec
ValueAct Capital initiated a new position in Symantec Corp. (SYMC) that accounts for 1.14% of the fund's first quarter portfolio.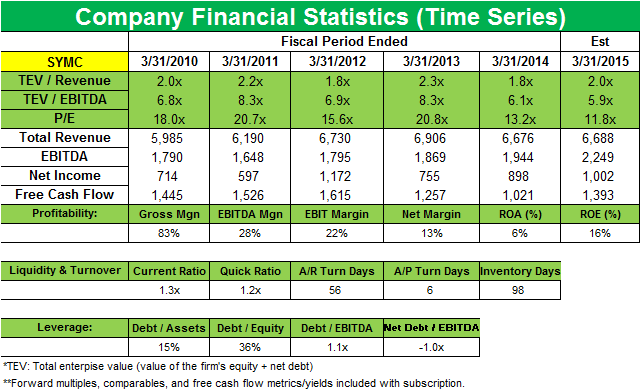 ValueAct Capital and Symantec
Jeffrey Ubben's ValueAct Capital Management acquired new positions in Symantec Corp. (SYMC) and Expeditors International of Washington Inc. (EXPD). Although no positions were sold, the fund trimmed a position in Micros Systems Inc. (MCRS). Notable position increases included Microsoft Corp. (MSFT) and MSCI Inc. (MSCI).
ValueAct Capital initiated a new position in Symantec Corp. (SYMC) that accounts for 1.14% of the fund's first quarter portfolio.
Article continues below advertisement
Article continues below advertisement
Symantec is one of the leading providers of security, backup, and availability solutions. It has three operating segments: User Productivity & Protection, Information Security, and Information Management. These operating segments are strategic business units that offer different products and services distinguished by customer needs. Symantec believes that the market for security and management solutions will benefit from upcoming trends such as the emergence of the Internet of Things and transformations due to mobility and an explosion of data resulting in the need for a new approach to protecting devices, applications, data, and users.
Symantec sees interest from activists and private equity
Shares went up after the disclosure of ValueAct's stake in Symantec. A Reuters report in April noted ValueAct's interest in Symantec amid news that the antivirus maker's CEO, Steve Bennett, had been fired. The report added that Symantec has also attracted interest from private equity firms, including Bain Capital, Blackstone Group LP, and Carlyle Group LP. Reuters added that the company has hired JPMorgan for advice on strategic options and defense against activism.
Article continues below advertisement
A Market Realist report in April noted that Symantec, which makes security software and computer-storage systems, is struggling with growing revenue amid stagnating PC sales. Due to a slow pace of innovation and the absence of growth initiatives, the antivirus maker is seeing intense competition from new players in the security products space, such as FireEye (FEYE), Palo Alto Networks (PANW), and the privately held Lookout Inc., which are more capable of combating sophisticated security threats. Companies including Intel's (INTC) McAfee (now Intel Security), Cisco (CSCO), and IBM (IBM) are consolidating their position in the security software space via acquisitions.
Symantec, known for its Norton antivirus software, was in the midst of a turnaround dubbed "Symantec 4.0" under former CEO Bennett. News reports have speculated that Bennett was fired because Symantec's turnaround has taken longer than expected and the company has failed to accelerate on product innovation and growth initiatives.
Symantec signals a shift in its strategy
Symantec's senior vice president for information security recently told the Wall Street Journal that antivirus "is dead," signalling a broader shift in the company's cybersecurity strategy. The effort is now to identify hackers before they create damage instead of creating systems that keep them out. In January 2013, Symantec announced its strategy to transition from being device-centric or protecting endpoints and the data center to having a broader focus of protecting and managing digital information.
FQ4 2014 results topped estimates, but revenue declined
Article continues below advertisement
Article continues below advertisement
The antivirus maker's FQ4 2014 results beat estimates on earnings while revenue was in line with expectations. The company posted $1.6 billion in revenue, a 7% fall from the same quarter the year before. Non-GAAP operating margin was 27.3%, up 320 basis points, resulting in non-GAAP earnings per share of $0.47, up 7% year-over- year. Non-GAAP net income was $329 million, up 4% year-over-year. For fiscal year 2014, GAAP revenue was down 3% to $6.68 billion. Management attributed the results to "better performance from our sales teams and cost reductions."
Symantec said in its 10K filing that User Productivity & Protection segment and Information Management segment revenue fell due to the realignment of sales personnel into new and renewed teams as part of the "Symantec 4.0" turnaround effort. Its Domestic and International revenue fell year-over-year in fiscal 2014. The company was cited in its SEC filing as saying, "Asia Pacific and Japan region experienced the largest net revenue decrease followed by Americas, while the EMEA region experienced net revenue growth for fiscal 2014 as compared to fiscal 2013. The Asia Pacific and Japan region revenue declined primarily due to foreign currency translation adjustments resulting from the weakening of the Japanese yen compared to the U.S. dollar, while we experienced favorable foreign currency effects in the EMEA region."
Symantec's guidance was lackluster. For fiscal 1Q2015, it expects revenue of $1.65 to $1.69 billion, compared to $1.71 billion in the same period a year ago. GAAP diluted earnings per share are expected between $0.31 and $0.33, compared to $0.22 in the same period a year ago.
Symantec will return "significant capital to shareholders"
Symantec ended the quarter and fiscal year with cash, cash equivalents, and short-term investments of $4.08 billion compared to $4.75 billion, a decrease of 14% year-over-year. During the fiscal year 2014, the company repurchased 21 million shares at an average price of $23.87, equivalent to $500 million. It also declared a quarterly cash dividend of $0.15 per common share. The company said it will "continue to return significant capital to shareholders while maintaining a strong balance sheet."