Singer's Elliott Management sells its large position in NetApp
Elliott Management disposed of a large position in NetApp Inc. (NTAP) last quarter. The position accounted for 10.03% of the fund's 4Q 2013 portfolio.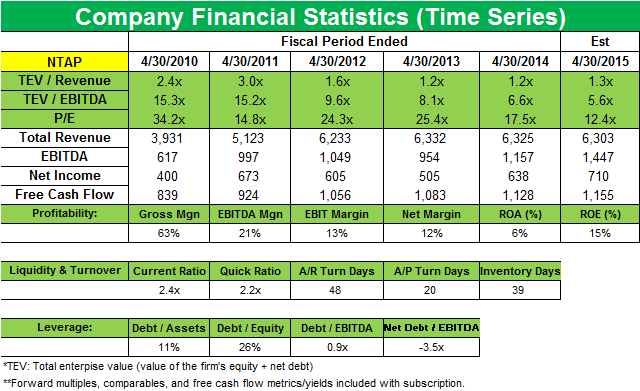 Elliott Management and NetApp
Paul Singer's Elliott Management added new positions in Boyd Gaming Corp. (BYD), SM Energy Co. (SM), and Hornbeck Offshore Services (HOS) and sold stakes in NetApp Inc. (NTAP) and Time Warner Inc. (TWX). A notable position reduction for the fund was Delphi Automotive (DLPH).
Elliott Management disposed of a large position in NetApp Inc. (NTAP) last quarter. The position accounted for 10.03% of the fund's 4Q 2013 portfolio.
Article continues below advertisement
Article continues below advertisement
NetApp is one of the leading providers of innovative storage systems and data management solutions. Its unified FAS storage platform based on NetApp Data ONTAP software offers integrated protection, data management, and built-in efficiency for virtualized shared infrastructures and business applications. Its E-Series platform, featuring SANtricity storage management software, offers high-performance, reliable, scalable, and space-efficient storage for demanding workloads with an optimized price-to-performance ratio.
NetApp sees an activist push from Elliott Management
NetApp shares rose in May of last year after Elliott disclosed a 5% stake in the company. A Bloomberg report noted that Elliot founder and activist investor Paul Singer is pushing management to explore options to increase shareholder value and to make changes to its board. NetApp said in May that it increased its stock repurchase program by $1.6 billion to $3 billion and expects to complete the repurchase in the next three years. It also initiated a quarterly cash dividend of $0.15 per share.
Article continues below advertisement
The company said in March that it has initiated a business realignment plan that will be implemented through the end of the first quarter of fiscal 2015 and will include changes to its worldwide headcount. As part of the business realignment plan, NetApp expects to reduce worldwide headcount by approximately 600 employees. This is in addition to the 900 layoffs announced last May, which were attributed to the pressure Singer exercised.
Revenue falls on the back of weak demand
The data storage company has witnessed a decline in its sales in recent quarters due to weak demand for its storage products and increasing competition. For fiscal 4Q 2014, the company missed revenue estimates but beat on earnings. Net revenues fell to $1.649 billion from $1.72 billion last year. GAAP net income for the fourth quarter of fiscal year 2014 was $197 million, or $0.59 per share, compared to GAAP net income of $174 million, or $0.47 per share, for the comparable period of the prior year. Net revenues for fiscal year 2014 was flat year-over-year at $6.325 billion.
Article continues below advertisement
Article continues below advertisement
NetApp's core storage products revenue declined 8% year-over-year to $1.04 billion, while software revenues were flat at $227 million. Service revenue was up 8% to $378 million. Branded revenue grew 6% sequentially but was relatively flat on a year-over-year basis. OEM revenue declined 30% sequentially and 34% from 4Q 2013. A Bloomberg report cited an internal memo and reported that IBM has ended a nine-year OEM relationship with NetApp. IBM expects to formally withdraw from selling new N-series systems in a move to market its own storage products. The report further said IBM was one of NetApp's largest OEM customers, with sales representing about 2% of overall revenue.
NetApp trims its outlook
The company trimmed its outlook for 1Q 2015 and expects non-GAAP earnings of $0.53 a share to $0.58 a share on revenue of $1.42 billion to $1.52 billion. Management said on the earnings call, "This sequential decline reflects our typical Q4 to Q1 seasonal revenue dynamics as well as conservatism around OEM business in light of our Q4 results and our future expectations given the business conditions impacting certain OEM customers."
NetApp ended fiscal 2014 with approximately $1.1 billion remaining in its share repurchase program. It declared a quarterly dividend of 0.165 per share, which management said, "Reflects our confidence in the business, our consistent ability to generate healthy domestic cash flow and our ongoing commitment to generating shareholder value."
NetApp's products see competition from storage system products and data management software from Dell, EMC, Hitachi Data Systems, HP, IBM, and Oracle Corporation. The company is also seeing competition from newer entrants in storage such as Nimble Storage (NMBL), Fusion-io (FIO), Pure Storage, and Nutanix.