Must-know: The key risks Expedia faces and its new initiatives
Travel expenditures are sensitive to personal and business-related discretionary spending levels and tend to decline or grow more slowly during economic downturns.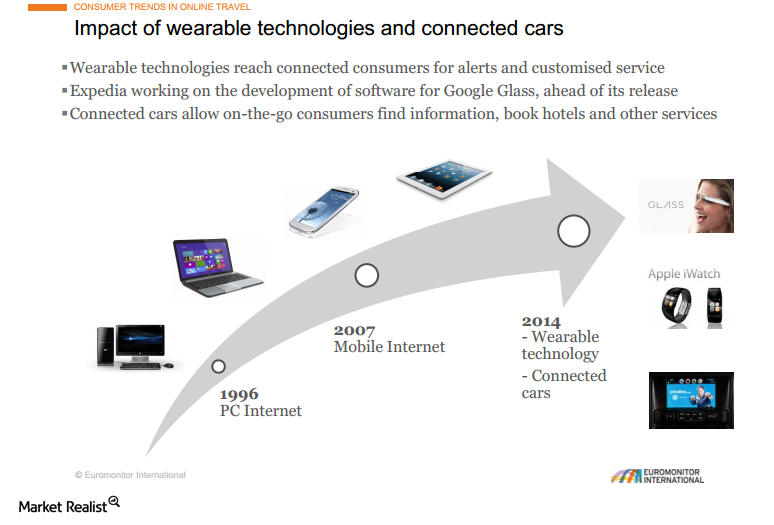 The key risks for Expedia
Apart from the looming threat of competition from online travel agencies such as Priceline (PCLN), Orbitz Worldwide (OWW), TripAdvisor (TRIP), Travelzoo (TZOO), and traditional travel agents, Expedia (EXPE) faces a number of key risks.
The company operates in a cyclical industry and an economic downturn is a key risk. Travel expenditures are sensitive to personal and business-related discretionary spending levels and tend to decline or grow more slowly during economic downturns. Decreased travel expenditures may reduce the demand for Expedia's services, causing a reduction in revenue. Sovereign debt and economic issues in several European countries, the shutdown of the U.S. government in the recent past, worry over extending the debt ceiling in the U.S., and the concern about the impact of the pullback in the U.S. Federal Reserve's quantitative easing program, are all examples of events that contribute to a somewhat uncertain economic environment impacting the travel industry.
Article continues below advertisement
Article continues below advertisement
Expedia depends on Google (GOOG), TripAdvisor (TRIP), Yahoo (YHOO), and other metasearch websites that attract travelers via pay-per-click, display advertising campaigns, and generate traffic for Expedia's own sites. These search engines could alter algorithms leading to lower traffic for Expedia's websites. In January 2014, Expedia's shares fell after page rankings dropped 25% for travel-related searches on Google. Bloomberg cited search-engine research firm Searchmetrics and said that Google is penalizing the company for so-called "unnatural links" to Expedia.com that are posted on many travel blogs and other websites.
According to PhoCusWright's U.S. Online Travel Overview Thirteenth Edition: Hotels & Lodging, supplier websites are also a bigger threat as they are increasing their dominance over OTAs in every segment except cruise. In 2012, supplier websites accounted for 64% of online sales as compared to 36% for OTAs, and are expected to represent 66% of online sales in 2015.
Expedia's success also depends on its ability to adapt its services and infrastructure to meet rapidly evolving consumer trends and demands while continuing to improve the performance, features, and reliability of its service in response to competitive service and product offerings. The emergence of alternative platforms such as smartphone and tablet computing devices and the emergence of niche competitors who may be able to optimize products, services, or strategies for such platforms requires new and costly investments in technology. New developments in other areas, such as cloud computing and software, can also make it easier for competition to enter the company's markets due to lower up-front technology costs.
Article continues below advertisement
In the past several years, Expedia has made key investments in technology, including significant development of its technical platforms, to deliver innovations at a faster pace. It launched global platforms for Hotels.com and Brand Expedia, to increase the innovation cycle, and improving conversion and driving faster growth rates, for those brands. Expedia redesigned its homepage recently with a focus on mobile devices. The company also unveiled three new features in its mobile app designed to aid customers through the travel planning process: Flight Recommendations, Scratchpad, and Itinerary Sharing. Expedia last year signed an agreement to power the technology, supply, and customer service platforms for Travelocity-branded sites in the U.S. and Canada. Lazard Capital Markets analyst Jake Fuller estimated last year that the deal is expected to add more than $300 million in annual revenue for Expedia. CEO Dara Khosrowshahi also told Telegraph in an interview last year that Expedia is developing software for use in Google Glass.
There are a number of other common risks that are applicable to all online travel agencies such as termination of relationships with travel suppliers and travel distribution partners, political risks and terrorism threats, foreign exchange risks, and payments-related risks, including credit card fraud.