Why Greenlight started a new position in Lam Research Corporation
Greenlight disclosed a new position in Lam Research Corporation, which accounts for 1.01% of the fund's 1Q 2014 portfolio.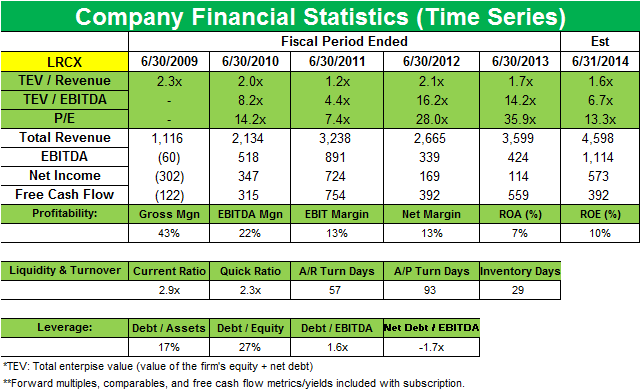 Greenlight's interest in Lam Research Corporation
David Einhorn's Greenlight Capital initiated new positions in Conn's Inc. (CONN), American Capital Agency Corporation (AGNC), National Oilwell Varco (NOV), and Lam Research Corporation (LRCX). Notable increased positions included SunEdison (SUNE) and General Motors (GM) was a top disposal.
Greenlight disclosed a new position in Lam Research Corporation (LRCX), which accounts for 1.01% of the fund's 1Q 2014 portfolio.
Article continues below advertisement
Article continues below advertisement
Lam Research is a global supplier of innovative wafer fabrication equipment and services to the semiconductor industry. It designs, manufactures, markets, refurbishes, and services semiconductor processing equipment used in the fabrication of integrated circuits. It offers a broad portfolio of complementary products that are used in several areas of the semiconductor manufacturing process flow, including plasma etch, thin film deposition, photoresist strip, and wafer cleaning. Its customers include semiconductor manufacturers that make memory, microprocessors, and other logic integrated circuits for a wide range of consumer and industrial electronics.
Lam Research is the market leader in plasma etch, a highly critical process step that selectively removes materials from the wafer to create a device's features and patterns. In fiscal year 2013, Samsung Electronics Company, Ltd., SK Hynix Inc., and Taiwan Semiconductor Manufacturing Company, Ltd., collectively represented ~46% of total revenues of Lam Research.
Shares surged post 3Q 2014 earnings, as results topped street estimates. Net income was $164.4 million or $0.96 per share, compared to $19.0 million or $0.11 per share for the year-ago quarter. Revenue for the third quarter increased 45%, to $1.23 billion from $844.93 million a year ago. Gross margin grew to 43.2% from 40.2% year-over-year, but decreased sequentially due to unfavorable product mix, as well as approximately $5 million in costs was incurred in the March 2014 quarter for rationalization of certain product configurations.
Article continues below advertisement
Shipments increased 11% compared to the December 2013 quarter and 41% compared to the March 2013 quarter, as customer demand for semiconductor equipment increased, particularly for the memory market. It noted that memory shipments continued at a healthy pace, and that "DRAM upside compensated for a slightly softer NAND spending." Lam said it expects planar NAND node conversion spending to represent the majority of NAND investments for the full year. Foundry comprised 28% of total system shipments, and included shipments for FinFET (3D transistor structure) pilot production. It said it is benefiting from the transition to the 20 nanometer node in DRAM and expects 25% of total wafer fabrication investments this year to be directly associated with inflection technologies including 3D NAND, FinFET devices for foundries, multi-patterning, and advanced packaging. It continues to forecast wafer fabrication equipment spending at approximately $32 billion in 2014.
For 4Q 2014, Lam expects revenue of $1.24 billion, plus or minus $50 million, and adjusted earnings of $1.21 per share, plus or minus $0.07 per share. It recently announced a $1 billion capital return program and a $850 million share repurchase authorization with execution currently planned over the next two years' timeframe. It also declared a first ever quarterly dividend of $0.18 per share, equivalent to an annual yield of approximately 1.27%.
According to a Nomura analyst, "DRAM manufacturers are accelerating their transitions to 25nm and 20nm. In addition, NAND suppliers are moving to 15/16nm, while Samsung is pushing for second-generation 3D NAND, which in particular represents a substantial opportunity for Lam." Lam's primary competitors in the etch market are Tokyo Electron Limited (TOELY) and Applied Materials, Inc. (AMAT).