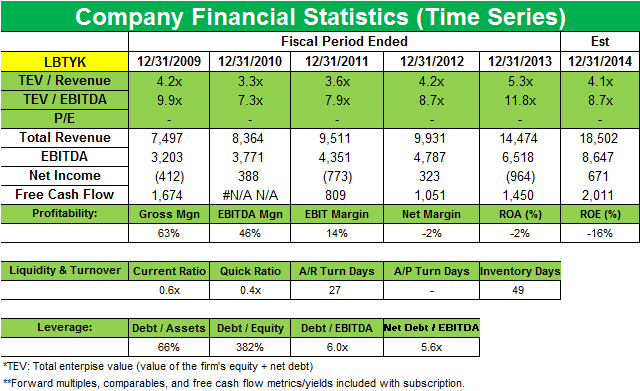 Warren Buffett's Berkshire Hathaway ups its Liberty Global stake
Berkshire Hathaway and Liberty Global
Warren Buffett's Berkshire Hathaway started a new position in Verizon Communications (VZ) and upped its holdings in Liberty Global Plc-Series C (LBTYK), Wal-Mart Stores Inc. (WMT), International Business Machines Corp. (IBM), and DaVita Healthcare Partners (DVA). The positions the fund trimmed included Phillips 66 (PSX) and General Motors Co. (GM).
Berkshire Hathaway added to its position in Liberty Global PLC (LBTYK) last quarter. The position now accounts for 0.57% of Berkshire's 1Q 2014 portfolio, up from 0.25% last quarter.
Article continues below advertisement
Liberty Global PLC is an international provider of video, broadband Internet, fixed-line telephony, and mobile services with consolidated operations at December 31, 2013, serving 24.5 million customers across 14 countries. Through Virgin Media Inc. and Unitymedia KabelBW GmbH, each a wholly owned subsidiary, and Telenet Group Holding NV, a 57.4%-owned subsidiary, the company provides video, broadband Internet, fixed-line telephony and mobile services in the United Kingdom, Germany, and Belgium. Through UPC Holding BV, the company provides video, broadband Internet, and fixed-line telephony services in nine European countries and mobile services in three European countries.
Liberty Global drives cable consolidation in Europe
Billionaire John Malone's international cable company, Liberty Global, has been on an acquisition spree. Liberty and Vodafone (VOD) have been driving consolidation in the cable industry in Europe amid rising demand for "quad play," which are bundled packages of fixed-line phone, mobile, TV, and Internet services. Liberty agreed in January to acquire Dutch broadband provider Ziggo NV (ZIGGO) in a stock and cash transaction valuing Ziggo at approximately $13.7 billion, and it expects to merge Ziggo with its wholly owned Dutch cable operator, UPC, to compete against Dutch telecommunications company Royal KPN. With approximately 2.5 billion euros in total revenue, the combined company will be a leading provider of communication services across the Netherlands. Liberty recently announced a joint venture with Discovery Communications to acquire All3Media, the largest independent production group in the U.K. for $930 million. For the fiscal year ended in August 2013, All3Media recorded revenues of approximately 505 million pounds. A Bloomberg report noted Liberty has spent around $50 billion over consolidation in the European cable industry in the recent past.
Philippe Laffont, founder of Coatue Management, recently said that Liberty could see its stock price increase more than $100 per share. Laffont believes Liberty Global could be an acquisition target for Vodafone (VOD), according to news reports.
Liberty revenue increase driven by Virgin Media
Article continues below advertisement
Liberty said its 1Q 2014 revenues was up 70% to $4.53 billion, driven by a gain in subscriptions and also due primarily to the inclusion of Virgin Media, which was acquired last year. The company reported a net loss of $79 million or $0.10 per basic and diluted share for 1Q 2014, compared to a net loss of $1 million in 1Q 2013, driven to a large extent by realized and unrealized losses on derivative instruments. The cable company added over 235,000 Internet revenue generating units or RGUs in 1Q, driven by continued demand for broadband speeds. It launched mobile services in Switzerland, introduced new and improved quad-play offers in the UK, and expanded WiFi-spots in Belgium and the Netherlands to over 1.5 million locations. The company expects to continue to launch MVNO and WiFi services in more markets and expand its footprint.
Liberty Global believes in driving shareholder value
Since its formation in 2005, Liberty said it has repurchased more than $10 billion of its equity and its stock has significantly outperformed the broader market. In January, it authorized a $1.0 billion increase to its two-year $3.5 billion stock repurchase program, bringing its total program to $4.5 billion. In January, the board approved a stock dividend of one Liberty Global Class C ordinary share on each outstanding Class A, Class B, and Class C ordinary share.