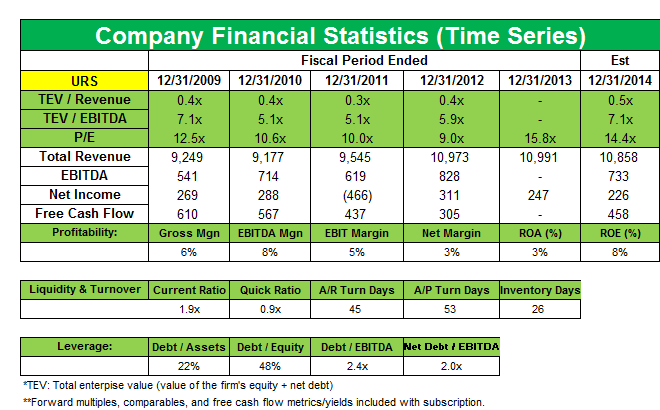 Rosenstein's JANA Partners buys an activist stake in URS Corp.
JANA Partners and URS Corp.
Barry Rosenstein's hedge fund JANA Partners disclosed a new position in URS Corp. (URS) at the end of February 2014. URS is an international provider of engineering, construction, and technical services.
A 13D filing indicated that JANA owned 9.7% of URS, with 7,288,663 shares acquired at an aggregate purchase price of approximately $345.9 million. In the filing, JANA indicated its intentions to talk with URS management regarding the composition of the board, capital structure, corporate structure, and other matters impacting shareholder value creation. The fund further requested that the board delay the deadline to nominate board members.
Article continues below advertisement
A 13D filing in mid-March showed that JANA cut down its position in URS to 9.4%, with 6,745,623 shares. The fund said it has entered into a cooperation agreement with the company under which URS will increase the size of the board to 14 members. URS said in a release that it will add JANA's nominees to the board and recommend that its stockholders vote to elect these nominees at its 2014 shareholder meeting. Moreover, the board will establish a Value Creation Committee to evaluate all options for enhancing shareholder value. This committee will engage an investment bank to conduct a strategic review, engage a cost consultant to analyze costs, and review management's compensation structure. JANA will also have a say in the selection of URS' new CEO, who will succeed current CEO Martin M. Koffel.
Rosenstein said, "We have appreciated our constructive dialogue with Martin Koffel and his team. We share their view that the company is significantly undervalued, particularly given its strong cash flows and the valuable work Martin and his team have done over many years to ensure that URS is well-positioned to meet the needs of its clients. I am confident that the addition of four highly-qualified directors and the formation of the Value Creation Committee will help unlock this value for all shareholders."
Article continues below advertisement
URS offers a broad range of program management, planning, design, engineering, construction and construction management, operations and maintenance, and decommissioning and closure services to public agencies and private sector clients around the world. It provides its services through four reporting segments, namely Infrastructure & Environment, Federal Services, Energy & Construction, and Oil & Gas divisions. Its expertise focuses on five market sectors: federal, infrastructure, oil & gas, power, and industrial. URS is a major contractor to the U.S. federal government and national governments of other countries, and it serves a wide variety of government departments and agencies. Within the federal market sector, URS has multiple contracts with its two major customers: the U.S. Army and the Department of Energy (the DOE). The Federal segment accounted for 34% of total 2013 revenue.
URS beat Street estimates, but revenues for the fourth quarter of 2013 were down to $2.7 billion from $3.0 billion in the fourth quarter of 2012. Diluted EPS were $0.26, compared to diluted EPS of $0.95 in the same quarter last year. In the preliminary announcement made in February, management said they were disappointed with the company's fourth quarter financial performance, which fell significantly short of expectations. Execution issues in URS' new Oil & Gas Division, which were identified during a review of the fourth quarter of 2013, led to a significant deterioration in project earnings. It also experienced project delays caused, in part, by the residual effects of lower-than-expected natural gas prices and pipeline capacity constraints in the midstream market in Canada. These issues adversely impacted 4Q operating income in Oil & Gas by approximately $40 million. The company also saw revenue declines across all its other segments in the fourth quarter. Federal sector revenue fell in fiscal 2013 due to the October 2013 federal government shutdown, and other federal budget issues, such as sequestration resulting from the Budget Control Act of 2011.
Article continues below advertisement
In terms of outlook for 2014, URS said trends in industrial, infrastructure, and power markets for 2014 appear positive. In the federal market, it expects the impact of sequestration to continue, and it also will have a difficult year-over-year comparison (2014 to 2013) due to the winding down of the highly successful work on the Department of Defense's chemical weapons demilitarization (Chem Demil) program. In 2014, URS expects revenues from this program to decrease by approximately $355 million and operating income to decrease by approximately $125 million. URS expects consolidated revenues to be between $10.8 billion and $11.2 billion and fully diluted earnings per share to be between $3.20 and $3.50.
URS said it's accelerating its prior plan to return a total of at least $500 million to stockholders through stock repurchases and dividends by the end of 2015. URS expects to spend approximately $350 million for stock repurchases in 2014. As of February 28, 2014, URS repurchased 2.8 million shares year-to-date, amounting to $129.5 million.
URS has many competitors, since the technical and professional aspects of its services generally don't require large upfront capital expenditures and, therefore, provide limited barriers against new competitors. AECOM Technology Corporation (ACM), Fluor Corporation (FLR), Jacobs Engineering Group (JEC), Tetra Tech (TTEK), and Chicago Bridge & Iron Company (CBI) compete with URS across its various divisions. Competitors AECOM, Jacobs, Chicago Bridge & Iron Company, and Fluor have been impacted by the shutdown of the U.S. federal government and budget cuts. However, Jacob said it still sees significant opportunities in the U.S. and, increasingly, the U.K. Jacobs expects its December acquisition of Sinclair Knight Merz (SKM) to significantly increase its revenue in the infrastructure market in fiscal year 2014, primarily in Australia, Asia, and the U.K. URS peer Fluor said a highly competitive business environment has continued to pressure margins, although its Oil & Gas segment has continued to show signs of improvement—particularly for the upstream and petrochemicals markets.