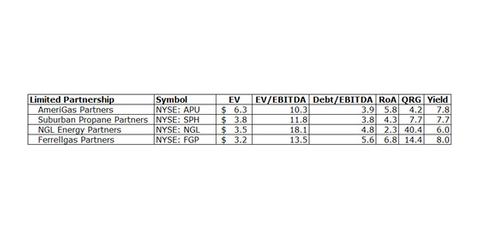 Ferrellgas Partners FY2Q14 Earnings Overview
By Keisha Bandz

Updated
The fiscal year for FGP is calculated August 1 through July 31. FGP reported FY2Q14 adjusted EBITDA of $136 million, for the three months ended January 31, a 17% increase compared to the same period, the previous year and above the consensus forecasts of $118 million. LTM adjusted EBITDA was $287 million compared to $237 million during the same 12-month period ending January 31, 2013. This was attributable to higher-than-expected retail volumes and margins due to weather that was 18% colder year-over-year and 6% colder than normal. Second-quarter sales volumes grew 15% to 342.9 million gallons reflecting much colder nationwide temperatures as compared to 298.5 million gallons for the same quarter the previous year. Distributable cash flow ("DCF") during the quarter grew 20% to $111.9 million from $93.1 million. DCF coverage for the trailing 12-month period ended January 31 was 1.2x.
Guidance
Article continues below advertisement
With seasonably cool temperatures forecasted for the remainder of the heating season, the third quarter is off to a strong start, even as the company continues to look for acquisitions outside of their core propane operations that fit with FGP's expertise around trucking. In fiscal year 2014, Ferrellgas Partners acquired Manitowoc and Sheboygan, WI-based Motor Propane Service in Dec 2013 and KS-based KanGas Corporation in Nov 2013 and very recently Country Boys Gas, an independent propane company based in Georgia. Ferrellgas Partners has a stable liquidity position, including $18.3 million of cash and cash equivalents and available fund of $500 million under its secured credit facility. A favorable financial position supports Ferrellgas Partners systematic inorganic growth strategy.
During the FY2Q14 earnings call, FGP management increased FY2014 EBITDA guidance to $275-285 million (from $265-275 million), which compares to the consensus estimates of $262 million.
To read about the effect of weather on propane demand in detail, read on to the following part of the series.