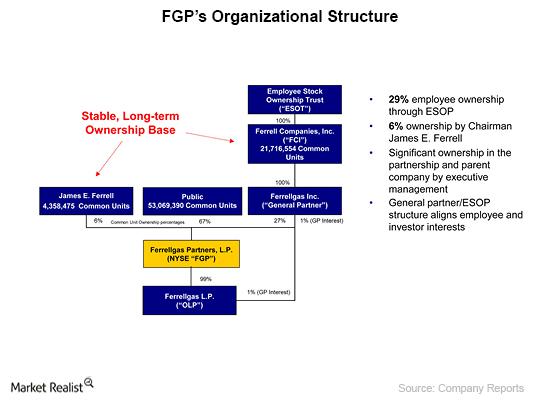 Ferrellgas Partners (FGP): An investor's must-know overview
Overview of Ferrellgas Partners
Ferrellgas Partners, L.P. (FGP), a master limited partnership (MLP), is the second largest retail propane distributor in the U.S., serving all 50 states, the District of Columbia, and Puerto Rico, as measured by the volume of retail sales in fiscal 2013, and the largest national provider of propane by portable tank exchange.
Ferrellgas Partners sells propane (801 million gallons in fiscal year 2013) to 1 million industrial, commercial, and agricultural customers in all 50 states. It operates 44.4 million gallons of propane storage capacity and more than 100 service centers, and its delivery fleet includes more than 2,930 trucks and trailers. The company's Blue Rhino unit operates a propane cylinder-exchange business throughout the U.S. Ferrellgas also trades propane and natural gas, markets wholesale propane, provides liquid natural gas storage, and markets chemical feedstock.
Article continues below advertisement
FGP has a market cap of $1.79 billion and an enterprise value of $3.22 billion (as of March 31, 2014) and is currently trading at an EV/2014E EBITDA of ~11x. FGP reported FY2Q14 adjusted EBITDA of $136 million and LTM EBITDA as $256.94 million and LTM revenue was reported as ~$2 billion as of March 28.
The General Partner for FGP is Ferrellgas Inc., which is owed by Ferrell Companies Inc. (FCI), which in turn owns 100% of FCI and a 29% interest in the partnership (including GP interest).
FGP primarily distributes from 875 propane distribution locations and more than 46,000 portable tank exchange locations nationwide.
Sales from propane distribution are generated from transporting propane purchased from third parties to the propane distribution locations and then to customers, and sales from portable tank exchanges, nationally branded under the name Blue Rhino, are generated through a network of independent and partnership-owned distribution outlets. FGP's national delivery presence gives it an edge over its competitors.
The company offers geographic diversity, as it caters to the Midwest, Southeast, Southwest, and Northwest regions of the United States. Its customers include residential, industrial or commercial, portable tank exchange, agricultural, wholesale, and other companies. Market areas for residential and agricultural customers are generally rural, while market areas for industrial or commercial and portable tank exchange customers are generally urban.
Other propane companies operating in this space include AmeriGas Partners (APU), Suburban Propane (SPH), and NGL Energy Partners (NGL). Ferrellgas is part of the Yorkville High Income MLP ETF (YMLP), an ETF that tracks select MLPs.
To know about the FY2Q2014 results in detail read on to the following sections.