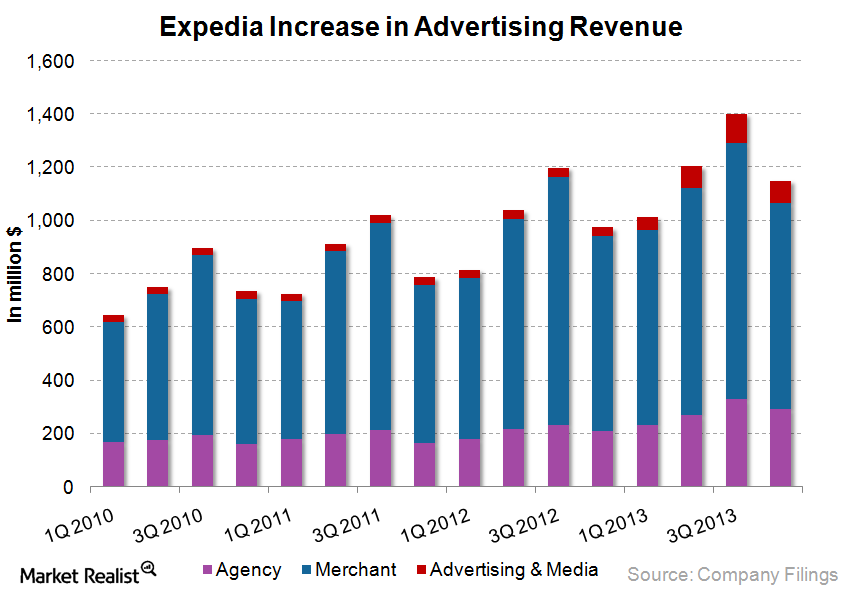 Expedia's trivago acquisition raises advertising revenue growth
Formidable competitors
In April 2011, Expedia shares rose after it announced its intent to spin off its high growth and high margin unit TripAdvisor (TRIP) via an IPO. However, two years later TripAdvisor has presented itself as a formidable competitor to its former parent with the addition of a metasearch functionality. Expedia's former segment TripAdvisor, which is the world's largest travel review website, has been growing rapidly on the back of advertising revenues and its market cap currently stands at $10 billion compared to Expedia's $9 billion.
Article continues below advertisement
Metasearch websites such as TripAdvisor, Priceline's (PCLN) Kayak.com, and Qunar (QUNR), which is majority-owned by Chinese Internet giant Baidu (BIDU), offer users the ability to make reservations directly through their websites. Google (GOOG) also forayed into the hotel metasearch space with the addition of Google Hotel Price Ads (HPA) in its products such as Google Hotel Finder, Google Maps, Google+ Local, and Google Search.
Expedia (EXPE) itself entered the metasearch space with the $564 million acquisition of a majority stake in trivago GmbH, a Dusseldorf, Germany-based leading hotel metasearch company in the first quarter of 2013. trivago featured price comparison from over 600,000 hotels on over 150 booking sites worldwide. Officially launched in 2005, trivago is a known travel brand in Europe and continues to operate independently, and grow revenue via global expansion. According to December 2012 data from PhoCusWright and Experian Hitwise cited by eMarketer, online travel agencies like Priceline and Expedia have a vested interest in metasearch, as 6% of their U.S. traffic came from these types of sites.
Article continues below advertisement
In the second quarter of 2013, which was trivago's first quarter with Expedia, trivago's revenue increased 80% year-over-year, as it focused on international expansion into the U.S., Canada, Australia, and New Zealand, Expedia CEO Dara Khosrowshahi said. The company recently said the trivago acquisition added approximately 4 percentage points to year-over-year revenue growth for 2013. In 2013, advertising and media revenue increased 144% year-over-year to $319 million primarily due to the revenue generated by trivago, Expedia said.
Online travel agencies (OTAs) such as Expedia, Priceline and Travelocity advertise on TripAdvisor websites to attract travelers and drive traffic to its own sites. Expedia said in its second quarter 2013 earnings call that TripAdvisor's shift from a pop up window to a metasearch model had impacted traffic, revenue and profitability as room night growth decelerated. However, Expedia upped its bidding models in the following quarters and said it has started regaining click share.
Article continues below advertisement
TripAdvisor said in its annual filing that click-based advertising "revenue from Expedia increased $13 million during the year ended December 31, 2013, respectively, when compared to the same period in 2012, primarily due to lower click volume sent to Expedia, primarily related to our transition to hotel metasearch." The growth was more than offset by higher CPC (cost-per-click) pricing paid by Expedia during this time period."
Hotel online distribution and channel management solutions provider eRevMax has predicted 2014 to be the "year of metasearch." eRevMax stated that traffic to metasearch sites is on the rise with more than 36% online travelers using comparison shop before booking. Kayak has processed over 1577 million queries in 2013, and this is expected to reach over 3 billion in the next five years. According to December 2012 data from PhoCusWright and Experian Hitwise, 6% of the U.S. traffic comes from sites such as Kayak. TripAdvisor receives 260 million monthly visits and over 50% of them use the meta-search feature. eRevMax believes the high growth can be attributed to the fact that these sites not only provide real-time availability and rate data, and enable price comparison, but also are one-stop platforms for travelers to research and consequently, book their hotel stay.