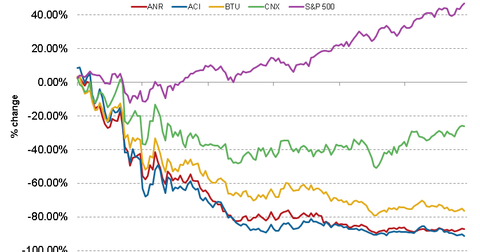 Potential risks to watch out for as an investor in Alpha
By Jing Shun Kee

Updated
Uncontrollable macroeconomic risks and controllable company-specific risks
As coal companies in this industry are typically price-takers, they have little or no control over macroeconomic conditions that affect the overall prices of coal in the market. So, for companies to maintain strong profit margins, they need to cut costs and position themselves strategically for optimal growth. Management must make very prudent decisions, especially in the current tough coal market conditions.
Article continues below advertisement
As Alpha Natural Resources' (ANR) competitive advantage is in its metallurgical coal business segment, its growth is extremely dependent on market prices of metallurgical coal. Also, according to multiple analysts, metallurgical coal prices are expected to fall over the coming years due to an oversupply in the industry. It's probably more beneficial for Alpha to lock into more long-term supply agreements in order to protect itself against decreasing coking coal prices.
Another company-specific risk that Alpha has to watch out for is cost reduction in its coal mining operations. The management team has done a great job in reducing cost of coal sales in the Eastern business segment. It is crucial for the company to continue doing so, as there isn't a near-term positive outlook on the coal prices.
Lastly, the $200 million capital expenditures for waste water upgrade costs will have a negative impact on cash flow. These fines and upgrading costs might further delay and reduce the number of mines Alpha intends to bring online, which will, in turn, affect the amount of coal it produces and ships.
Long-term outlook for Alpha
So far, the management team has done a great job in managing cash liquidity, but its past acquisitions are questionable even though they did expand the company's coal reserves. As we've mentioned throughout this series, Alpha has faced many problems from those acquisitions that have hampered its performance so far.
Overall, while Alpha's near-term outlook is not positive, the entire coal market has depressed stock prices; the VanEck Vectors-Coal ETF (KOL) and coal producers like Arch Coal (ACI), Peabody Energy (BTU), and Consol Energy (CNX) are severely underperforming the S&P 500. A rebound of coal prices in the coal market would allow investors to see a very healthy return on their investments.