Millennium Management buys a new position in SunTrust Banks
Millennium Management started a new position in SunTrust Banks (STI) that accounts for 0.15% of the fund's portfolio.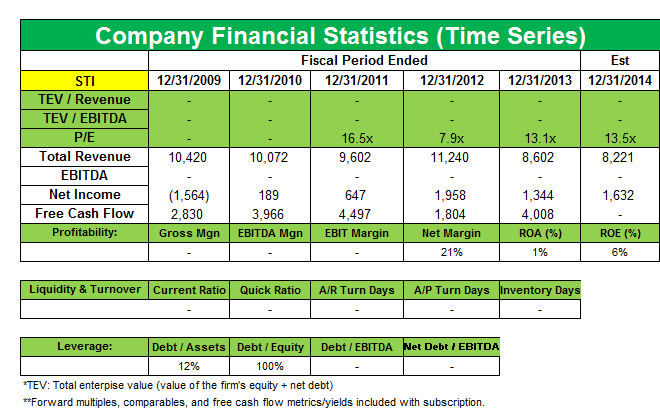 Millennium Management and SunTrust Banks

Some of the notable positions traded by Millennium Management during the fourth quarter include new positions in Endo International PLC (ENDP), Crown Holdings (CCK), and SunTrust Banks (STI). The fund also saw stake increases in Perrigo Company PLC (PRGO) and NextEra Energy Inc. (NEE).
Millennium Management started a new position in SunTrust Banks (STI) that accounts for 0.15% of the fund's portfolio. SunTrust is a provider of financial services, particularly in the Southeastern and Mid-Atlantic U.S., and it's headquartered in Atlanta, Georgia.
Article continues below advertisement
Article continues below advertisement
Through its principal subsidiary, SunTrust Bank, the company offers a full line of financial services for consumers and businesses, including deposit, credit, mortgage banking, and trust and investment services. Additional subsidiaries provide asset management, securities brokerage, and capital market services. SunTrust operates primarily within Florida, Georgia, Maryland, North Carolina, South Carolina, Tennessee, Virginia, and the District of Columbia. The company enjoys strong market positions in these markets. Within its geographic footprint, SunTrust operates three business segments: Consumer Banking and Private Wealth Management, Wholesale Banking, and Mortgage Banking.
SunTrust posted net income of $413 million for the fourth quarter of 2013, or $0.77 per average common diluted share, up from 18% from $0.65 for the fourth quarter of 2012. Total revenue was $2.1 billion for the current quarter, a decline of $230 million, or 10% compared to the fourth quarter of 2012, primarily driven by lower net interest income and mortgage production income. Non-interest expense decreased due to improved expense management and declines in cyclical costs.
Article continues below advertisement
Mortgage production income for the current quarter was $31 million compared to a loss of $10 million for the prior quarter and income of $241 million for the fourth quarter of 2012. SunTrust said that as the overall economy improved, increases in mortgage interest rates during the year resulted in a decline in mortgage refinance activity from the strong levels in 2012. The housing market continued to strengthen in 2013, as demonstrated by continued price increases, favorable shifts in supply and demand, and some encouraging signs from certain homebuilding activities. However, the rise in mortgage interest rates that began in the second quarter of 2013 applied pressure on the housing recovery and significantly impacted refinancing activity.
SunTrust revealed in its annual filing that it's currently under investigation for mortgage violations and could face "substantial penalties." SunTrust said the investigation focuses on whether, during 2009 and 2010, it "harmed borrowers and violated civil or criminal laws by failing to properly process applications for modifications of certain mortgages." SunTrust is also involved in an investigation by Department of Justice over the origination and underwriting of single-family residential mortgage loans sold to Fannie Mae and Freddie Mac. Under previous agreements last year with the Justice Department, Department of Housing and Urban Development, and Federal Reserve, SunTrust said it had agreed to pay $500 million of consumer relief, make a $468 million cash payment, and implement certain mortgage servicing standards.
During the fourth quarter, SunTrust repurchased an additional $50 million of its common shares and paid a quarterly common stock dividend of $0.10 per share.