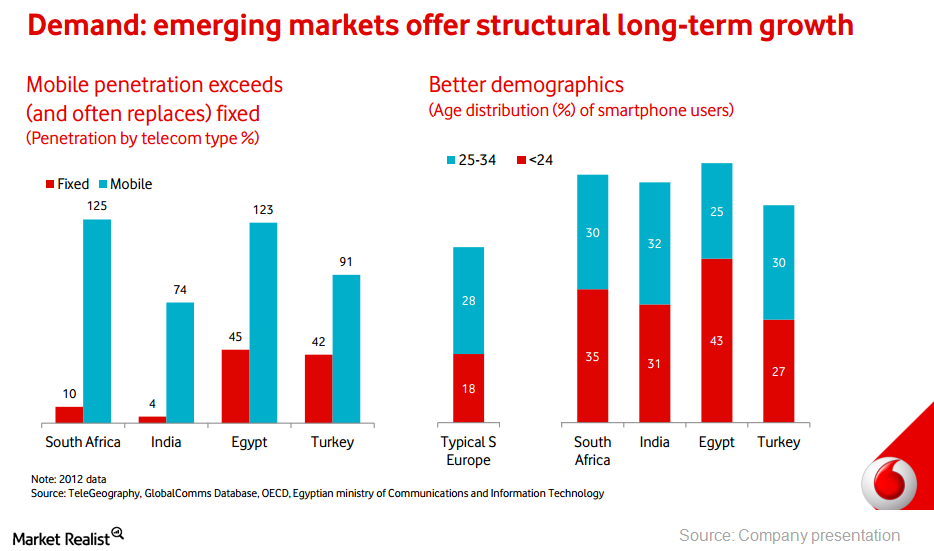 Why AQR Capital Management chose to open a position in Vodafone
AQR Capital and Vodafone
AQR Capital initiated new positions in Vodafone Group plc (VOD), Gaming and Leisure Properties (GLPI), and Allegion plc (ALLE). Positions were increased in Facebook, Inc. (FB), Omnicom Group (OMC), and LSI Corporation (LSI).
The firm started a new position in Vodafone Group plc (VOD) that accounts for 0.44% of the fund's 4Q portfolio. Hedge fund Paulson also boosted its position in the British telecom group last quarter on the grounds that it's an "attractive potential acquisition target."
Article continues below advertisement
Vodafone has been trying to transform itself into a pay-TV and broadband company by acquiring more cable and wireline operations, while exiting some of its wireless businesses. Vodafone recently agreed to acquire the Spanish cable operator Grupo Corporativo ONO SA for about $10 billion (7.2 billion euros). Ono is Spain's second-largest provider of broadband internet, pay television, and fixed telephone services.
Vodafone last year acquired German cable operator Kabel Deutschland for $10 billion, and in 2012 acquired Cable & Wireless Worldwide for $1.7 billion to expand its enterprise business. Vodafone's moves are aimed at offering the so called "quad-play" services wherein fixed-line and mobile services, pay-TV and broadband are bundled and sold to customers.
Last year, Vodafone sold its 45% indirect interest in Verizon Wireless to Verizon Communications Inc. (VZ) in a transaction valued at approximately $130 billion. Verizon is to issue 1.27 billion shares to Vodafone and pay for the rest of the deal in cash. Plus, Verizon sold its 23% interest in Vodafone Italy for $3.5 billion, providing Vodafone with full ownership of Vodafone Italy. Vodafone's share of the cash will go toward repaying debts and for "Project Spring," a £7 billion organic investment program, to improve its mobile and broadband networks across Europe and emerging markets. Vodafone also intends to spend $30 billion to $40 billion on acquisitions. "We are looking at acquisitions that are sizable and could transform the company," Chief Executive Vittorio Colao said earlier at a media roundtable.
Article continues below advertisement
Vodafone's push for cable acquisitions makes it a less attractive target for AT&T (T), which is more interested in Europe's wireless markets, according to unconfirmed news reports. AT&T—the second-largest U.S. carrier, behind Verizon Wireless—has been interested in expanding to Europe due to the sluggish growth and intense competition in the U.S. telecoms space.
AT&T chief Executive Randall Stephenson met with the European Union telecom officials in January to discuss potential opportunities in the region. AT&T confirmed in January that it does not intend to make an offer for Vodafone after the United Kingdom's takeover watchdog asked the U.S. telecom giant to clarify its position. News websites speculated that AT&T is still interested in Vodafone, but it cannot make an offer for at least six months under the United Kingdom takeover regulations. Analysts believe AT&T's takeover of Vodafone would give the U.S. telecom company access to major European markets such as the United Kingdom, Germany, Spain, Italy, and Turkey.
Vodafone 3Q revenue fell 3.6% to $17.91 billion on the back of a poor performance in European markets. Chief Executive Colao commented: "Our emerging market businesses are growing strongly, supported by consistent execution and accelerating demand for data. In Europe, conditions are still difficult, and we continue to mitigate these challenges through on-going improvements to our operating model and cost efficiency. In addition, the shift to 4G is gaining momentum and we have seen improving mobile customer net addition trends. We are therefore optimistic that our revenue performance will begin to improve as regulatory headwinds ease and customer appetite for video and content services increases."