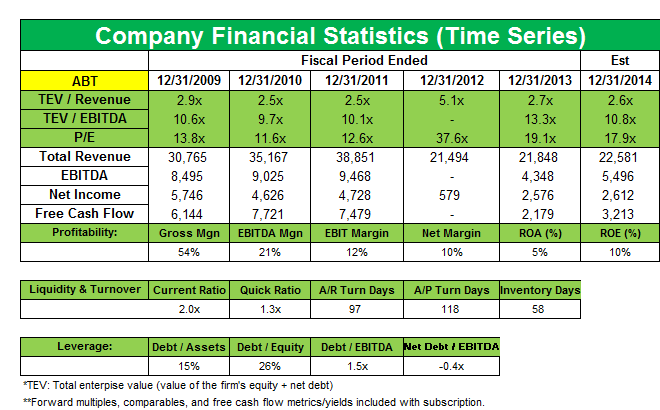 Chilton opens a new position in Abbott Laboratories in 4Q13
Chilton Investment Company and Abbott Laboratories
Chilton initiated positions in Abbott Laboratories (ABT), U.S. Bancorp (USB), Macy's Inc. (M), and TransDigm Group Inc. (TDG). The fund sold its stakes in Genesco Inc. (GCO), Bally Technologies Inc. (BYI), and CarMax Inc. (KMX).
Abbott Laboratories (ABT) is a brand new position that accounts for 1.19% of Chilton's fourth quarter 2013 portfolio.
Abbott Laboratories is a diversified healthcare conglomerate. In a move to boost shareholder value, Abbott Laboratories spun off its research-based proprietary pharmaceuticals business into an independent public company called AbbVie (ABBV) in January 2013. Abbott's primary products are nutritional products, which account for the majority of its sales, branded generic pharmaceuticals, diagnostic testing products, and vascular products. Sales in international markets comprise approximately 70% of Abbott's consolidated net sales.
Article continues below advertisement
Article continues below advertisement
Abbott reported weaker-than-expected fourth-quarter revenue and saw net profit fall 44% to $589 million, or $0.37 a share, from $1.05 billion, or $0.66 a share a year earlier. Revenue for the quarter was $5.65 billion, up 0.4% from $5.63 billion in the same period a year ago, driven by the diagnostics and medical devices segment.
In Abbott's worldwide diagnostics business, sales increased 8.8% in the fourth quarter on an operational basis, driven by 9.3% growth in Core Laboratory Diagnostics and continued double-digit growth in Point of Care Diagnostics. Molecular Diagnostics sales were driven by continued strong growth in infectious disease testing, particularly in emerging markets. Point of Care Diagnostics sales increased 12.7% in the U.S., driven by continued growth in the hospital segment, as well as strong growth in the physician office segment. Vascular products international sales were driven by the XIENCE Xpedition drug-eluting stent and ABSORB, Abbott's drug-eluting coronary bioresorbable vascular scaffold (or BVS). Point of Care Diagnostics sales were also due to sales growth of MitraClip (Abbott's first-in-class device for the treatment of mitral regurgitation) and 9.3% growth in Endovascular products.
In 2013, sales growth in Abbot's International Pediatric Nutrition was affected by a product recall initiated in August 2013 in China and two other markets for certain baby formula products. As a result, sales were significantly lower than expected for the second half of 2013. The sales disruption is estimated to have lowered sales growth in International Pediatric Nutrition by approximately $90 million in the fourth quarter. While Abbott initiated investments in 3Q 2013 in these markets to rebuild consumer confidence, it expects the recall to continue to have a negative impact on sales in the first half of 2014.
In the generic pharmaceuticals segment, macroeconomic and market pressures in certain emerging markets impacted this business in 2013. Sales growth in developed markets remained affected by market conditions, particularly in Western Europe.
Article continues below advertisement
Abbott said in its annual filing that sales growth and margin improvement in the nutritional and diagnostics businesses and the challenging economic and fiscal environment in many countries around the world have impacted Abbott's sales, costs, and financial position over the last three years. Sales in emerging markets increased 11% per year in 2013, excluding foreign exchange, despite the slowdown in several emerging economies and a weakening of key emerging market currencies in 2013.
In 2014, Abbott will focus on several key initiatives. In the nutritional business, Abbott will continue to build its product portfolio with the introduction of new science-based products, expand in high-growth emerging markets, and implement additional margin improvement initiatives. In the established pharmaceuticals business, Abbott will continue to focus on obtaining additional product approvals across numerous countries and expanding its presence in emerging markets. In the diagnostics business, Abbott will focus on the development of next-generation instrument platforms and other advanced technologies, expansion in emerging markets, and further improvements in the segment's operating margin.
In 2013, management approved a plan to reduce costs and improve efficiencies across various functional areas as well as a plan to streamline certain manufacturing operations in order to reduce costs and improve efficiencies in Abbott's established pharmaceuticals business. Under this plan, Abbott laid off several hundred employees in 2013.
In October 2013, Abbott announced a 57% increase in the company's quarterly common dividend. Abbott projects an increase in its share repurchases to more than $2 billion in 2014.