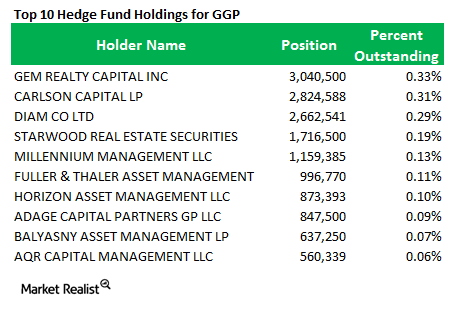 Why did Ackman's Pershing Square exit General Growth Properties?
By Samantha Nielson

Nov. 20 2020, Updated 4:47 p.m. ET
General Growth Properties' (GGP) position was reduced to 27,624,282 shares last quarter from 35,681,182 shares in 3Q 2013 in Pershing Square's portfolio. Last week, Pershing Square exited its remaining stake in GGP, one of the firm's most profitable investments. Real estate investment trust (REIT) General Growth Properties on February 11, 2013, announced it has bought back 27,624,282 of its common shares from affiliates of Pershing Square at $20.12 per share for total consideration of approximately $556 million. GGP said it used its available liquidity to buy back the shares. In 2010, Ackman was part of an investor group that rescued GGP from bankruptcy post the financial crisis. In 2011, Ackman told Bloomberg that his $60 million investment had "turned into $1.6 billion." After a failed move to sell GGP to larger rival Simon Property Group, Ackman sold some of his shares and warrants to another major shareholder Brookfield Asset Management earlier in 2013. In September 2013, Pershing Square sold 25 million shares for $500 million.
According to a report on Bloomberg, Ackman said he sold GGP because the expected returns on the investment after management fees would not satisfy his investors, but that "there's still meaningful upside in General Growth."
Article continues below advertisement
General Growth Properties is the second-largest shopping center REIT in the U.S., with a market capitalization of $18.4 billion. The shopping center REIT sector is dominated by three big players, Simon Property Group (SPG) is by far the largest, and the other main player is Australian-operated Westfield. Other big shopping center REITs include Kimco Realty (KIM) and Realty Income Corp (O). Investors can also gain exposure to the REIT sector via the Vanguard REIT ETF (VNQ).
For more on General Growth Properties and its 4Q 2013 results, read General Growth Properties is one of the largest US mall REITs.