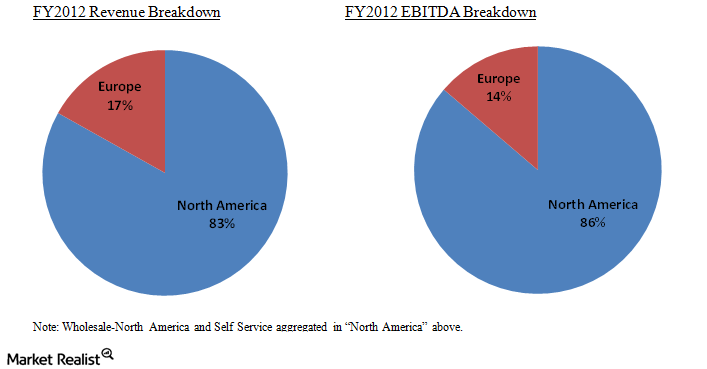 An investor's must-know guide to LKQ's 3 operating segments
Business description
LKQ Corporation provides replacement parts, components, and systems needed to repair cars and trucks. Buyers of vehicle replacement products can purchase from five primary sources: new products produced by original equipment manufacturers (or OEMs), which are commonly known as "OEM products"; new products produced by companies other than the OEMs, which are sometimes referred to as "aftermarket products"; recycled products originally produced by OEMs; used products that have been refurbished; and used products that have been remanufactured.
Article continues below advertisement
LKQ distributes a variety of products to collision and mechanical repair shops, including aftermarket collision and mechanical products, recycled collision and mechanical products, refurbished collision replacement products (such as wheels, bumper covers, and lights), and remanufactured engines. Collectively, these are referred to as "alternative parts."
LKQ is the nation's largest provider of alternative vehicle collision replacement products and a leading provider of alternative vehicle mechanical replacement products, with sales, processing, and distribution facilities reaching most major markets in the United States. The company's wholesale operations reach most major markets in Canada, and the company is a leading provider of alternative vehicle mechanical replacement products in the United Kingdom. In addition to its wholesale operations, LKQ operates self-service retail facilities across the U.S. that sell recycled automotive products. The company is organized into three operating segments: Wholesale—North America, Wholesale—Europe, and Self Service.
LKQ obtains the majority of its aftermarket inventory from automotive parts manufacturers and distributors based in the U.S., Taiwan, Europe, and China. The company procures recycled automotive products mainly by purchasing salvaged vehicles, typically severely damaged by collisions and primarily sold at salvage auctions or pools, and then dismantling and inventorying the parts. The refurbished and remanufactured products that LKQ sells (such as wheels, bumper covers, lights, and engines) originate from salvage vehicles bought at auctions and from parts received in trade from customers purchasing replacement products from LKQ.
Article continues below advertisement
The majority of LKQ's products and services sell to collision repair shops, also known as "body shops," and mechanical repair shops. The company indirectly relies on insurance companies (which ultimately pay for the majority of collision repairs of insured vehicles) to help drive demand. Insurance companies tend to exert significant influence in vehicle repair decisions. Because of their importance to the process, LKQ has formed relationships with certain insurance companies in North America, for which LKQ is designated a "preferred products supplier." The company is attempting to establish similar relationships with insurance companies in Europe.
The Market Realist Take
Since inception in 1998, the company has pursued a growth strategy through both organic growth and acquisitions. The acquisitions are expected to drive profitability, cash flow, and stockholder value. The principal focus for acquisitions is companies that will expand LKQ's geographical presence and its ability to provide a wider choice of alternative vehicle replacement products to customers. LKQ made 16 acquisitions during the nine months ended September 30, 2013, including seven wholesale businesses in its European segment, eight wholesale businesses in North America, and a self-service operation. The company's European acquisitions included five automotive paint distribution businesses in the U.K., which enabled expansion of LKQ's collision product offerings. The buys aimed at expanding into new product lines and entering new markets.
Article continues below advertisement
LKQ said in its 3Q 2013 earnings call that it has spent $396 million year-to-date on acquisitions—the largest of these acquisitions being Sator Beheer BV, which accounted for $273 million of the total. Sator Beheer is a leading distributor of auto parts, tools, and equipment headquartered in Schiedam, the Netherlands, that was acquired for approximately $268 million.
In December 2013, LKQ acquired Keystone Automotive Operations, Inc. (a distributor and marketer of specialty aftermarket equipment and accessories in North America) for $450 million. Keystone has over 1,500 employees, with 25 locations serving more than 20,000 specialty retailers and equipment installers throughout North America, offering a broad product line of over 300,000 SKUs from over 800 suppliers. LKQ said the entire specialty aftermarket equipment and accessories industry is a highly fragmented $31 billion market, and Keystone's current product categories represent about $5 billion of the industry. Keystone's revenue for 2014 is expected to be approximately $700 million, with an EBITDA margin of approximately 10%.
LKQ said the North American market continues to grow in geography and product offerings. Alternative Parts Usage APU trends are favorable, certified parts continue to grow, vehicle procurement dynamics are improving, and macro trends (such as miles driven, unemployment, and gas prices) are trending in the company's favor. These dynamics, coupled with LKQ's first-mover advantage on technological initiatives such as the CCC ONE integration, have positioned the company's North American operations well for 2014 and beyond.
LKQ peer Advance Auto Parts, Inc. (AAP) saw its shares rise recently after it completed the acquisition of General Parts International, Inc. (GPII) for $2.04 billion. The deal will create one of the largest providers of aftermarket auto parts in North America, with $9.2 billion in annual sales. This is just above the sales of the leading player, Autozone (AZO).