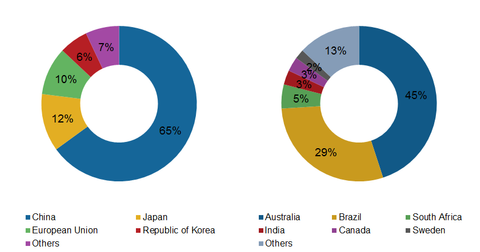 Must-know: Countries involved with the seaborne iron ore trade
By Xun Yao Chen

Updated
Iron ore
Iron ore represents about 30% of total dry bulk shipments. It's one of the main two ingredients (the other being coking coal) used to produce pig iron, which in turn is used to produce steel. Use of iron dates back to prehistoric times. Iron has been an important metal to the development of European, Asian, and African human civilizations and industrialization.
Supply and producers
As one of the most abundant elements after oxygen, silicon, and aluminium, the metal can be found in every region around the world, making up 5% of the Earth's crust. While ores are available worldwide, rich or large economical ore deposits are concentrated in certain countries like China, Australia, Brazil, India, Russia, Ukraine, South Africa, and the United States.
Article continues below advertisement
The iron ore mining business is generally a low–profit margin and high-volume business. Significant capital must also be injected to develop mining infrastructure and rail to move iron ore to ports. So the world's production of iron ore is handled by a few major companies. The world's largest iron ore producers are Rio Tinto, Vale, and BHP Billiton.
Major iron ore trades
The biggest consumer of iron ore is currently China, driven by infrastructure-led investment activities, an industrializing economy, and a large population of more than 1.3 billion. While China is also the world's top producer, it doesn't have enough domestic supply to meet its domestic needs. So the country is also the largest importer of iron ore, followed by Japan and Europe, which lack regional supply. The majority of this iron ore is shipped from Australia and Brazil—second and third top producers, and homes to the three largest producers mentioned earlier. While shadowed by Australia and Brazil, India and South Africa are considered major suppliers in the seaborne market.
Iron ore trade indicators
Because China, Brazil, and Australia are three major players in the global market, and iron ore represents 30% of dry bulk shipping volume, investors should follow iron ore trade data (imports and exports) published by these countries. To a lesser extent, perhaps India and South Africa's exports figure as well.