Jobs report shows hiring is picking up—good for commercial REITs
Private sector employment increased by 238,000 in December, while November's numbers were revised upward from 215,000 to 229,000.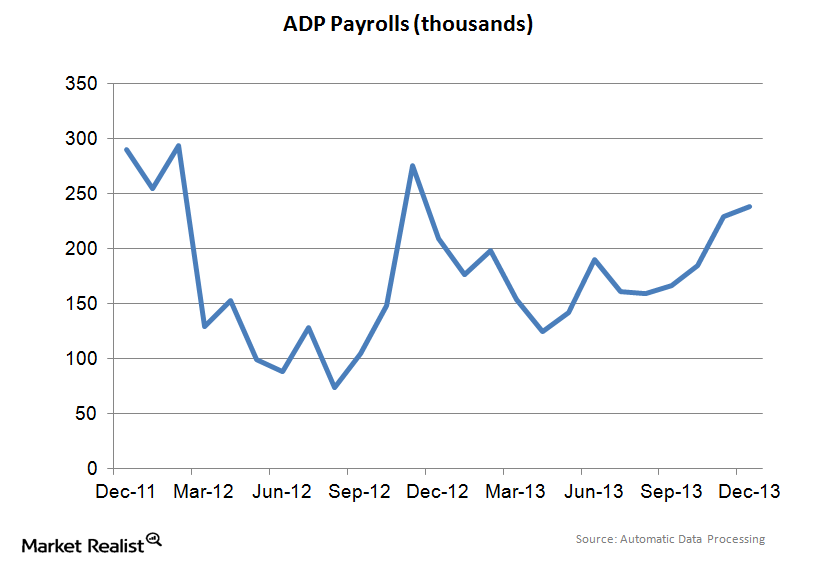 The ADP National Employment Report is a monthly preview of the Labor Department's Jobs Report
Automatic Data Processing (ADP) is a global provider of business outsourcing. It provides a range of services, from human resources to payroll. The ADP National Employment Report is published monthly by the ADP Research Institute. It provides a snapshot of the current non-farm private sector payroll data based on actual transactional payroll data. ADP collaborates with Moody's (MCO) to predict the Bureau of Labor Statistics payroll numbers.
Article continues below advertisement
Article continues below advertisement
Interestingly, the ADP employment report provides a very tight correlation with the BLS's revised payroll numbers. The BLS revises its payroll data twice, and the ADP number comes out before the first estimate. The BLS's first estimate is based on roughly 70% of the establishments sampled. The second revision includes another 20%, and the final revision adds another 4%. Since ADP's numbers are based on live payroll data, they're more accurate than the BLS's first pass at the numbers.
The ADP payroll data will correspond with the BLS's private non-farm job numbers. The non-farm payroll number will include public sector jobs, which must be subtracted out to make an apples-to-apples comparison with the ADP report.
Highlights of the report
Private sector employment increased by 238,000 in December, while November's numbers were revised upward from 215,000 to 229,000. In terms of industries, professional or business services increased the most, by 45,000, while financial employment increased by only 10,000.
Services increased 170,000, while goods-producing companies added 69,000. Small businesses accounted for 108,000 of the increase, while medium and large businesses contributed 59,000 and 71,000, respectively. Overall, the report shows that the job market continues to expand, but the rate of expansion has moderated since the beginning of the year. Mark Zandi of Moody's said:
"The job market ended 2013 on a high note. Job growth meaningfully accelerated and is now over 200,000 per month. Job gains are broad-based across industries, most notably in construction and manufacturing. It appears that businesses are growing more confident and increasing their hiring."
Implications for commercial REITs
This is certainly good news for office REITs like Boston Properties (BXP), Kilroy (KRC), Vornado (VNO, and S.L. Green (SLG). They've been struggling with high vacancy rates ever since the real estate bust. Luckily, they've not been adding much in the way of capacity, which means that vacancy rates could fall dramatically if employment really takes off.
Mall REITs like Simon Property Group (SPG) will also benefit, as increasing jobs means increasing consumer spending. This will translate into lower vacancy rates at shopping malls.