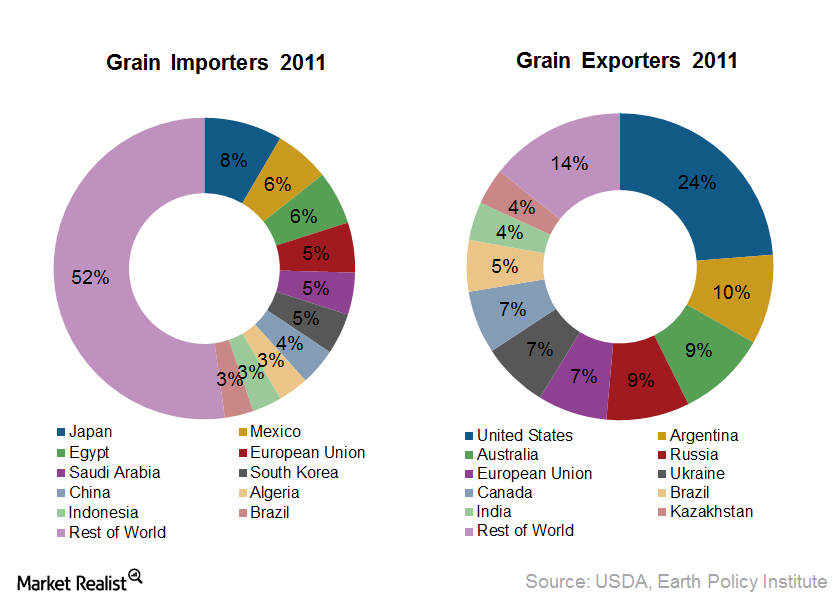 Major importers and exporters of grain and oilseed
Grain and oilseed trade
Compared to iron ore and coal, the grain and oilseed trade makes up a much smaller part of overall dry bulk shipments—about 10% in terms of total metric tonnes. Wheat and coarse grains account for more than two-thirds of the overall grain trade, while soybean makes up the rest.
Agricultural demand
The main importers of grain reside in Asia Pacific, developing America, Africa, and western Asia. It may surprise people, but Japan is the largest importer of grain, followed by countries like Mexico, Egypt, Saudi Arabia, South Korea, China, Brazil, Algeria, Indonesia, and Brazil in 2011. For the same year, China was the largest importer of soybean, importing 57.5 million tons.
Key global suppliers
Article continues below advertisement
The main exporters of grain are the United States, Argentina, Australia, Russia, the European Union, and Ukraine. Despite being one of the most economically developed countries in the world, the United States exported 73.9 million tons of grain in 2011—more than double the next largest exporter, Argentina. This is due to more advanced farming practice, a favorable climate, technology, and a significant amount of cultivated land. In 2011, the largest exporters of soybean were the United States, Brazil, and Argentina.
Trade flows
How the world's grain shipments change and grow depends on supply and demand. Supply-side factors like weather conditions, arable land, and farming technology affect where grains and soybeans are produced. But the weather-driven supply impact on trade is often short-lived as farmers adjust plantation and weather normalizes.
Demand-side characteristics like demographics, consumption patterns, food or feed or industrial use, government regulation, and economic or population growth are equally important. The United Nations has noted that the United States' share of the global export market has been shrinking as other countries develop better agriculture practices and importers seek to diversify raw material for security and diversification purposes. As importers and exporters of crops are more diversified, investors should look at overall trade data.