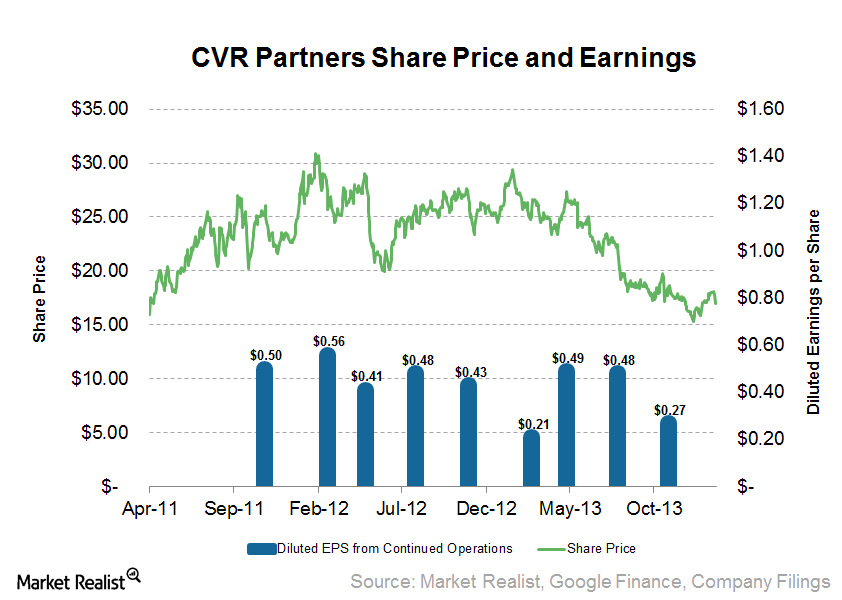 Business overview: A must-know investor's guide to CVR Partners
By Xun Yao Chen

Oct. 29 2019, Updated 5:46 p.m. ET
Overview
CVR Partners LP (UAN) is a limited partnership formed by CVR Energy to operate and grow its nitrogen fertilizer business. As of January 24, 2014, the market assigned a value of $1.3 billion to the company, with a trailing PE ratio of 12.48x and dividend yield of 9.86%. The stock, however, has fallen 38% over the past year. While CVR's low PE (based on the past 12 months of earnings) may sound like a value opportunity, investors shouldn't jump into the stock without understanding the company's business.
Business
Article continues below advertisement
CVR Partners is the only company in North America that uses a petroleum coke (pet coke) gasification process to produce nitrogen fertilizers. Petroleum coke is produced during the crude oil refining process. This contrasts with other producers like Potash Corp. (POT), Agrium Inc. (AGU), Terra Nitrogen Company LP (TNH), and CF Industries Holdings Inc. (CF) that use natural gas as their main feedstock. To lower transportation fees and secure long-term supply, CVR Partners is strategically located next to its affiliate's, CVR Refining's, refinery in Coffeyville, Kansas.
Products
The two products that CVR Partners produces are ammonia and UAN (urea ammonium nitrate), with a heavier weight towards the latter. In 2012, the company had a capacity to produce (or process) 1,225 tons of ammonia, 3,000 tons of UAN, and 84 million standard cubic feet of hydrogen a day. With the completion of a UAN expansion plant in February 2013, the company currently upgrades almost all of its ammonia to UAN, which commands a premium. It costs about 0.41 tons of ammonia to produce a ton of UAN.