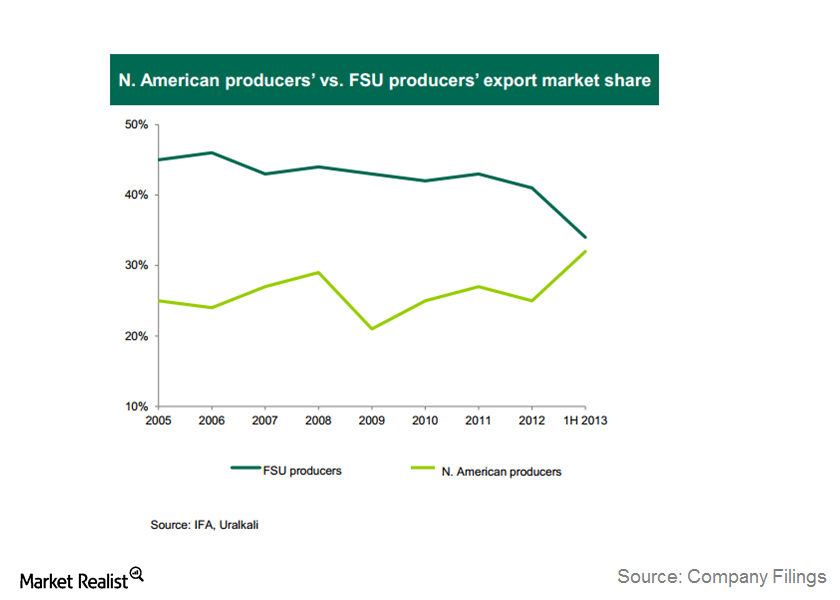 Why the wayward Canpotex upset the Russian giant Uralkali
<p>In its recent earnings call, Uralklali highlighted its new strategy, called the Revenue Maximization Strategy. </p>
Revenue Maximization Strategy
In its recent earnings call, Uralklali highlighted its new strategy, called the Revenue Maximization Strategy. As an industry leader, the company said it will "grasp market opportunities to maximize its revenue through either price or volume or both." Why this change?
Canpotex gains in market share
In the past, Uralkali has mostly focused on a price-over-volume strategy. While Uralkali was trying to support prices, North American producers—which include Potash Corp. (POT), Agrium Inc. (AGU), and Mosaic Co. (MOS)—gained market share by offering lower prices.
Article continues below advertisement
Article continues below advertisement
In Brazil, Canpotex (the international marketing arm of the three companies mentioned) increased market share by 8% to 38% year-over-year in the first half of 2013. In Malaysia and Indonesia, Canpotex's market share was also up 12% year-over-year and 8%, respectively—again through low prices. And in India, market share rose to 26% in 2013, compared to the historical market share of 23.5%.
Other major producers like K+S (Germany) and ICL (Israel) were also very aggressive in terms of pricing in Brazil and Europe, according to Uralkali. Belaruskali's sale during the first half of 2013 outside of BPC also reflected a changing competitive environment.
Uralkali hurt
As a result of these aggressive prices, FSU (Former Soviet Union) producers' market share fell from 41% in the first half of 2012 to 34% in the first half of 2013. Uralkali's share of global market fell from 22% to 17%, while Belaruskali's fell by a lesser extent of 19% to 17%.
A prolonged decline in potash prices also made the price-over-volume strategy difficult to implement, the company said.