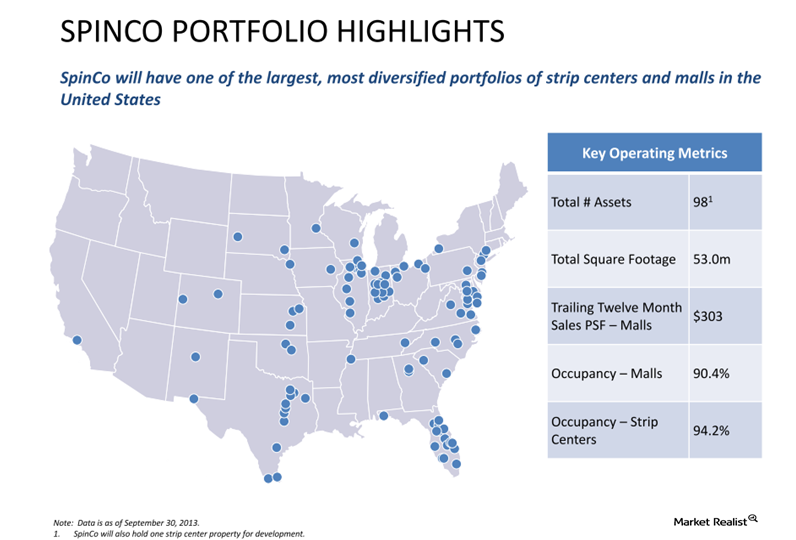 Must-know basics of Simon Property Group's spinoff REIT, Spinco
Basics of the spin-off company, Spinco
Spinco will have one of the largest, most diversified portfolios of strip centers and malls in the United States. It will hold a total of 98 assets, with a mix of 54 strip centers and 44 malls, totaling 53 million square feet. Its trailing 12-month sales per square foot were $303 with an occupancy rate from 90.4% to 94.2%. Geographically, Spinco will operate in 23 states, but these assets are concentrated in the Midwest, Mid Atlantic, Florida, and Texas. For Spinco, 70% of net operating income will come from malls, while 30% will come from strip centers. Spinco intends to pursue an investment grade rating from all three ratings agencies.
Key initial financial metrics
Estimated net operating income of approximately $400 million
Estimated interest expense of $100 million
Estimate funds from operations of $300 million
Dividends per share of at least $0.50
Net operating income growth of 2.2%
Target leverage of approximately 5x to 6x EBITDA
Anticipated capital structure
Article continues below advertisement
Article continues below advertisement
Spinco intends to pursue an investment-grade credit rating. It will issue $1 billion of new debt, which will be held at the Simon Property Group level. Spinco will have approximately $2 billion in debt total. Analysts anticipate that Spinco will have access to multiple forms of capital. Spinco has elected to remain a REIT.
Competitive strengths
In the company presentation to analysts, management emphasized the following competitive strengths for the company.
Track record of stable operating performance
Dual asset class strategy enabling efficient flexible allocation of capital
Low leveraged balance sheet positioned to access growth capital
Ability to act as a leading acquirer, developer, and redeveloper from day one
Well-diversified national portfolio that efficiently serves tenants
Dedicated management team steeped in Simon's heritage of focusing on operations and growth
Benefits of continued relationships with Simon, including board representation
Spinco business strategy
Spinco will pursue a growth-oriented business strategy, which focuses on smaller malls and strip centers. It intends to augment internal growth by developing new high-quality strip centers and pursuing acquisition opportunities in both asset classes. It has made a significant investment in these assets to attract and expand key anchor tenants and have a pipeline of approximately $300 million for future development and redevelopment projects. Recently, added or expanded anchor tenants include Walmart (WMT), Dick's Sporting Goods (DKS), Bed Bath & Beyond (BBBY), and Cinemark (CNK). Simon Property Group will continue to provide property management services and some support functions on a transitional basis.
Spinco management and board
Spinco will have an executive management team dedicated to the small mall and strip strategy. The current strip center management team will join Spinco and key executive positions are currently being sourced from both internal and external candidates. There will be a transition services agreement with Simon that will provide some support functions. The board of directors will have a majority of independent directors, but Simon Property president and chief operating officer Richard Sokolov will serve as chairman of Spinco's board and David Simon, chairman and chief executive officer of Simon Property Group, will be a director.