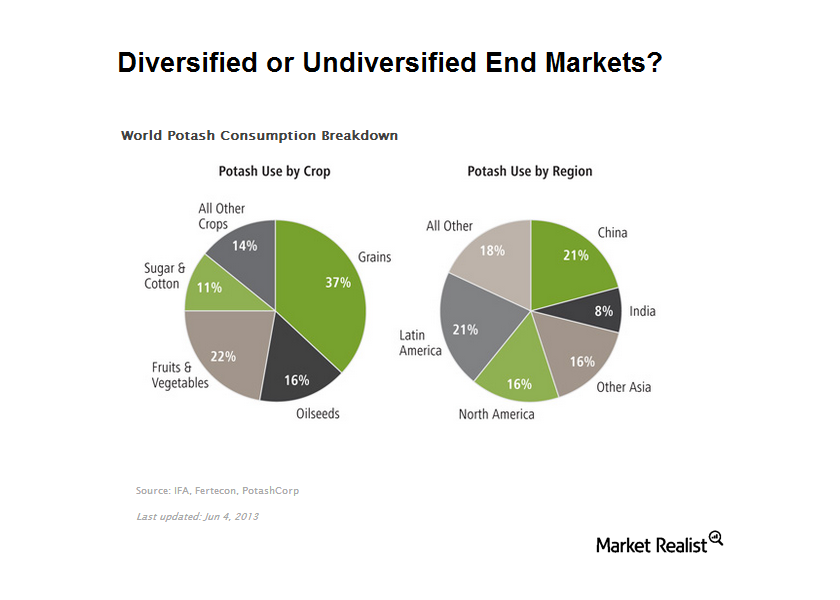 Why is the end use of potash internationally diversified?
By Xun Yao Chen

Dec. 4 2020, Updated 10:52 a.m. ET
Diversified use
Globally, potash is used to support a variety of plants' growth. This includes grains like maize (corn), wheat, and rice, oil seeds like soybeans, sugar, and cotton, and fruits and vegetables. The remainder goes to crops like oil palm, rubber, cotton, coffee, and cocoa.
Regions
Because the nutrient is used for a variety of crops, demand isn't tied to market fundamentals for any single crop. The same can be said for potash use by region. Nonetheless, China, India, and other Asian countries make up a relatively large percent of world potash use, while the top four consuming countries—China, North America, Brazil, and India—account for almost 60% of consumption.
Correlated crop prices
Article continues below advertisement
Because the end markets are diversified, it may be preferable to track prices for a basket of crops traded in the international market. However, investors should think beyond this point. As crops widely trade in the international market, they often converge with each other if transportation costs aren't so high. So any price increase that occurs in one region—China, for example—could impact crop demand and prices in the United States.
Correlated economic activity
Also, because of advancements in trade and financial systems, countries are much more interconnected than before. They have been in the past, but they're much more codependent today. This means that if a key country like China or India isn't performing well, it creates a negative ripple effect on neighbor businesses in Thailand, Malaysia, and Indonesia. Since income growth in emerging markets is a large source of growth for fertilizer producers, weak economic growth in countries like China or India can negatively impact overall potash demand.