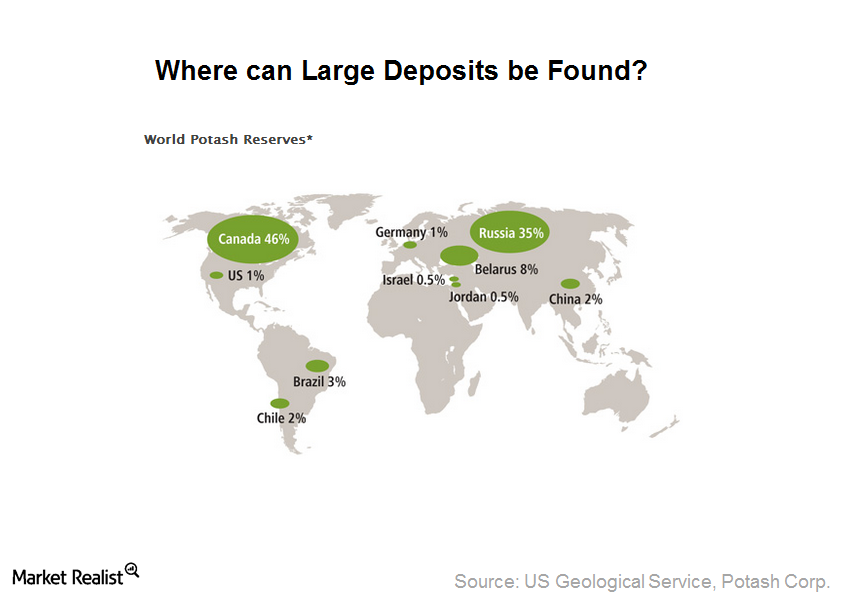 Why are economical potash deposits concentrated in 3 locations?
Common element
According to K+S Potash, potassium (potash) is the seventh most common element in the Earth's crust, accounting for 2.4% of its mass. Potash deposits are predominantly made up of potassium-bearing salt solutions, either in underground or salt lakes.
History
Salt lakes are formed when the water containing salt and other minerals enters the lake but can't leave the basin. As water evaporates over time, the basin is left with just salt and other minerals—including potassium (potash). The first potash deposits in the world were found in 1856 during works to open up a rock salt deposit in Stabfurt, near Magdeburg in Saxony-Anhalt, Germany. Before then, potassium could only be obtained from wood ashes.
Recovery process
Article continues below advertisement
Most natural potash deposits are recovered via traditional underground mining by cutting several hundred meters below the ground or using explosives—like you see in Indiana Jones movies. An alternative way to access potash was introduced a few decades ago, particularly for deposits that were once inaccessible.
This involves dissolving potash with fresh water using deep boreholes and bringing the liquid up to the surface in large containers, which are then cooled off to allow the potassium chloride to crystallize. Because of its technical difficulty, there are only a few large mining plants in the world that do this.
Economical deposits are concentrated
Globally, economically mineable deposits are geographically concentrated in the Northern Hemisphere. Canada, Russia, and Belarus together account for more than 89% of the world's estimated reserves and a little over 66% of global capacity.
Approximately half of the world's reserves and 35% of global capacity are found in the Canadian province of Saskatchewan, where publicly traded large companies like Potash Corp. (POT), Agrium Inc. (AGU), and Mosaic Co. (MOS) mine. Uralkali (in Russia) and Belaruskali are two major miners.