Why second-hand ship values suggest dry bulk shares will climb
The significance of second-hand ship values The prices of older vessels are another indicator that reflects the fundamentals of shipping companies. Because these vessels are sold and bought in the secondary market, it doesn't take as long for the buyer to receive these vessels. So price movements in older vessels often reflect nearer-term fundamental outlook […]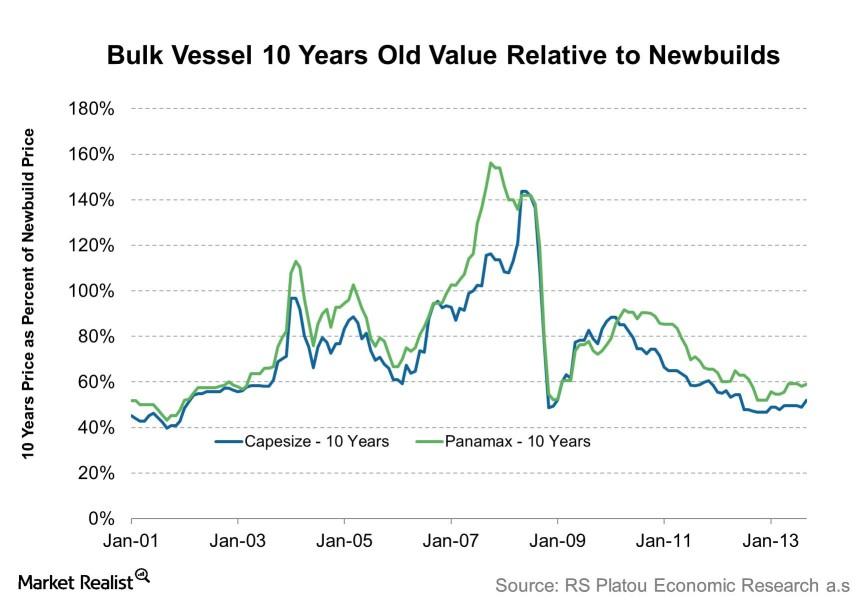 The significance of second-hand ship values
The prices of older vessels are another indicator that reflects the fundamentals of shipping companies. Because these vessels are sold and bought in the secondary market, it doesn't take as long for the buyer to receive these vessels. So price movements in older vessels often reflect nearer-term fundamental outlook and they tend to lead new build prices. When the prices of second-hand ships rise, you can expect shipping companies to benefit over the short to medium term. But when prices are falling, expect shipping companies to perform poorly.
Second-hand ship values rose in September
Article continues below advertisement
Article continues below advertisement
In September, second-hand values rose for both Capesize and Panamax vessels. Ten-year-old vessel prices had jumped 10.64% from $34 million to $38 million for Capesize rates, while the prices for Panamax vessels rose 3.13% from $16 million to $16.5 million. This is a larger increase than we've seen for new builds, reflecting managers' assessment that shipping rates will rise faster than expected and the fact they're paying a time premium to receive these second-hand vessels right away.
Time premium is on the rise
Time premium is normal when rates are rising fast. From 2001 to 2007, for example, the prices of ten-year-old ships as a percent of new builds had climbed from ~50% to ~140% when dry bulk rates were soaring via rapid growth in China's economy. September's increase in the ratio for both vessels bodes positively for short-to-medium-term rates. With the current level sitting near the lower range over the past 13 years, there's much room for second-hand values to rise.
Time premium at lower bound
Unless ten-year-old vessels become really expensive, towards the ~80% range as a share of new builds, it's unlikely that we'll see a hefty amount of new ship orders and new build supply entering the industry. Once second-hand values rise to that high, shipping companies will be aggressively ordering new vessels from more expensive shipyards and start paying premiums to accelerate production, which drives the overall price of new ships up and will lead to increased future supply. The current trend bodes positively for dry bulk companies like DryShips Inc. (DRYS), Diana Shipping Inc. (DSX), Navios Maritime Holdings Inc. (NM), Safe Bulkers Inc. (SB), and Navios Maritime Partners LP (NMM) over the long term.