Will Plug Power Stock Bounce Back in 2021 or Keep Falling?
There has been a widespread sell-off in all green economy stocks over the last three months. Plug Power (PLUG) stock is down 69 percent from its 52-week highs. Will the stock bounce back or keep falling in 2021?
Article continues below advertisement
Looking at other fuel cell energy stocks, FuelCell Energy (FCEL) and Bloom Energy are down 73 percent and 54 percent, respectively, from their 52-week highs. The euphoria towards green energy stocks has faded and investors have been apprehensive about the valuations. To make matters worse, rising bond yields and hardening inflation have made growth stocks like PLUG less attractive.
What happened to PLUG stock?
PLUG stock jumped over 17 percent on May 11 after it provided its business update. It expects gross bookings in the first quarter to rise 60 percent YoY to a record $70 million. Plug Power's net revenues are also expected to rise 60 percent over the period to $67 million.
Article continues below advertisement
Plug Power expects the gross billings to increase 50 percent YoY to $105 million in the second quarter and reiterated its annual gross billing guidance of $475 million. The company expects gross billings to rise to $750 million in 2022 and $1.7 billion by 2024. The business update helped prop up the stock even though the metrics fell short of analysts' estimates.
Article continues below advertisement
Plug Power stock valuation
PLUG has a market capitalization of just under $12 billion. In its business update, the company said that it has $5 billion as cash on its balance sheet after a stock sale and a strategic investment from South Korea's SK Group.
Article continues below advertisement
At the end of 2021, the company had a debt of $715 million. This would mean an EV (enterprise value) of around $7.7 billion. Based on the forecasts provided by PLUG, it's valued at a 2024 EV-to-gross billing multiple of 4.5x.
Looking at comparative valuations, PLUG trades at an NTM EV-to-sales multiple of 29.7x compared to FCEL's 26.4x. The valuation multiples of PLUG and FCEL have trended together. While PLUG looks undervalued considering the fact that its multiples have compressed over the last three months, its recovery would also depend on how market sentiments towards growth stocks change.
Article continues below advertisement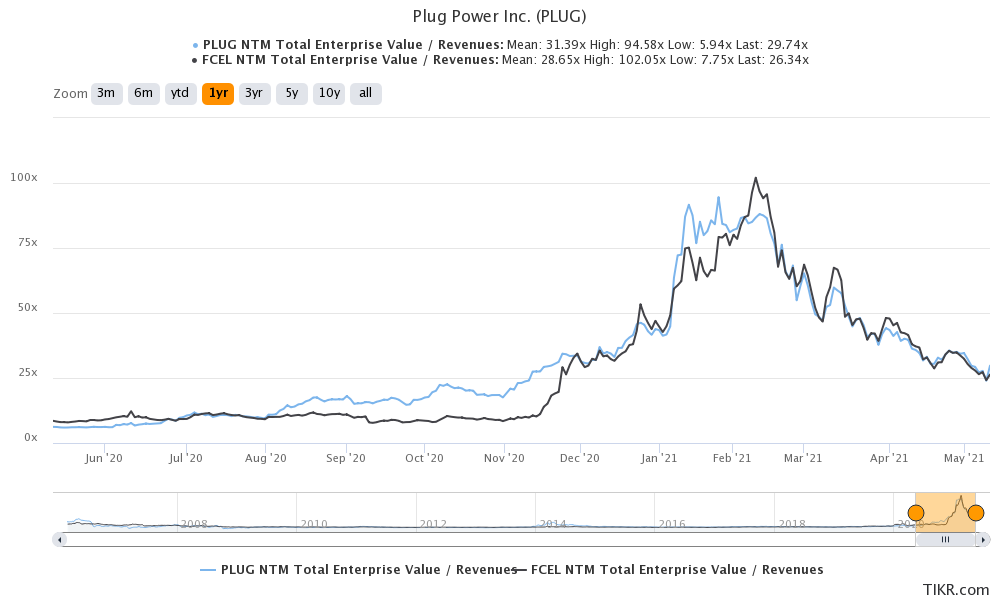 Plug Power stock forecast
According to estimates compiled by CNN Business, PLUG has a median target price of $50, which is a premium of 112 percent over its current prices. Its lowest and highest target prices are $29 and $78, respectively.
Article continues below advertisement
Among the 19 analysts that are covering PLUG stock, 12 have rated it as a buy or some equivalent, while six rated it as a hold. One analyst has rated the stock as a sell.
Plug Power stock on Reddit
PLUG isn't very popular on Reddit forums like WallStreetBets. However, there are two subreddits called r/PLUGpower and r/powerplugstock with 1,200 and 1,100 members, respectively, that discuss news related to the stock.
Article continues below advertisement
Should I buy PLUG stock?
If you want to take a bet on the future of the hydrogen economy, which Plug Power forecasts at $10 trillion, you can consider buying Plug Power stock. The stock's valuation multiples look much more reasonable now and its growth outlook is intact with the company reiterating its long-term growth forecast.
Article continues below advertisement
Also, Plug Power has negative net debt after raising capital by selling shares. The company can use the cash for both organic and inorganic growth.
Price level to buy PLUG stock
Plug Power looks like a good buy near the $20 price level. That said, expect the stock to be volatile in the near term just like it has been over the last year.