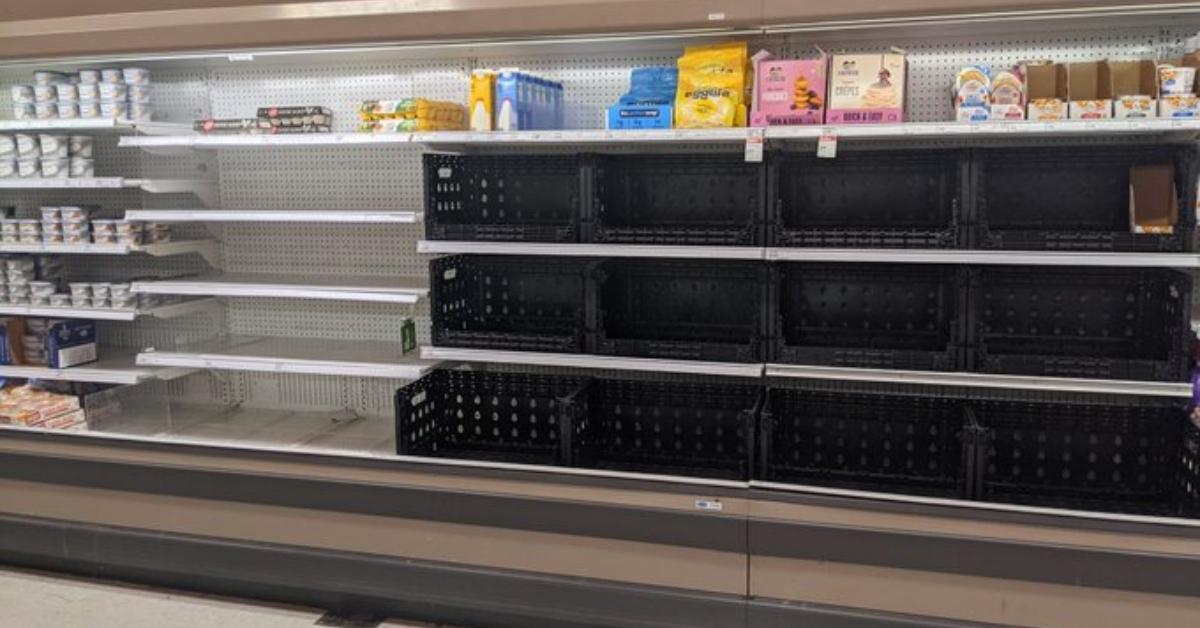 Why Are Grocery Store Shelves Empty and How Long Will It Last?
Making dinner at home might resemble an episode of the Food Network's Chopped, where contestants have to throw a meal together with limited ingredients. Grocery stores are running out of everything from chicken to cat food. Why are grocery store shelves empty?
Article continues below advertisement
Empty store shelves are just another result of the COVID-19 pandemic. The spike in COVID-19 cases, specifically the omicron variant of the COVID-19 virus, has put a strain on the supply chain due to an increased number of workers being out sick.
Samantha Webster, a dairy manager at a San Francisco area Safeway store, told CNBC this week that 15 of the store's almost 60-person staff were out sick with the virus.
Article continues below advertisement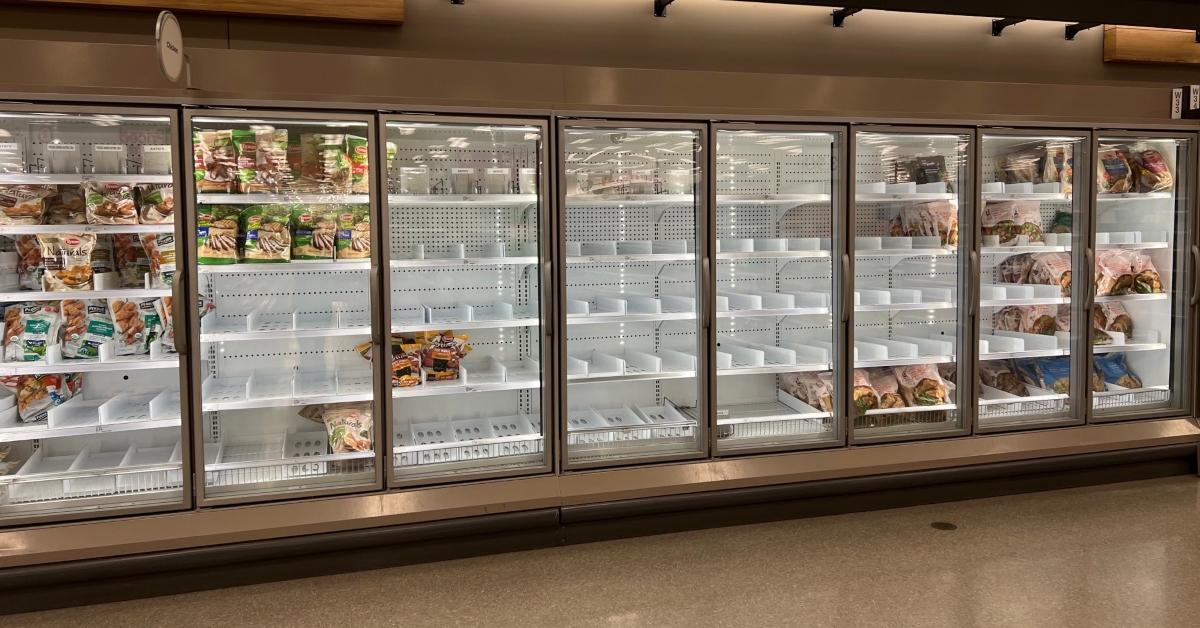 "We were expecting that supply issues to get more resolved as we go into this period right now," Albertsons CEO Vivek Sankaran said on a recent earnings call with investors. "Omicron has put a bit of a dent on that. So there are more supply challenges, and we would expect more supply challenges over the next four weeks to six weeks."
Article continues below advertisement
Truck driver shortages also impact grocery store shelves.
"The supply chain is fragile and unable to absorb further shocks -- whether its winter storms or, far more impactfully, omicron -- and that's showing up as empty shelves," said Geoff Freeman, the CEO of the Consumer Brands Association, told Bloomberg.
Article continues below advertisement
Social media is full of empty store shelf pictures from the U.S., Canada, and Australia.
Social media is littered with plenty of pictures of bare shelves in grocery stores.
"Empty grocery shelves return as sick employees, supply chain delays collide. Everyone should try to have a 2 month supply of non-perishable food in your home. Grocery stores can empty out in 1 day," tweeted Wall Street Silver.
Article continues below advertisement
"Hardly any cat food left. Empty shelves remind me of my youth in Cuba. Never have I ever seen this in the US," tweeted YeiDan Hdz.
Shortages aren't only in the U.S. Twitter users from Canada and Australia are also posting pictures of empty grocery shelves.
Article continues below advertisement
"No these empty market shelves are not in some impoverished nation. They are right here in 3rd world Canada. Poor govt infrastructure and poor corporate planning. Call me if ya need planning help," tweeted Darcy Brown.
#BareShelvesBiden is trending on Twitter.
People in the Twitter-sphere are quick to blame politicians for their grocery store woes. In the U.S., conservatives blame President Joe Biden and his administration for the lack of Fancy Feast on store shelves. The #BareShelvesBiden is a trending topic.
Article continues below advertisement
"Pictures of bare shelves at grocery stores throughout the Las Vegas valley this week thanks to #BareShelvesBiden. After almost a year in office, the only thing Joe Biden has delivered on are empty shelves and empty promises," tweeted Adam Paul Laxalt.
Article continues below advertisement
Meanwhile, Australians point the blame at Prime Minister Scott Morrison.
"Scott Morrison might think everything looks fine from his office in Canberra, but Australians are dealing with empty supermarket shelves, non-existent rapid tests, and parents are having their kids' vaccine appointments cancelled. He is out of touch and failing us," tweeted Anthony Albanese.