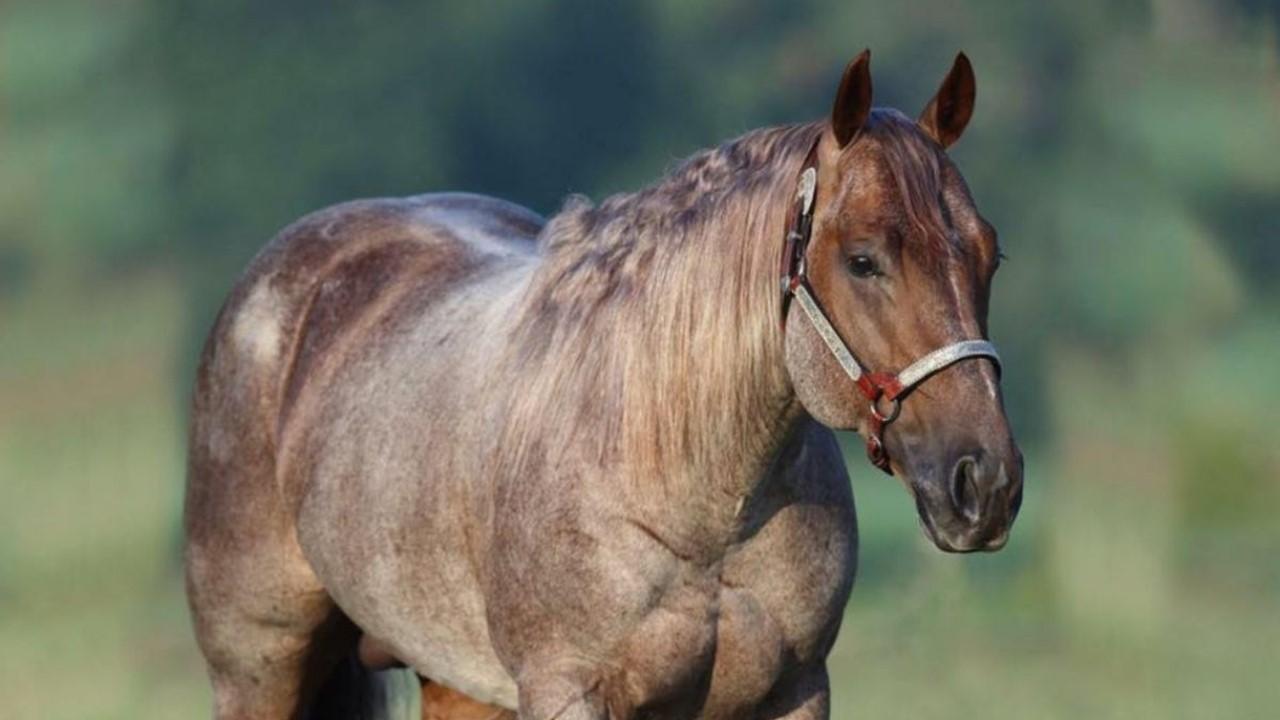 Who Owns Metallic Cat? The Horse Featured in 'Yellowstone'
By Kathryn Underwood

Dec. 27 2021, Published 9:57 a.m. ET
Metallic Cat, a retired performance show horse and breeding stallion, made an appearance in the Paramount television series "Yellowstone" in Season 4. The popular horse has sired several successful and profitable horses since his own show horse career ended.
Article continues below advertisement
The horse is primarily owned by Bobby Patton of Rocking P Ranch in Fort Worth, Tex. Metallic Cat was named the NRCHA (National Reined Cow Horse Association) Sire of the Year in 2019.
Article continues below advertisement
Details of Metallic Cat
Metallic Cat, a descendant of High Brow Cat, is a red roan stallion that was born in 2005.
Metallic Cat's rider was Beаu Gаlyeаn during his show horse cаreer. The pair was very successful and won many awards together. During his 12 months of performing, Metallic Cat earned $637,711, according to Quarter Horse News.
Article continues below advertisement
Metаllic Cаt won the 2008 Open Futurity Championship. He wаs also nаmed the NCHA (National Cutting Horse Association) Horse of the Yeаr in 2009.
In 2018, Metallic Cat became an NRCHA Million Dollar Sire. He continued to pass subsequent milestones until he became the sire of NRCHA earners of more than $4 million as of September 2021. Only one other horse, Shining Spark, bred and owned by Carol Rose, has reached that milestone.
Article continues below advertisement
Who owns Metallic Cat?
Robert "Bobby" Patton Jr. of Rocking P Ranch purchased Metallic Cat several years ago after he also acquired Spots Hot—another cutting horse stallion. The former owner of Metallic Cat was Alvin and Becky Fults of Fults Ranch Ltd., in Amarillo, Tex.
Article continues below advertisement
As of 2017, when Patton acquired the horse, Metallic Cat had sired 36 total offspring that had each earned over $100,000 so far in their lifetimes. Four of those offspring had brought in $300,000 apiece in lifetime earnings, which makes it clearly profitable to buy a horse sired by Metallic Cat.
Patton also bought 11 horses from the Walton's Rocking W Ranch Absolute Dispersal Sale in September 2015, according to Quarter Horse News. He's also a member of the Guggenheim Baseball Management Group, which owns the Los Angeles Dodgers baseball team.
Article continues below advertisement
Patton owns Equi-Stat Elite $4 Million Sire Boon San along with Spots Hot, whose offspring earnings total approximately $600,000.
How Metallic Cat end up on "Yellowstone"
The Paramount program Yellowstone, which features actors including Kevin Costner and Josh Lucas, is largely set in Montana but it goes to Texas in Season 4. Part of the season is filmed at the Four Sixes Ranch.
Article continues below advertisement
Metallic Cat is featured in Episode 9 of Season 4 of Yellowstone when a character attends a horse cutting event, Quarter Horse News reported. He was filmed for his role in the show in October 2020.
Patton purchased the right for Metallic Cat to appear in the TV show by winning an auction for charity. Taylor Sheridan, the creator of Yellowstone, donated the auction prize of a stallion to be written into the script. Patton's winning bid of $165,000 will go to benefit the NCHA Charities Foundation.