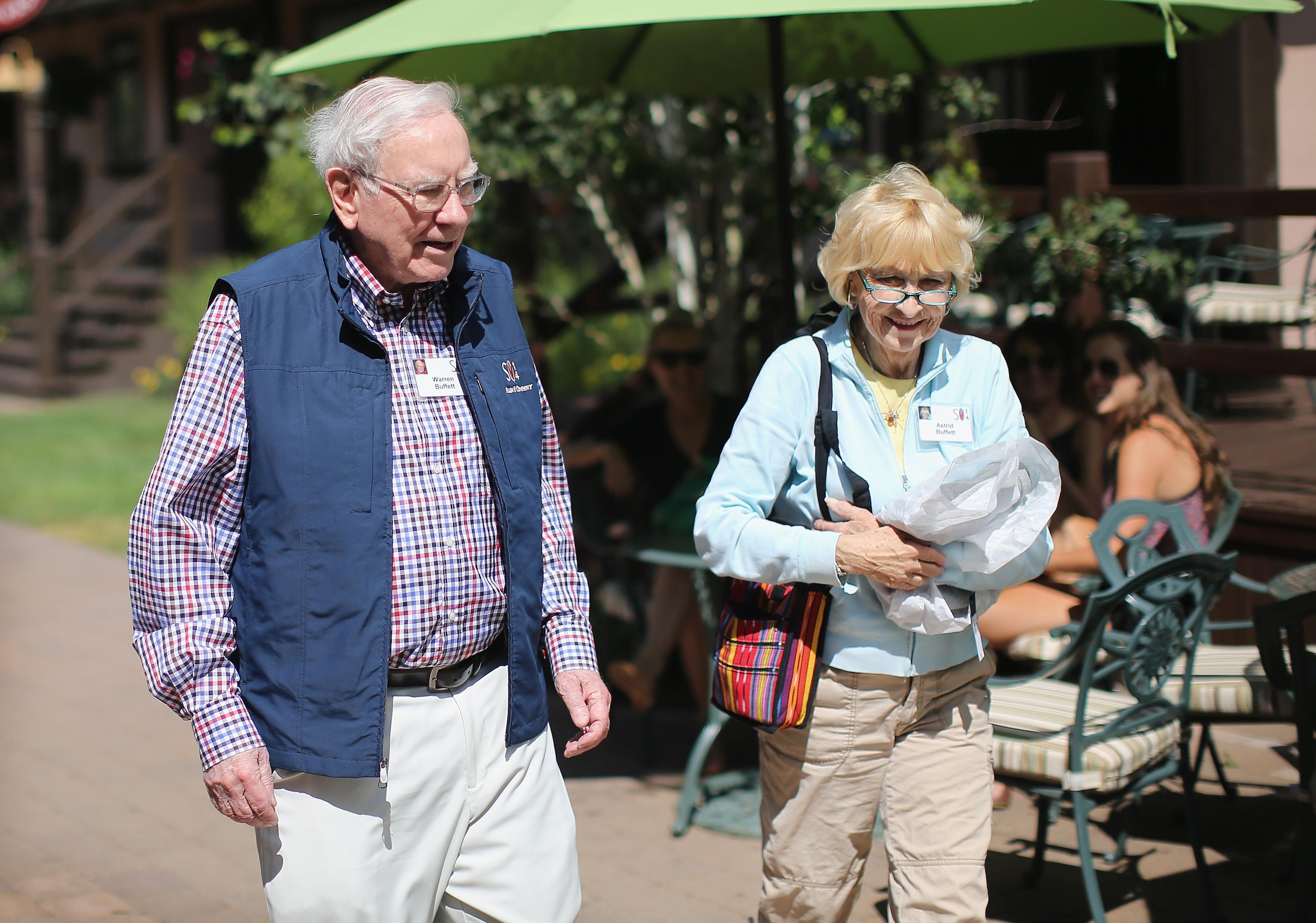 Is Warren Buffett Married? Here are the Details on His Current Wife
Warren Buffett is one of the richest men in the world. His net worth is over $80 billion due to some great investments and eye for money from a young age. But his love life is more complicated. He's been married twice and his first marriage was open for years.
Article continues below advertisement
Who was Susan Buffett?
Warren Buffett's first wife, Susan Thompson Buffett was a political activist who left her whole life and marriage behind to follow her dream of becoming a singer.
She and Warren Buffett met in 1950 and married two years later. Over the years, the Buffetts would have three kids together: Susie, Howard, and Peter. They were married for 52 years until she died of a stroke in 2004.
Article continues below advertisement
During her marriage, Susan Buffett moved to California to chase her singing dreams. According to CNBC, Warren Buffett was very upset by her leaving but mostly, blamed himself for her leaving their home in Nebraska.
"It was definitely 95 percent my fault," Buffett told the author of his biography, Alice Schroeder. "I just wasn't attuned enough to her, and she'd always been perfectly attuned to me. She kept me together for a lot of years ... It shouldn't have happened."
Article continues below advertisement
Even after Buffett moved out, she and her husband continued to have a strong relationship. They would visit each other and she attended events with him.
Susan Buffett also has a foundation in her name. The Susan Thompson Buffett Foundation awards college scholarships to eligible students in Nebraska. Founded in 1964, the foundation has been helping students in the state for more than 50 years.
Article continues below advertisement
Who is Warren Buffett's current wife?
According to Business Insider, Buffett met his second and current wife, Astrid Menks in 1978. The Latvian immigrant was actually introduced to him by his first wife.
Article continues below advertisement
Two years after Susan's death, he and Astrid married in 2006 although they had been dating for years before that with Susan Buffett's approval.
Even though the two had already been in a relationship for decades, Buffett and Menks got married at his daughter's house when he was 76 years old, according to The New York Times.
Article continues below advertisement
Warren Buffett embraced open marriage years before the trend
Warren Buffett is well-known for his financial prowess, but he was in open relationships for years. He and his first wife Susan Buffett had an open marriage for years, according to Business Insider.
While Susan and Warren Buffet were living apart, he began dating other women and met his current wife Astrid Menks. In fact, Susan introduced them. She began singing at a restaurant where Menks was a waitress and she made the connection.
Article continues below advertisement
According to the Buffett family, everyone involved in the relationship was happy with it. Holiday cards would even be signed by each member of the triad, which is a name given to romantic relationships between three people in the polyamorous community.
An article in Money Inc. suggests both women were either close friends or in a romantic relationship themselves. It says Susan Buffett and Astrid Menks have been seen multiple times holding hands in public.
But Astrid Menks is not an exception in an otherwise monogamous marriage. CNBC also reported that Warren Buffett had a "flirtatious relationship" with a woman named Katherine Graham after Berkshire Hathaway bought a stake in The Washington Post. Susan Buffett was reportedly OK with it.