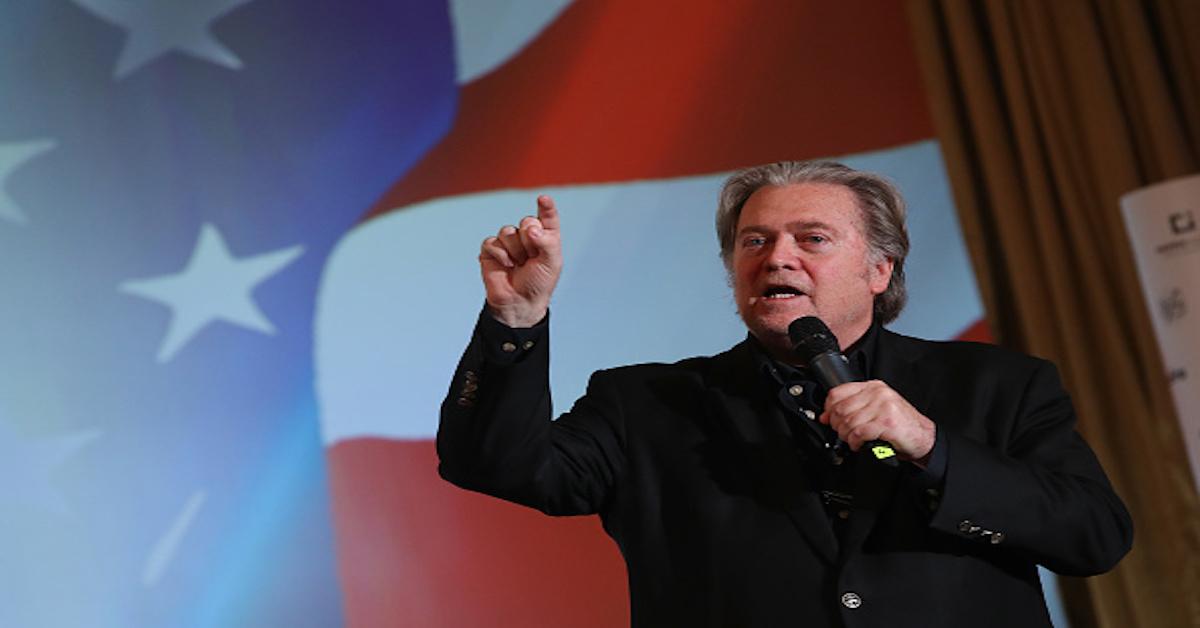 House Votes to Hold Bannon in Contempt—Which 9 Republicans Voted in Favor?
By Robin Hill-Gray

Oct. 22 2021, Published 2:33 p.m. ET
On Thursday, Oct. 22 in 229 to 202 vote, a measure was approved to hold Steve Bannon—former White House Chief strategist and Trump ally—in criminal contempt for noncompliance with a committee issued subpoena that investigated the January 6th insurrection. Nine republicans voted against Bannon. So, who were they?
Article continues below advertisement
These nine Republicans voted in favor of holding Bannon in contempt:
The most notable Republican representatives who voted for the measure are January 6 Commission committee members Rep. Liz Cheney (R-Wy.) and Rep. Adam Kinzinger (R-Ill.) The other seven were:
Brian Fitzpatrick (R-Pa.)
Anthony Gonzalez (R-Ohio)
Jaime Herrera Beautler (R-Wash.)
Nancy Mace (R-S.C.)
Peter Meijer (R-Mich.)
Fred Upton (R-Mich.)
John Katko (R-N.Y.)
In response to Bannon's refusal to act on the subpoena regarding the January 6 uprising, Rep. Kinzinger stated, "Mr. Bannon's willful disregard for the select committee subpoena demonstrates his utter contempt for the American people's right to know how the attacks on January 6 came about."
Rep. Katko also addressed whether or not he felt pressured from other GOP members to vote a certain way, to which he replied, "I never feel pressure. I do what I think is right, no matter the consequences."
Article continues below advertisement
Liz Cheney also stated her opinion on the matter: "The American people must know what happened. They must know the truth. All of us who are elected officials must do our duty to prevent the dismantling of the rule of law, and to ensure nothing like that dark day in January ever happens again." Cheney even went the extra mile to share a clip via Twitter from Steve's podcast where he, just one day before the insurrection, shared his feelings on what lies ahead for the country in the following days.
Article continues below advertisement
Then President Trump allegedly tried to privilege conversations with Bannon by executive order.
It is believed that, prior to the insurrection in late December, Bannon spoke with Trump and tried to convince him to overturn the 2020 elections and do so on January 6. While in the White house, Trump sought to protect his sensitive conversations with Bannon and the files therein by choosing to invoke an executive order.
Article continues below advertisement
But since Bannon was no longer acting White House Chief Strategist, the voting committee believed he couldn't continue to be protected by the executive order, which led to the outcome of Thursday's vote. A tweet below shows an email obtained by ABC detailing Bannon's issue with the subpoena.
Article continues below advertisement
The matter now heads to the Department of Justice.
Now that the committee has decided to pursue holding Bannon in contempt, the matter will move to the Department of Justice. Representatives such as Cheney and Kinzinger believe Bannon's behavior sets a gross precedent if not reprimanded, and it is quite clear that anyone else in high political positions that were heavily involved in the insurrection can expect to face similar consequences.
Under law it is required that the United States Attorney General "bring the matter before the grand jury for its action." However, many GOP members believe this entire case is an attempt to make an example out of Bannon and have cited that Biden's disdain for Bannon as a factor in the pursuance of the case.
But U.S. Attorney General Merrick Garland has assured the public that this matter, if pursed independently by the DOJ, will be done so based entirely on the facts of the case. While these cases can take anywhere from months to a year, if convicted Bannon can face anywhere from 1 to 12 months in prison and a fine.