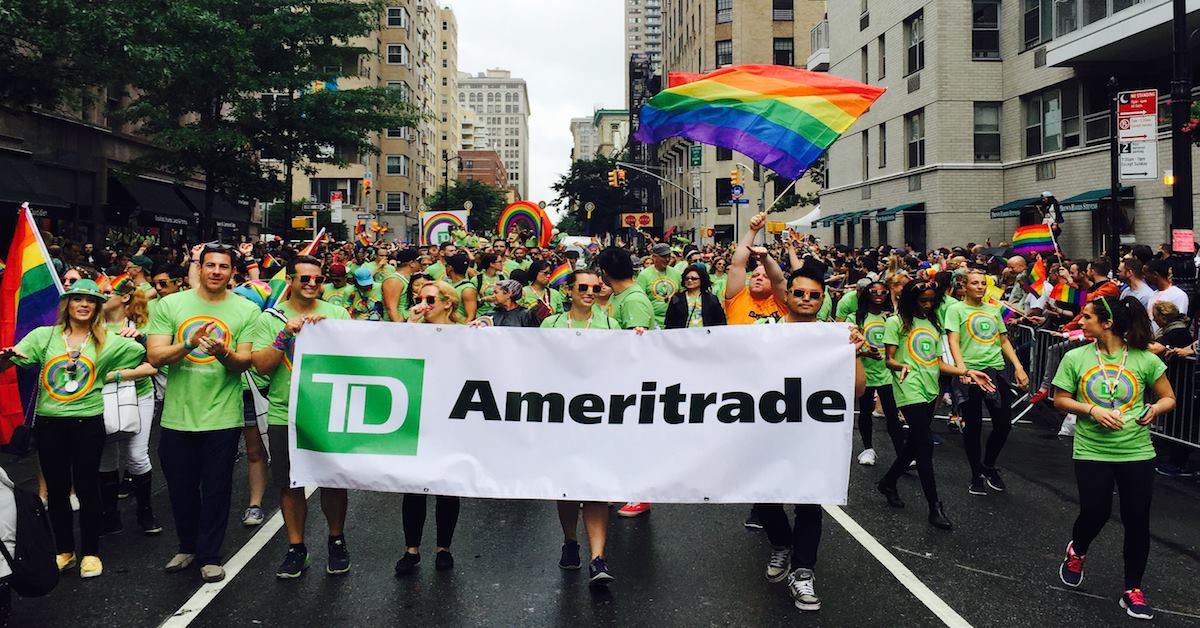 TD Ameritrade vs. Fidelity: Comparing Investing Apps
With the rise of stock trading apps, consumers are only a few taps away from participating in the stock market. Between TD Ameritrade and Fidelity, two of the largest online stock trading platforms, is there a winner?
Article continues below advertisement
StockBrokers.com ranked TD Ameritrade better than Fidelity. The website said that TD Ameritrade offers an ultimate trading package. It includes commission-free stock and ETF trades, excellent market research, fantastic trading platforms, reliable customer service, and industry-leading education for beginners. This all-round experience makes TD Ameritrade StockBroker's top overall broker this year.
In Investopedia's 2020 Best Online Brokers reviews, TD Ameritrade scored better than Fidelity in the Best for Beginners, Best Stock Trading Apps, and Best for Options categories. However, Fidelity fared better than TD Ameritrade in the Best Overall, Best for Low Cost, Best for International Trading, and Best for ETFs rankings.
Article continues below advertisement

How much do TD Ameritrade and Fidelity cost?
TD Ameritrade, founded in 1975, offers outstanding educational content, robust trading platforms, and live events. Fidelity is also an industry giant. Founded in 1943, Fidelity built its reputation on its mutual fund business.
Article continues below advertisement
TD Ameritrade and Fidelity both offer commission-free trading of stocks, ETFs, and options for U.S. based customers. Each charges about $50 for mutual funds outside the no-fee list, and each has per-contract options fees of $0.65. TD Ameritrade charges $25 for broker-assisted trades, while Fidelity charges $32.95.
TD Ameritrade and Fidelity generate interest income from the difference between what they earn on customer balances and what you're paid on your idle cash. Both of the stock brokers allow you to transfer your cash into a money market fund to receive a higher interest rate. TD Ameritrade and Fidelity share the revenue generated from lending securities held in your account to other traders.
Article continues below advertisement
Which offers more choice to investors: TD Ameritrade or Fidelity?
TD Ameritrade provides a more diverse selection of investment options compared to Fidelity. TD Ameritrade provides investors access to stocks, OTCBB / penny stocks, fractional shares, options trading, forex trading, advisor services, mutual funds, futures trading, and international exchanges. While Fidelity supports trading across various asset classes, fractional shares, cryptocurrencies, futures, and options on futures are missing from its product offerings.
Mutual fund investors should note that as of June 2020, Fidelity has a larger number of no-load, no transaction fee funds in its line-up—3,540 compared to 1,955 for TD Ameritrade.
Article continues below advertisement
Ease of use of TD Ameritrade and Fidelity's trading platforms and tools
TD Ameritrade and Fidelity both offer desktop and mobile trading platforms. Fidelity's desktop platform is reasonably easy to use. You can set a few defaults, like whether you want to use a limit order or market order, but you make most choices when you place a trade. Fidelity's active trader pro offers filters, charting tools, and defined alerts. In the mobile app, you can manage your orders, place trades, and check pending transactions. However, the mobile app falls short in research and charting.
Article continues below advertisement
With TD Ameritrade's desktop platform, you can customize the order type, quantity, and tax-lot methodology. Its thinkorswim interface is easier to navigate, intuitive, and you can generate custom analysis tools with the help of thinkScript.
Does TD Ameritrade and Fidelity offer banking services?
Online banking is beneficial for investors, and some stock brokers do offer banking services to customers. Fidelity offers customers savings accounts, checking accounts, debit cards, and credit cards, while TD Ameritrade offers checking accounts, debit cards, and credit cards.