Humanigen (HGEN) Stock Looks Like a Buy Amid More COVID-19 Waves
Humanigen (HGEN) stock rose over 54 percent on March 29 and is now up 243 percent over the last year. Why is HGEN stock rising and should you buy the stock now or stay on the sidelines?
Article continues below advertisement
Humanigen is a clinical-stage biopharmaceutical company. It isn't uncommon for companies like this to rise or fall sharply, especially when they release trial results.
Humanigen stock and COVID-19 drug news
On March 29, Humanigen released the results from its Phase 3 clinical trial of its lead drug candidate, lenzilumab. The company said, "Trial results showed that patients who received lenzilumab and other treatments, including steroids and/or remdesivir, had a 54 percent greater relative likelihood of survival without the need for IMV (invasive mechanical ventilation) compared with patients receiving placebo and other treatments."
Article continues below advertisement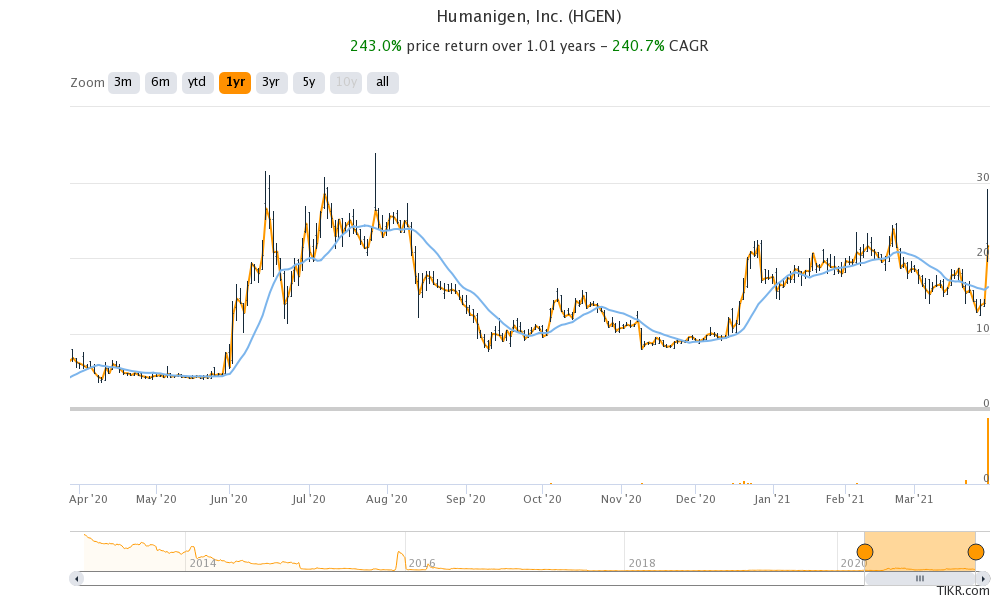 The news was a bullish driver for the stock and it soared after the news. Also, the trial was conducted on a diverse population that was "representative of a real-world, high-risk population."
Article continues below advertisement
HGEN's stock forecast
According to the estimates compiled by CNN Business, HGEN stock has a median target price of $35, which is a premium of almost 77 percent over the current prices. Its lowest target price of $21 is 6.2 percent above current prices, while the highest target price of $40 represents a potential upside of 102 percent over the next 12 months.
Among the seven analysts covering the stock, six recommend a buy, while one recommends a hold. None of the analysts recommend a sell.
Article continues below advertisement
HGEN stock on Reddit
HGEN stock isn't among the most popular names on Reddit. However, there's a subreddit named after the company, which has 360 members. A post on Reddit group WallStreetBets, which upvoted over 50 times, talked about the bullish outlook for HGEN stock after the trial results and pointed to the worsening COVID-19 situation in many countries.
Article continues below advertisement
Is Humanigen stock a good investment?
The COVID-19 pandemic has been getting worse in many countries including more populous countries like India and Brazil. HGEN's drug candidate could help up make up for the ventilator shortage that many countries might face amid rising cases. Humanigen intends to apply for a EUA with the FDA "as soon as possible." If lenzilumab manages to get a EUA, it could take HGEN stock even higher.
Article continues below advertisement
Should I buy HGEN stock?
HGEN looks like a good stock to buy to bet on the EUA for lenzilumab. However, it's worth noting that FDA approval isn't guaranteed, which would mean that the stock is still a speculative play. Meanwhile, as is the case with many other clinical-stage biopharma companies, Humanigen also announced a stock offering along with positive trial results.
Humanigen intends to offer 5 million shares with underwriters having the option to purchase an additional 750,000 shares. Clinical stage biopharma companies burn a lot of cash towards R&D. So, they have to raise cash to bridge the cash burn.
Article continues below advertisement
By announcing a stock sale around the same time as positive trial results, HGEN will be able to capitalize on the surge in its stock price and issue shares at a higher price. This will help the company lower its cost of capital.
Where to buy HGEN stock
HGEN stock is publicly traded and you can buy it through your broker. You would need a funded broking account that then you can place the order for the desired number of stocks. You can place a market order or a limit order based on your preference.