Most Things Are Possible in the Metaverse, Including Getting Married
Couples are getting creative due to large gathering restrictions amid the COVID-19 pandemic. People are using the metaverse to host their weddings and even receptions.
The metaverse has given people access to many things. They can buy real estate and create ways to make money within the metaverse. Now, people can even get married in the metaverse.
Article continues below advertisement
Article continues below advertisement
The COVID-19 pandemic forced people to get creative due to social distancing requirements. From virtual graduations, funerals, and weddings, people are becoming accustomed to doing social things remotely. Getting married in the metaverse kicks it up a notch. How does a metaverse wedding work?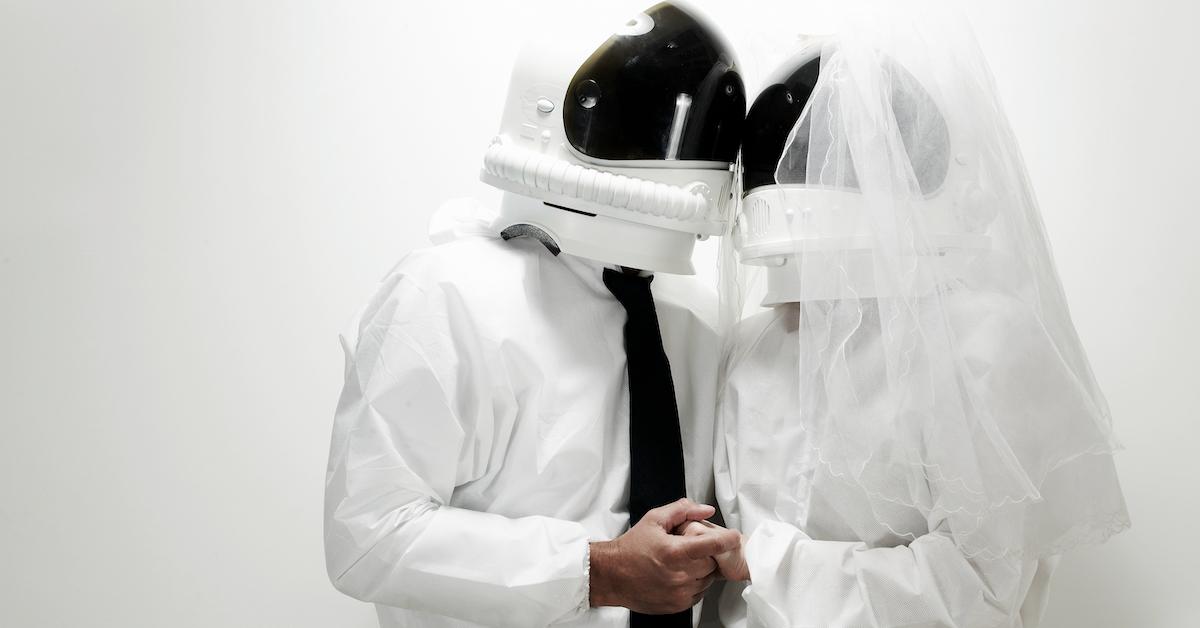 Article continues below advertisement
Metaverse weddings are commonplace.
Dinesh Sivakumar Padmavathi and Janaganandhini Ramaswamy will be the first couple in India to do a metaverse wedding. The pair hails from Tamil Nadu, which currently has COVID-19 restrictions that limit gatherings to 100 people. The soon-to-be-wedded couple has invited nearly 2,000 people to their metaverse wedding. Dinesh commented on the event and said, "A real kind of reception is not possible with the huge number of people attending. So, we decided: let's make it in the metaverse."
Because Dinesh and Janaganandhini are Harry Potter enthusiasts, their reception is themed "Hogwarts" and the actual ceremony will happen physically with close friends and family in Janaganandhini's village. Then, the couple will have their reception in the metaverse. The reception reportedly cost 150,000 Indian rupees ($2,016) to create and develop. Guests can explore the Hogwarts theme castle and customize their avatars to fit the theme.
Article continues below advertisement
Article continues below advertisement
The metaverse will also provide a sentimental moment since the reception will have a 3D avatar designed to look like Ramaswamy's late father. The avatar of her father will bless the pair and their union. Ramaswamy commented on the impact of her father being present in the metaverse. She said, "He will be in the avatar to welcome the guests, which altogether will be an emotional moment for both of our families."
Article continues below advertisement
Dave Gagnon and Traci from Florida did the same thing. They met online in 2019 during a virtual real estate work event. They got married in September 2021. Their physical wedding took place in New Hampshire with 100 guests. If guests couldn't attend, they could see the wedding happening simultaneously in the metaverse. Pictures of the event show the metaverse wedding, while a projector screen in the metaverse showed Dave and Traci getting married in real-time and in real life.
Article continues below advertisement
Article continues below advertisement
Are there any virtual wedding legalities?
Now that metaverse weddings are becoming more commonplace, there are questions about legality. According to reports, the American Marriage Ministries stated that marriages that only happen in the metaverse aren't legally recognized, that includes weddings that happen in video games or any other virtual reality. The couples listed above found a way around this because their weddings also occurred in real life.
People who want to have metaverse weddings need to follow the rules and display the actual wedding in real-time without any filters. Also, the parties need to be physically located in the state that will be issuing the license. They have to be able to show an officiant a government-issued ID via webcam. People who want to have virtual weddings should check the guidelines in their respective states for specific rules.