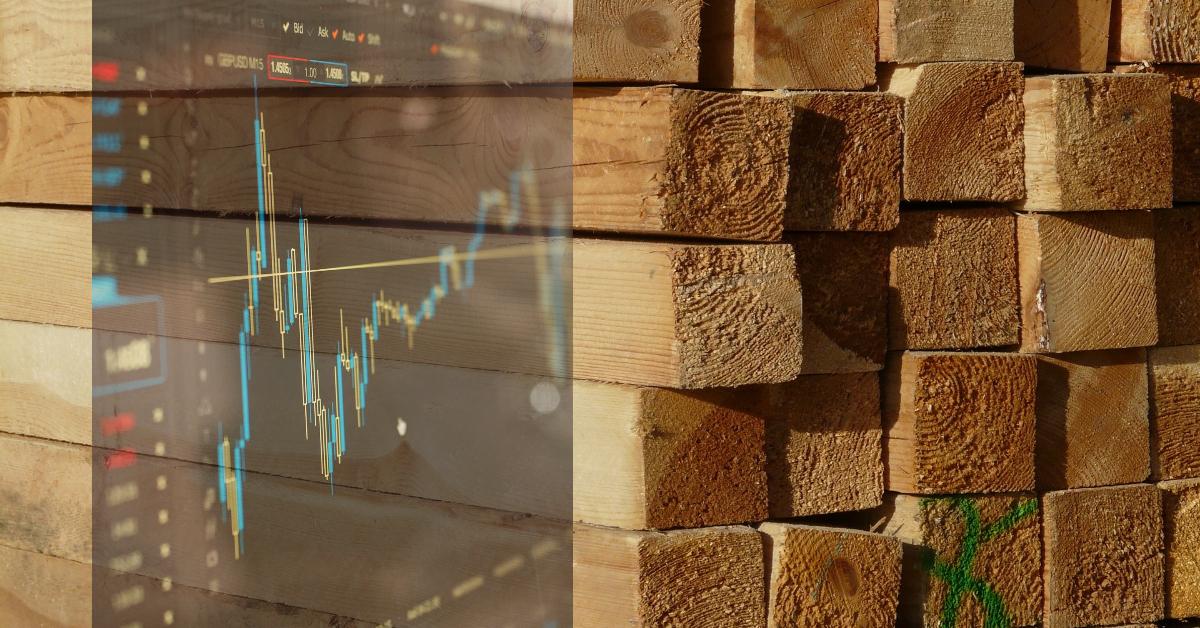 Lumber Stocks Might Not Be Glamorous, but They're a Good Investment
Lumber, ubiquitous with tables, chairs, paper, and walls, may not come to a lot of investors' minds as electric vehicles, technology, and biotech are trending. However, lumber stocks could be a good investment.
Article continues below advertisement
Article continues below advertisement
As lumber is mostly used in new residential construction, repairs, remodeling, and non-residential construction markets, it's a cyclical investment. The prices of lumber depend on housing activity, which itself is highly cyclical and depends on the state of the economy. When the economy is sluggish, the housing market is, too, and vice versa. Lumber is a favorite of legendary investor Jeremy Grantham.
Is lumber a good investment?
A good investment typically offers strong growth prospects, lower risk, and portfolio diversification. Lumber checks most of those boxes and more. Over the years, lumber has provided competitive, risk-adjusted returns.
Article continues below advertisement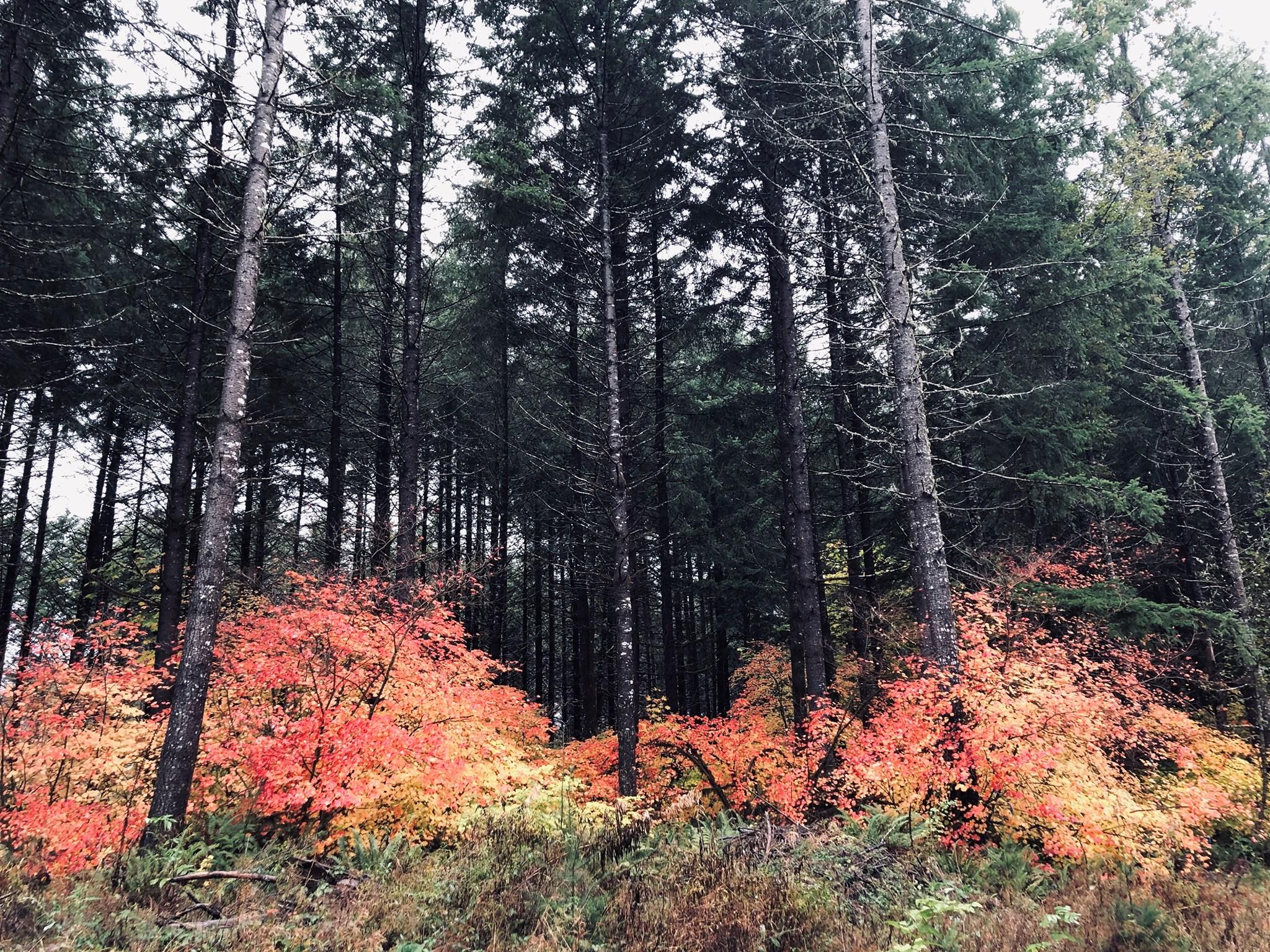 One play on the lumber space is timberland. According to Investment U, timberland has actually beaten the stock market over the long run, and with less risk. Since 1987, the NCREIF Timberland Index has climbed by an average of 15 percent per year, outpacing the S&P 500's 11 percent annual return. Moreover, returns on timber are especially good in bear markets. In 2008, the S&P 500 tanked by 38 percent, while the NCREIF rose by 9.5 percent.
Article continues below advertisement
Article continues below advertisement
Timberland, with its low correlation to stocks, bonds, and real estate, is a good way for investors to diversify their portfolio. Also, since it's a hard asset, it helps preserve capital and can hedge against inflation over the long term. Timber has a positive correlation to inflation. According to Farmfolio, "For the 30-year period of 1978 to 2008, private timberland saw a positive inflation correlation of 0.2, nearly twice that of commercial real estate."
Lumber also appeals to those seeking clean, green, and renewable investments. The modern forestry industry strives for sustainability.
Article continues below advertisement
Article continues below advertisement
How to invest in lumber
Whereas you could buy timberland, it's not a practical approach. For exposure to the industry, you could buy timberland stocks or shares of related REIT (real estate investment trusts), or buy ETFs that have holdings in such stocks.
Article continues below advertisement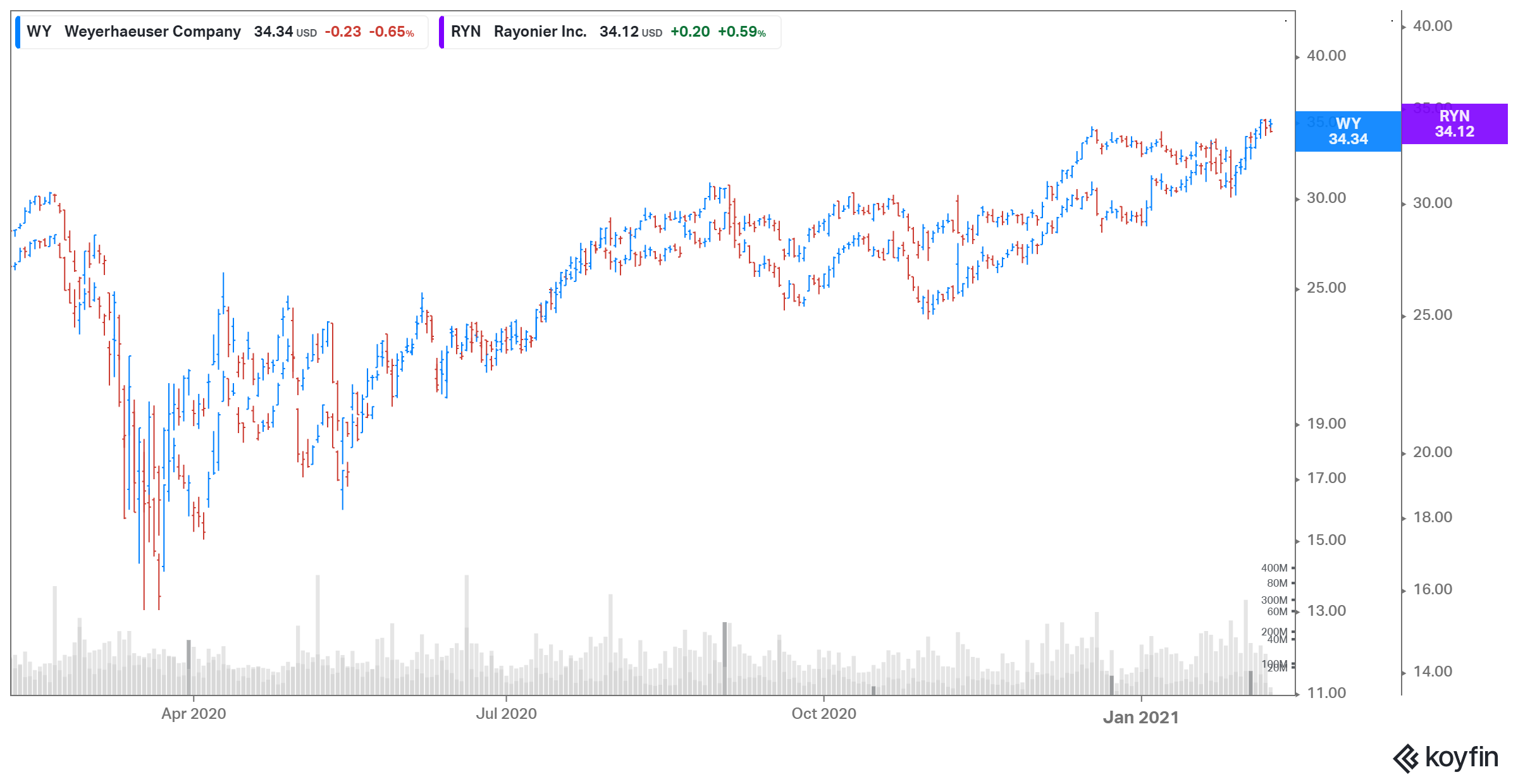 The top stocks for betting on the lumber industry
Some of the top lumber stocks are as follows:
Weyerhaeuser, a timber REIT and the largest private owner of timberland in the U.S. It owns or controls 11 million acres of timberland in the country, and has 14 million acres licensed in Canada. Lumber stocks correlate with lumber prices. If housing continues to recover and lumber prices stay high, Weyerhaeuser should benefit.
Article continues below advertisement
Article continues below advertisement
Rayonier, another timber-focused REIT. It's the second-largest in the U.S. and owns nearly 2.7 million acres of forestland in the southern U.S., the Pacific Northwest, and New Zealand.
Potlatchdeltic, a diversified forest products company. It owns about 1.4 million acres of timberland, mainly in Idaho and Arkansas. While it's less diversified than the other two lumber players, it still has huge exposure to timber.
Lumber ETFs offer lower risk
Lumber ETFs are another way to play the lumber market. They offer diversified exposure with lower risk. Two worth looking at are:
The iShares Global Timber and Forestry ETF (WOOD). The largest timber ETF, it has $315.2 million in AUM (assets under management). It was launched in 2008 and has an expense ratio of 0.46 percent.
The Invesco MSCI Global Timber ETF (CUT), another timber-focused ETF. It has $93 million in AUM and an expense ratio of 0.61 percent. The ETF was launched in 2007.