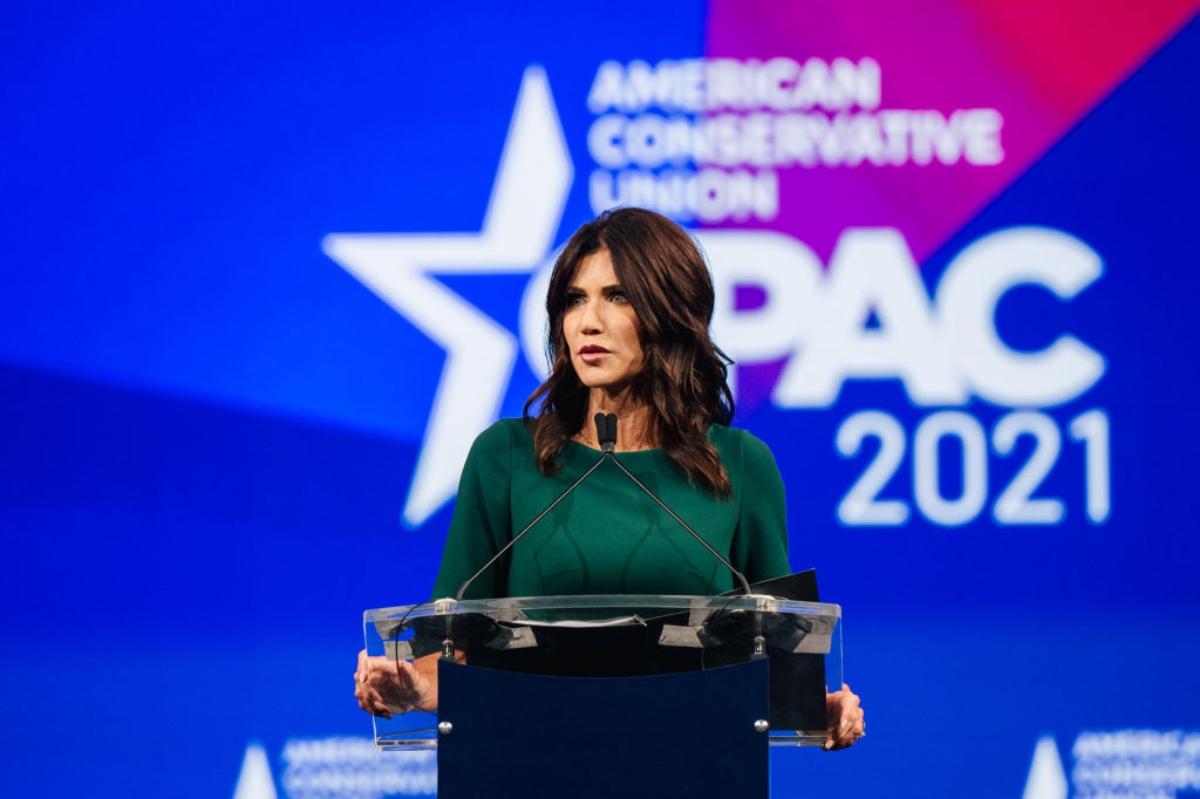 Kristi Noem — South Dakota's First Female Governor Prepares for Reelection Campaign
South Dakota's governor, Republican Kristi Noem, has clinched her party's primary to run again for the governorship. The incumbent to the office has scored plenty of support from those who appreciated her lack of COVID-19 pandemic restrictions. How much is Noem's net worth in 2022?
Article continues below advertisement
Kristi Noem
33rd Governor of South Dakota
Kristi Lynn Noem is the current governor of South Dakota. Her term began in 2019. Previously, she served as a Representative from South Dakota's at-large district from 2011–2019. Before that, she represented the 6th District. Noem supports limited government intrusion and regulation. She won the Republican primary on June 7, 2022, to run for reelection as governor.
Birthdate: November 30, 1971
Birthplace: South Dakota
Education: South Dakota State University, Northern State University, Mount Marty University
Spouse: Bryon Noem
Children: 3
Article continues below advertisement
Kristi Noem's net worth isn't known for sure.
Noem has an estimated net worth of $4.5 million, according to ExactNetWorth.com. However, how much money she actually has or how that figure was calculated is unknown. Ballotpedia reports that her salary as the South Dakota governor is $116,400.
Article continues below advertisement
Kristi Noem is running for a second term as governor.
Having defeated her Republican challenger, Noem will face Democratic opponent Jamie Smith in November 2022. She hopes to secure her second term as governor of South Dakota. Noem is the first-ever female governor in the state.
In her election night speech, Noem criticized "Joe Biden's America." AP News reported her as saying, "Every time I turn around I'm fighting off Joe Biden and the damage he's doing to the state of South Dakota."
Article continues below advertisement
Kristi Noem supports limited government.
Noem demonstrated her preference for a government that has limited influence and imposes few regulations, especially during the COVID-19 pandemic. She eschewed pandemic precautions such as mask mandates, vaccines, and limited group gatherings.
On her official website, Noem proudly states that she "never ordered a single business or church to close and never issued a statewide shelter-in-place order."
Article continues below advertisement
Praising that stance, one Republican voter interviewed by the AP said, "She was one of the only governors who stood firm in not using the pandemic to increase government intrusions in our lives."
Among key tenets of Noem's policies, she includes:
Limiting government regulation
Fighting government intrusion
Keeping the government open and honest
Article continues below advertisement
Other aims of Noem's term include equipping the National Guard, improving cybersecurity, federal conservation, improving foster care, and fighting the meth epidemic.
Governor Noem has the support of former president Donald Trump.
Governor Noem has often benefited from the support of former President Donald Trump. Noem, along with a number of gubernatorial candidates, secured Trump's endorsement this year. Other candidates like Sarah Huckabee Sanders and incumbent governor Greg Abbott of Texas gained Trump's support in their campaigns.
Noem has been named in CPAC straw polls indicating her as a top Republican contender for president in 2024 (along with Trump and Ron DeSantis). This 2021 straw poll placed Noem third behind Trump and DeSantis. If Trump were theoretically taken out of the running, DeSantis had the most support, followed by Noem in second.