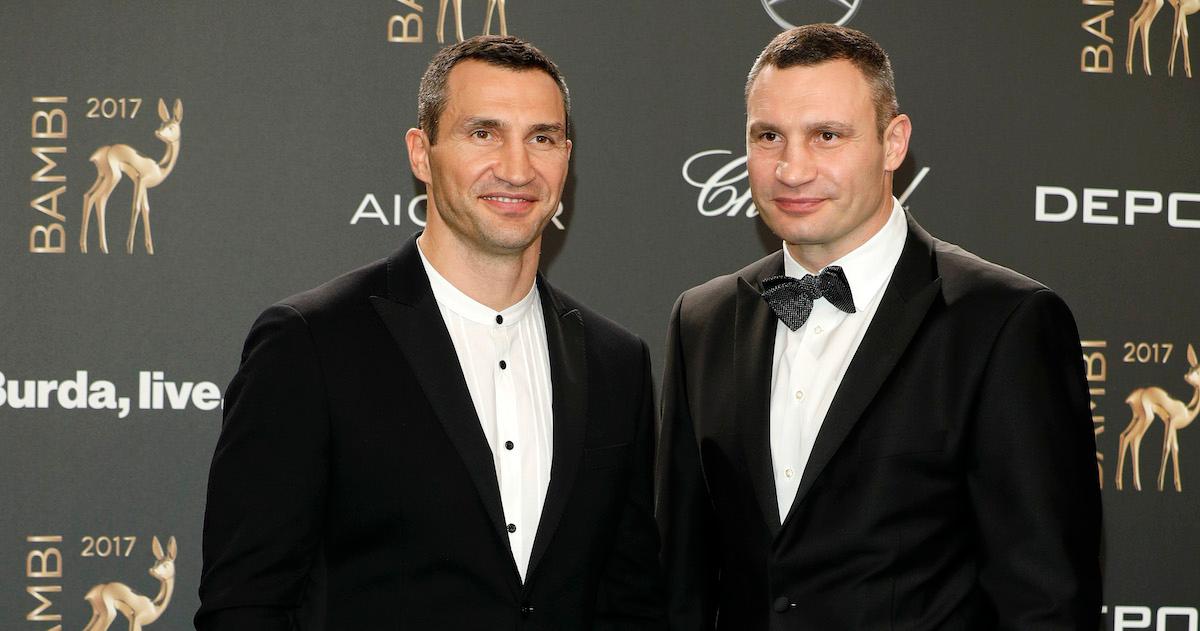 It's True — Both Klitschko Brothers Are Doctors
During his boxing career, Ukrainian heavyweight fighter Wladimir Klitschko was often called Dr. Steelhammer, while his brother Vitali — now mayor of Kyiv — was known as Dr. Ironfist. And those nicknames don't just stem from the prescriptions for pain they wrote to their many opponents during their fighting careers. Both boxers hold doctoral degrees.
Article continues below advertisement
Article continues below advertisement
Wladimir Klitschko may not be a medical doctor, but he earned the title of Dr.
Wladimir earned his Ph.D. in sports science in 2001, with a dissertation focused on the amount of training athletes ages 14 to 19 should receive based on their physical development. It was this advanced education that earned him the nickname Dr. Steelhammer during his boxing career.
Article continues below advertisement
Vitali was the first Klitschko brother to earn his doctorate, also in sports science, with a dissertation on talent and sponsorship in sports. Though both men came to prominence for their skills in the ring, in recent years Vitali has been more associated with politics. He was elected mayor of Kyiv in 2014. He was re-elected in 2015 and again in 2020. Prior to his mayoral race, Vitali was a member of parliament.
The Klitschko brothers have also recently volunteered for Ukraine's military reserve.
Upon the Russian invasion of Ukraine, the Klitschko brothers joined the Kyiv Territorial Defense Brigade, a reserve arm of the Ukrainian Armed Forces, as part of the fight to protect the capital from Russian forces. The brothers were born in the areas now known Kyrgyzstan and Kazakhstan, respectfully (though both countries were part of the U.S.S.R. at the time), but their family has deep ties to Ukraine.
Article continues below advertisement
Article continues below advertisement
Their father, Vladimir Rodionovic Klitschko, was a military attache for Ukraine in Germany and was also part of the command that led the cleanup of the 1986 Chernobyl disaster. It's believed his cancer diagnosis stemmed from radiation exposure at the disaster site, and the elder Klitschko passed away in 2011.
The brothers told press they're willing to die in defense of their country and don't care whether they're outnumbered or outgunned by Russian forces. "We're not interested in how strong the Russian army is, we're ready to fight," Vitali told CNN. "And we're ready to die for our home country and for our families, because it's our home. It's our future and somebody wants to come to our home and steal our future from us."
Article continues below advertisement
Article continues below advertisement
They also recognize that the conflict doesn't have wide support among Russian civilians who may not even be getting the full picture of what's going on from Russian state media.
Article continues below advertisement
Though Wladimir Klitschko remains in Ukraine, his daughter Kaya is not.
Wladimir's daughter with American actress Hayden Panetierre lives most of the time in Ukraine with her father, but according to her mother she isn't currently in the besieged country. In a reply to comments on her Instagram, Hayden said Kaya is "safe and not in the [sic] Ukraine."
[The use of the article "the" before Ukraine is considered a relic of former Soviet rule over the sovereign nation and is therefore no longer widely used by news publications.]
She didn't go into further detail about Kaya's whereabouts, but that isn't surprising given that the formerly engaged parents tend to keep their social media free of updates on their 7-year-old daughter out of respect for her privacy.