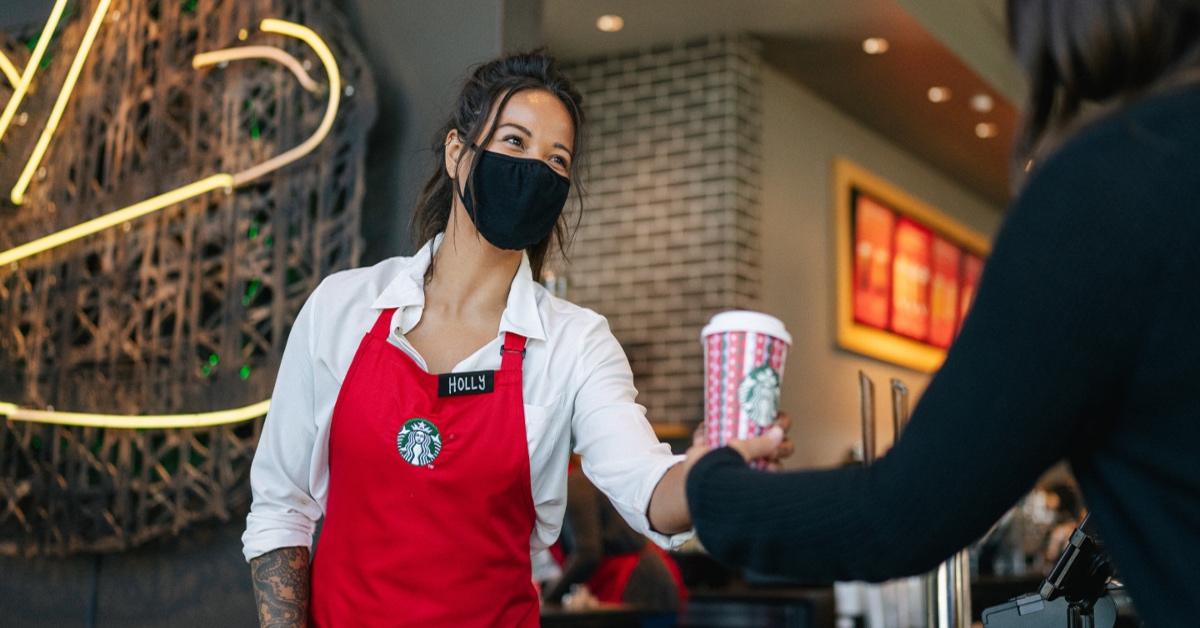 Starbucks' Holiday Beverages and Decorative Cups Arrive for 2021
Nothing says that the holidays have arrived more than the return of Starbucks' festive red cups. This year, Starbucks is debuting its decorative disposable cups in four variations, all of which are Christmas-themed and of course, incorporate the coffee giant's signature colors.
Article continues below advertisement
Starbucks' holiday-inspired beverages will be available in all stores on Nov. 4. Will the company be offering its limited-edition reusable red cup like it did in the past with a qualifying purchase?
Starbucks' holiday-inspired beverages (and festive cups) arrive on Nov. 4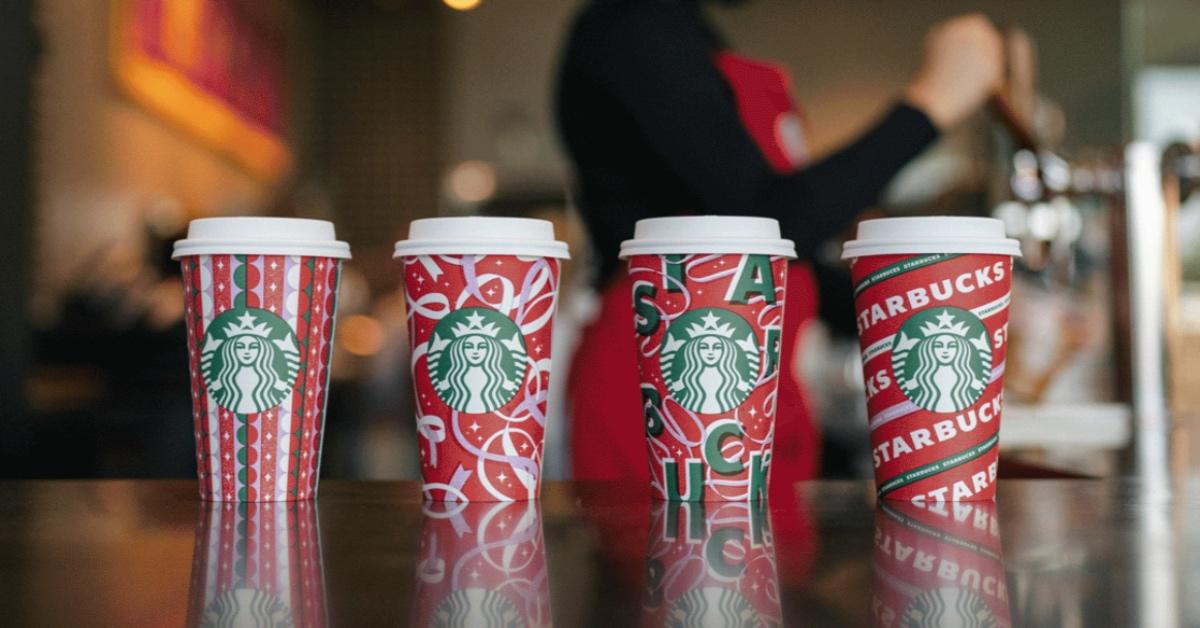 Starbucks is kicking off the 2021 holiday season by adding six holiday edition beverages and treats to its menu beginning Nov. 4. The holiday drinks and snacks will be available in Starbucks restaurants across the nation and Canada through the end of the holiday season.
Article continues below advertisement
Those who have been patiently waiting for Starbucks' signature Peppermint Mocha or another favorite holiday-themed beverage can stop by their local Starbucks to pick up a drink that will be served in a holiday-themed cup containing any one of these four designs:
1. Wrapping Paper - This design features "a colorful geometric pattern with sparkles and glitter grain in the season's signature shades," according to the company's website.
2. Ribbon - Starbucks' ribbon cup features white and glittered pieces of ribbon resembling the "moment when you have just finished wrapping up your gifts for your friends and family and look down at the floor to see ribbons all over the place."
Article continues below advertisement
3. Holiday Light - Starbucks's holiday light cup is covered in bold graphic letters spelling out "Starbucks" with twinkling lights shimmering from behind.
4. Candy Cane - The final design you can expect to see from Starbucks' holiday-themed cups is "candy cane." Inspired by the red and white stripes found on a candy cane, this particular cup features stripes each of which contains a pattern of the word "Starbucks."
What flavorful drinks will be featured on Starbucks' 2021 holiday menu?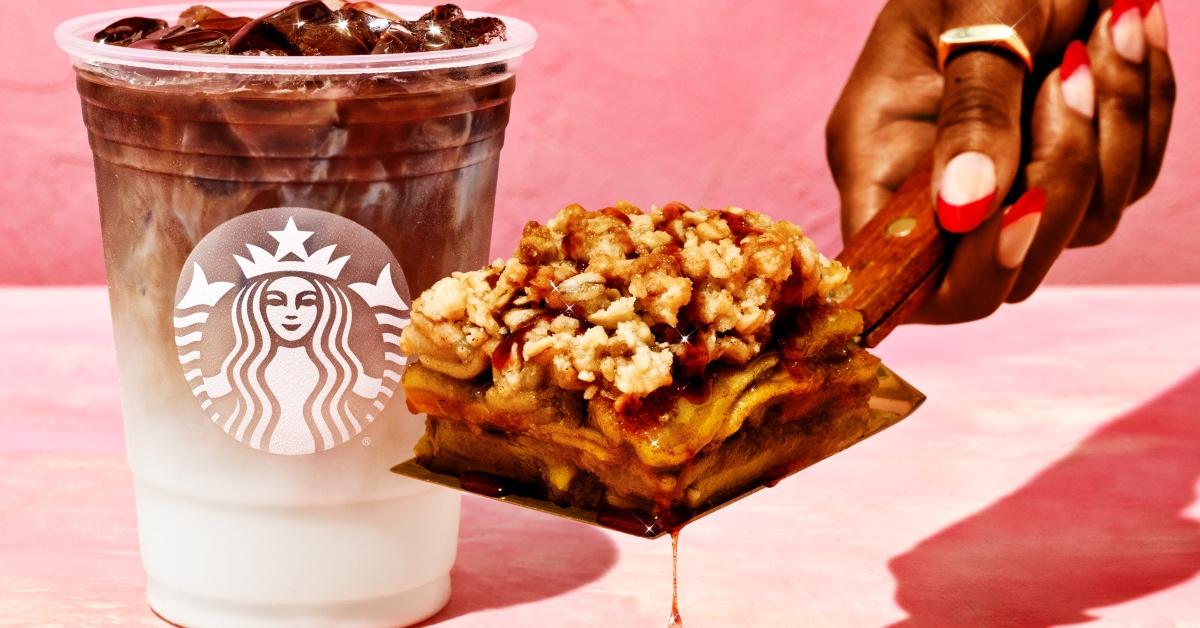 For the 2021 holiday season, Starbucks decided to change things up a bit by featuring its first-ever non-dairy holiday beverage. The Iced Sugar Cookie Almondmilk Latte will be available both hot and iced. The drink was inspired by, you guessed it, those delicious holiday cookies you bake with your loved ones.
Article continues below advertisement
The other holiday beverages you'll find on Starbucks' menu include:
Peppermint Mocha topped with dark chocolate curls
Toasted White Chocolate Mocha Frappuccino®
Chestnut Praline Latte
Caramel Brulée Latte
Irish Cream Cold Brew
If those don't get your taste buds tingling, Starbucks' holiday desserts just might. In addition to offering those delightful beverages listed above, you'll also find these mouthwatering desserts at your local Starbucks this 2021 holiday season:
Reindeer Cake Pop (Yum!)
Snowman Cookie
Cranberry Bliss® Bar
Will Starbucks be giving away its limited-edition reusable red cup this holiday season?
Starbucks hasn't officially announced when it will be releasing its reusable red cup for the 2021 holiday season, although the collectible cup giveaway is still scheduled to happen this year, reports Elite Daily. A Starbucks spokesperson allegedly told the source, "We're not ready to unwrap any additional details yet."