Is Florida's Anti-Vaccine Mandate Governor Ron DeSantis Vaccinated?
Florida Governor Ron DeSantis is gunning to end all mask and vaccine mandates in Florida.
In October 2021, Governor DeSantis announced he would be holding a Special Session of the Florida Legislature to protect employees who face discrimination for not getting vaccinated.
Article continues below advertisement
"Your right to earn a living should not be contingent upon COVID shots," DeSantis said in a press release. "I want a state in which people are able to maintain their livelihoods, earn a living, and provide for their families. And if the federal government or big corporations are hurting people, then we have a responsibility to step up and lead."
While he is clearly against vaccine mandates, people are curious whether he has gotten the COVID-19 vaccination himself.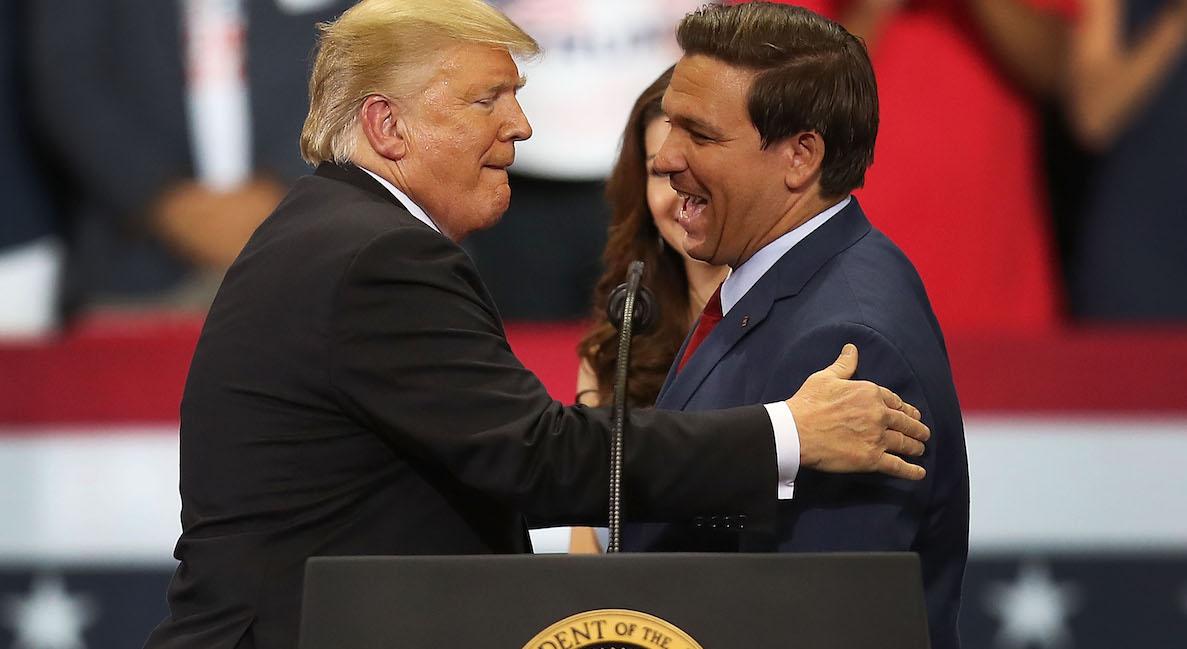 Article continues below advertisement
Despite his anti-vaccine mandate stance, Governor Ron DeSantis is vaccinated.
In April 2021, DeSantis received a single dose of the Johnson & Johnson vaccine. However, when asked by the Orlando Sentinel, whether he was going to receive a booster shot, he replied that he plans to make "the right choice for him" and added that his choice may "not be necessarily the right choice for everyone."
Now, Governor DeSantis is attempting to keep vaccine and mask mandates out of Florida.
Florida has suffered tremendously during the pandemic with the state passing the 50,000 deaths mark after the Delta variant struck the state over the summer.
One in every 400 residents of Florida that were alive in March of 2020 has now died from COVID-19, making Florida the worst in per-capita deaths rates.
Article continues below advertisement
Governor DeSantis did hit a commendable mark by ensuring that the elderly had priority in receiving the vaccine, making Florida lead the nation for vaccinations in people 65 and older.
But now he seems to have reverted from this effort to get Floridians vaccinated by doing the following:
Appointed surgeon general Joseph Ladapo, who has publicly questioned the efficacy and safety of the vaccine

Refusing to contradict the claim that the vaccine alters your RNA

Imposing a $5,000 fine, per offense, on any business in Florida that enforced the vaccine mandate

Blocked cruise lines from requiring that their customers be vaccinated

Blocked the requirement that city employees be vaccinated

Sought to implement a ban on school mask mandates for students
Article continues below advertisement
A Special Session of the Florida Legislature is now scheduled for November 2021.
In a new effort to prevent businesses from asking for proof of vaccination status, Governor DeSantis will ask the Florida Legislature to "provide protections for employees facing termination... and to reaffirm that government entities, including school districts, may not fire any employee based on COVID-19 vaccine status."
Article continues below advertisement
Several people of authority have agreed with him on this notion. Namely, Attorney General Ashely Moody.
"We will always fight illegal government actions that negatively impact first responders, America's workers, and public safety," Moody said in the press release. Florida's Surgeon General Dr. Joseph Ladapo, agreed, adding, "Florida will not stand by and allow hard-working citizens to be subjected to unemployment because they are being forced to show vaccine documentation."