Is AMC Stock Done or Is Another Reddit Short Squeeze Coming?
By Mohit Oberoi, CFA

Jul. 15 2021, Published 8:08 a.m. ET
AMC Entertainment (AMC) is possibly the current poster child of meme stocks, just like GameStop (GME) was in the first quarter of 2021. AMC stock has been in a freefall and after falling over 15 percent on July 14, it was trading sharply lower in premarkets on July 15. Is the Reddit rally in AMC stock done or is another short squeeze coming in the stock?
Article continues below advertisement
AMC stock now trades at less than half of its 52-week highs. The drawdown is much lower than the over 90 percent we saw in GME earlier in 2021. That said, despite the crash, AMC stock is up almost 1,600 percent in 2021 and still has a market capitalization of just under $17 billion.
What's happening with AMC stock?
AMC stock has been a fascinating story of capitalism versus cooperatives. Most institutional investors exited their positions in the stock. Dalian Wanda Group, which is owned by Chinese billionaire Wang Jianlin, exited its position and capitalized on the Reddit-driven rally.
Article continues below advertisement
However, retail investors grabbed AMC shares. Social media forums have been filled with comments on how people repaid their mortgages amid the rally in AMC stock. Many others saw it as a chance for early retirement. From $100 to $1,000, all kinds of price targets were being floated on Reddit groups.
Article continues below advertisement
AMC stock looked more like a cooperative organization with a loyal shareholder base who also clubbed as its customers. The company offered several "perks" to them including free popcorn at the cinemas. AMC also grabbed the opportunity to raise more cash until retail investors blocked plans to sell another 25 million shares.
Article continues below advertisement
Should AMC sell more shares?
It made perfect sense for AMC to sell shares. It's still burning cash and has outstanding liabilities of over $11 billion including debt, deferred rent, and leases. Also, with the stock trading well above the fundamental value, it's prudent to sell shares to investors. In contrast, companies go for buybacks when they are flush with cash and find their stocks an attractive option.
Is AMC stock done?
As I noted previously, given its bloated valuations, AMC will need continuous pumping. However, Reddit traders have other "things" to do. The stock isn't the most popular name on WallStreetBets. Since the stock lost out on its "oxygen," it's crashing and gasping for breath.
Article continues below advertisement
When is the next short squeeze in AMC stock?
The short volume ratio in AMC stock was 20.7 percent on July 14, according to the data from Fintel. The ratio has been pretty steady in July and has moved between 20 percent and 25 percent. Many traders who have been struck at higher levels in the stock are hoping for another short squeeze. For a short squeeze to happen, the company would need a positive narrative.
Article continues below advertisement
Streaming versus cinema-going
However, there aren't any positive triggers for AMC and even the recent numbers from Disney's Black Widow confirm the tectonic shift from cinemas to streaming. Given the long-term threat from streaming, cinema chains might struggle to match their pre-pandemic earnings.
In AMC's case, the company will need to post earnings way above the pre-pandemic levels to justify its valuations. While pumping from Reddit traders can take the stock up in the short term, ultimately, they tend to settle near their fundamental value.
Article continues below advertisement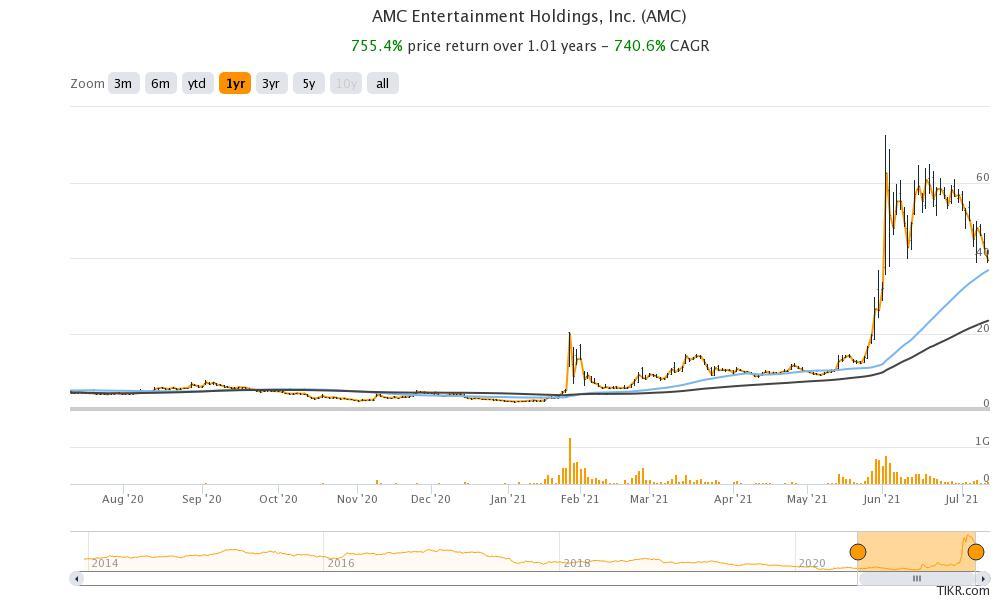 Will AMC stock fall more?
Fundamentally, AMC stock should fall more from these levels. The stock is now looking weak on the charts also. It has plunged below the 50-day SMA (simple moving average), which is a bearish indicator. Looking at the selling pressure, the stock could head towards the 100-day SMA, which is currently at $23.66.