Cathie Wood Is Bullish on Gene Editing Stocks: Should You Also Be?
Cathie Wood is the CEO and chief investment officer of ARK Invest. Wood is known for her growth investing. Back in December 2020, Wood declared that gene-editing stocks could be the next Tesla. She has reiterated her bullish views on the sector yet again.
Article continues below advertisement
Gene editing stocks have been weak over the last few months. However, Wood, who is known to back up the companies that she invests in, believes that they should bounce back. Wood has built her reputation on Wall Street by identifying winners like Square and Tesla early. She has also been recently buying the dip in Robinhood stock.
Cathie Wood is bullish on gene editing stocks.
Wood has said that she is bullish on Editas Medicine, CRISPR Thereaupitics, and Intellia Thereaupitics. While Editas Medicine and CRISPR Thereaupitics have lost 57.2 percent and 49.8 percent YTD, respectively, Intellia Thereaupitics has more than doubled over the period.
Article continues below advertisement
All of these companies use CRISPR (clustered regularly interspaced short palindromic repeats) technology, which works by splicing DNA sequences. Gene-editing technology can minimize widespread infection and target genetic conditions.
CRISPR Therapeutics AG makes up 2.97 percent of the ARK Genomic Revolution ETF, while Editas, Intellia, and Regeneron comprise 0.6, 3.4, and 1.2 percent, respectively. Teladoc Holdings is the largest holding for the ETF even though it isn't a pure-play gene-editing company. Meanwhile, Wood has been buying more Teladoc shares amid its recent slump.
Article continues below advertisement
Many people have been critical of Wood for buying unrelated companies in her actively managed ETF. Even Jim Cramer criticized her for having names like Netflix in an ETF focused on space exploration.
Article continues below advertisement
Cathie Wood expect gene editing stocks to rise much higher.
Wood drew parallels between gene editing companies and Apple, whose market cap is above $2 trillion. She said, "The three companies that I just mentioned, cumulatively they are not even above $40 billion. This is a trillion dollar plus opportunity."
Wood added, "Any company involved in CRISPR-Cas9 will have to pay royalties to these companies. And we hope a lot of other pharma companies and others get involved. It won't be competition it will be ringing the cash register for these companies."
Article continues below advertisement
Wood has been optimistic about the biotech sector for quite some time now. In a Bloomberg interview on December 18, 2020, Wood said that she likes CRISPR stocks even more than Tesla. Wood is known to be a big Tesla bull and the Elon Musk run company is the largest holding of her flagship ARK Innovation ETF.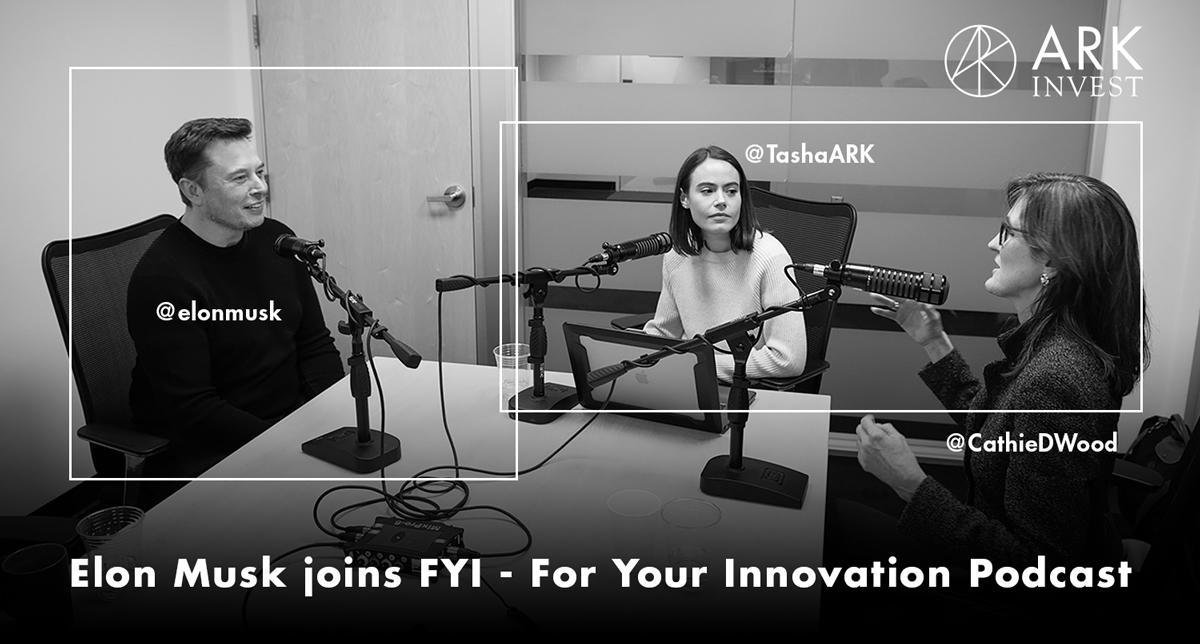 As an industry, gene editing has proven its potential ever since Emmanuelle Charpentier and Jennifer A. Doudna became the first two women awarded a Nobel Prize together. Charpentier and Doudna are the researchers who discovered CRISPR, or "genetic scissors." Investors and influencers across the board have propelled enthusiasm for gene editing in the public market.
Article continues below advertisement
What are ARK Invest's ETFs?
Wood founded ARK Invest in 2014. Currently, ARK has six actively managed ETFs:
ARKK: Broad Innovation
ARKQ: Autonomous Technology & Robotics
ARKW: Next Generation Internet
ARKG: Genomic Revolution
ARKF: Fintech Innovation
ARKX: Space Exploration
Article continues below advertisement
Apart from these actively managed ETFs, which all have an annual expense ratio of 75 basis points, ARK also has three passive ETFs. These are:
PRNT: The 3D Printing ETF
IZRL: ARK Israel Innovative Technology ETF
CTRU: ARK Transparency ETF
ARK Invest ETFs are a popular option for investors seeking gene-editing stock ETFs, but they aren't the only choices. Intellia Therapeutics makes up 5.3 percent of the Franklin Genomic Advancements ETF (HELX). There's also the SPDR S&P Biotech ETF (XPI), which holds Intellia, Regeneron, and Editas.
That said, gene editing stocks have a positive outlook and Wood's ARKG ETF is one of the best ways to get exposure to the sector.