FTX Crypto Price Prediction, Has Potential Amid Tom Brady Endorsement
By Ruchi Gupta

Oct. 4 2021, Published 1:54 p.m. ET
FTX Token (FTT) has caught the attention of many investors keen to find the next cryptocurrency to explode. FTX crypto is associated with NFL star Tom Brady, who has a stake in the stock of the company behind the token. What is FTX crypto's price prediction? Is the altcoin a good investment?
Article continues below advertisement
FTX crypto's price has gained almost 1,000 percent in 2021. It's up more than 3,000 percent since launching in 2019. The altcoin hit an all-time high above $85 in September 2021. It has since pulled back more than 30 percent from that peak to trade at about $55.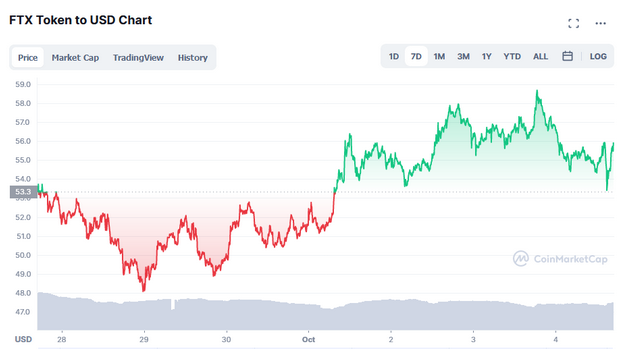 Article continues below advertisement
What is FTX crypto (FTT)?
FTX Trading is a crypto exchange and a popular platform for trading crypto derivatives. The exchange was launched by Massachusetts Institute of Technology graduates Sam Bankman-Fried and Gary Wang. The duo also runs Alameda Research, a firm with more than $1 trillion in digital assets under management.
FTX Token is the exchange's utility crypto. Investors holding FTX crypto can enjoy reduced trading fees on the exchange. Also, investors can earn interest on their FTX crypto holding.
Article continues below advertisement
Tom Brady's cryptocurrency and FTX stock stake
NFL quarterback Tom Brady is part of FTX. Brady and his wife Gisele Bündchen have taken on the role of FTX ambassadors. That arrangement also saw the couple get a stake in FTX crypto stock.
Article continues below advertisement
Is FTX crypto a good investment?
Although FTX is one of the biggest crypto exchanges in the world, it currently has limited reach in the U.S. But that's about to change, and that's why Brady has endorsed FTX crypto. In July, the exchange raised $900 million at a valuation of $18 billion. The money will help FTX expand its global presence and speed up its growth.
As part of its U.S. push, FTX acquired LedgerX. It announced the deal shortly after raising the funds. LedgerX is licensed to offer crypto derivatives trading in the U.S. Therefore, it gives FTX a path to accelerate its expansion in the U.S. market.
Article continues below advertisement
In addition to the LedgerX acquisition, FTX has inked several sports sponsorship deals and launched a major advertising campaign in the U.S. as it seeks to increase its brand awareness in the country.
FTX crypto might also impress those who like giving to charity. Philanthropy is a major part of the exchange's operation. The FTX Foundation has earmarked more than $13 million for charity donations.
FTX crypto's price prediction
Compared to many of its competitors, FTX has more room to grow in the U.S. and it has taken important steps to capitalize on that opportunity. In addition to signing Brady and Bündchen as ambassadors, FTX has also tapped Shark Tank investor Kevin O'Leary as its spokesperson.
Article continues below advertisement
It's also worth noting that while many crypto companies are trying to fight regulations, FTX roots for regulatory compliance. That could help it avoid frictions with the SEC amid its U.S. expansion. The SEC has increased its scrutiny of the crypto sector and seeks to understand how some projects work and market their products to investors.
As more investors join the FTX network, the demand for its token will also increase as people look to earn interest and reduce trading fees. That will in turn lift the value of FTX crypto. Therefore, FTX crypto has the potential to double or triple its current price within a year or two.