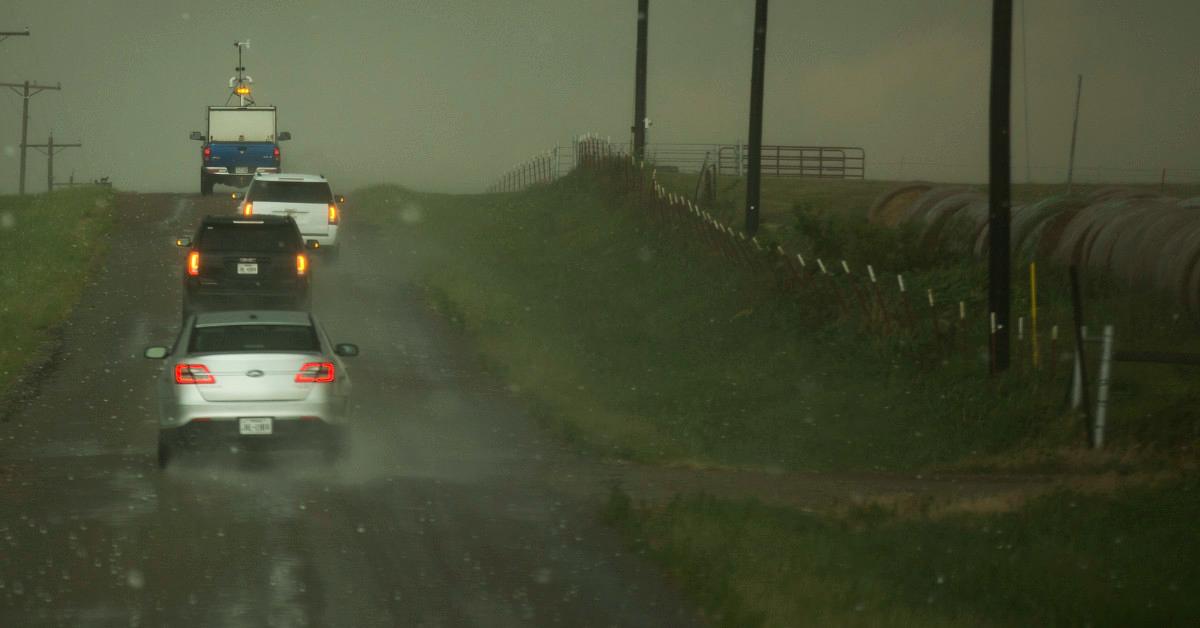 Hail Can Cause Costly Damage to Cars and Houses — What Does Your Insurance Cover?
It might be time to learn whether insurance covers hail damage. As residents of thunderstorm-prone areas may know, hail is a form of precipitation created when updrafts carry raindrops into upper levels of the atmosphere.
Amid that colder air, raindrops freeze and combine, forming ice balls that can grow to be several inches across and fall to the Earth's surfaces at speed exceeding 100 miles per hour, according to the NOAA National Severe Storms Laboratory.
Article continues below advertisement
Article continues below advertisement
The question of insurance coverage of hail damage is especially relevant now. Weather.com meteorologists warned of an outbreak of severe weather—including large hail, tornadoes, and torrential rainfall—in the southern U.S. on March 22.
Comprehensive auto insurance covers hail damage to cars.
If you've watched YouTube videos from storm chasers, you may have seen the destruction hail can wreak on car bodies and windows. Hail damage gets expensive quickly. Insurify says the average price of hail-related repairs is about $2,500.
Article continues below advertisement
The good news is that cars are insured against hail damage if they're protected by a comprehensive auto insurance policy, which covers certain types of non-collision damage, NextAdvisor reports. "Car insurance, generally speaking, will cover hail damage if you carry the right type of coverage," Charlie Wendland, head of claims at the insurance-technology company Branch Insurance, told the site. "Comprehensive insurance is the coverage used for hail damage, regardless of the company."
Article continues below advertisement
Article continues below advertisement
HO-3 homeowners insurance usually covers hail damage to roofs.
Of course, hail damage isn't just limited to vehicles. Hail can also damage the roof of your house. According to the Bill Reagan Roofing Company, hail damage can reduce a roof's lifespan or even necessitate a roof replacement. Hail with a diameter of one inch or wider causes dents and dings in roof shingles, the company adds.
Again, there's good news. The HO-3 type of homeowners insurance, the most common type of home insurance, usually covers roof damage from hail, according to The Balance. In some states, particularly those where thunderstorms are common, homeowners insurance providers may apply a separate deductible for hail. There are other caveats. A homeowners insurance policy may only cover the replacement of the damaged shingles, and it might limit coverage to the actual cash value of your roof.
Article continues below advertisement
Article continues below advertisement
Homeowners insurance policies may also cover hail damage to solar panels.
If you have solar panels on your roof, homeowners insurance coverage may cover hail damage to those as well, according to Progressive. However, the company does note that some insurance providers choose not to cover wind or hail damage to solar panels mounted on roofs.
If you have solar panels mounted on a different roof on your property, like on a shed, they might be covered under the "other structures" coverage of your insurance policy, Progressive adds.
You may need an add-on or a separate insurance policy for solar panel carports on panels mounted on the ground, Nationwide notes.
As always, check the fine print of your auto and homeowners insurance for details on your specific coverage.