DMYI SPAC Stock Is a Must for Bargain Hunters Before IonQ Merger
An opportunity has opened for bargain seekers to buy DMYI SPAC stock for a good price before the IonQ merger closing date.
Quantum computing company IonQ is going public through blank-check company DMY Technology Group III (DMYI). The deal is expected to close soon. Should you buy DMYI SPAC stock before the IonQ merger closing date?
Article continues below advertisement
Article continues below advertisement
The DMY SPAC raised $300 million in November 2020 to invest in a company working on consumer technology. After the merger closes, IonQ stock will trade under the ticker symbol "IONQ" and replace the current "DMYI" stock symbol on the NYSE.
Article continues below advertisement
IonQ and DMYI SPAC merger date news
DMY and IonQ announced their merger agreement on March 8. The parties haven't set a firm merger closing date yet. Since the boards on both sides have approved the deal, the merger needs approval from DMY SPAC shareholders. The blank-check company will set a date for shareholders to vote on the deal. DMY shareholders will vote to seal the transaction. The merger deal could collapse if it isn't completed by December 7, 2021.
Quantum computing explained
Conventional computers have provided the basis for significant breakthroughs across industries. However, their ability is limited when it comes to solving certain complex computing problems. Quantum computing promises to overcome the limitations of conventional computers and lead to even more breakthroughs in technology, science, and other areas of life and the economy.
Article continues below advertisement
Article continues below advertisement
IonQ quantum computing cryptocurrency
As companies like IonQ, Google, and IBM advance with building quantum computers, the cryptocurrency world is watching closely. Quantum computers will have the ability to break conventional encryption. As a result, some people fear that bitcoin and other crypto networks might be vulnerable to hacking for some time after quantum computers come to the market. Other people think that the fears about quantum computing breaking crypto systems are overblown.
IonQ's stock price valuation and investor stakes
IonQ IPO stock is expected to have a market cap of $2 billion after the merger closes compared to a $330 million market cap for DMY SPAC. Existing IonQ investors will own 64 percent of the combined company. DMYI stock investors and outside sponsors of the blank-check company will own a 15 percent stake.
Article continues below advertisement
A stake of 17.6 percent in IonQ will go to PIPE investors and the sponsors will get a 3.4 percent stake. IonQ PIPE attracted blue-chip investors including Fidelity funds, Silver Lake, MSD Partners, and Bill Gate's Breakthrough Energy Ventures.
Article continues below advertisement
IonQ's stock forecast and financial projections
IonQ DMYI SPAC stock has traded in the range of $10.50–$15.39 since its debut. The outlook for IonQ stock is tied to the pace of progress the company is making in its quantum computing program as well as financials.
Article continues below advertisement
IonQ targets to have built tiny quantum computers that can be networked by 2023. From there it aims to bring a broad quantum advantage by 2025. The company forecasts its revenue to leap from a projected $15 million in 2022 to $522 million in 2026. The company aims to turn a profit of $26 million in 2025, which it forecasts will grow to $144 million in 2026.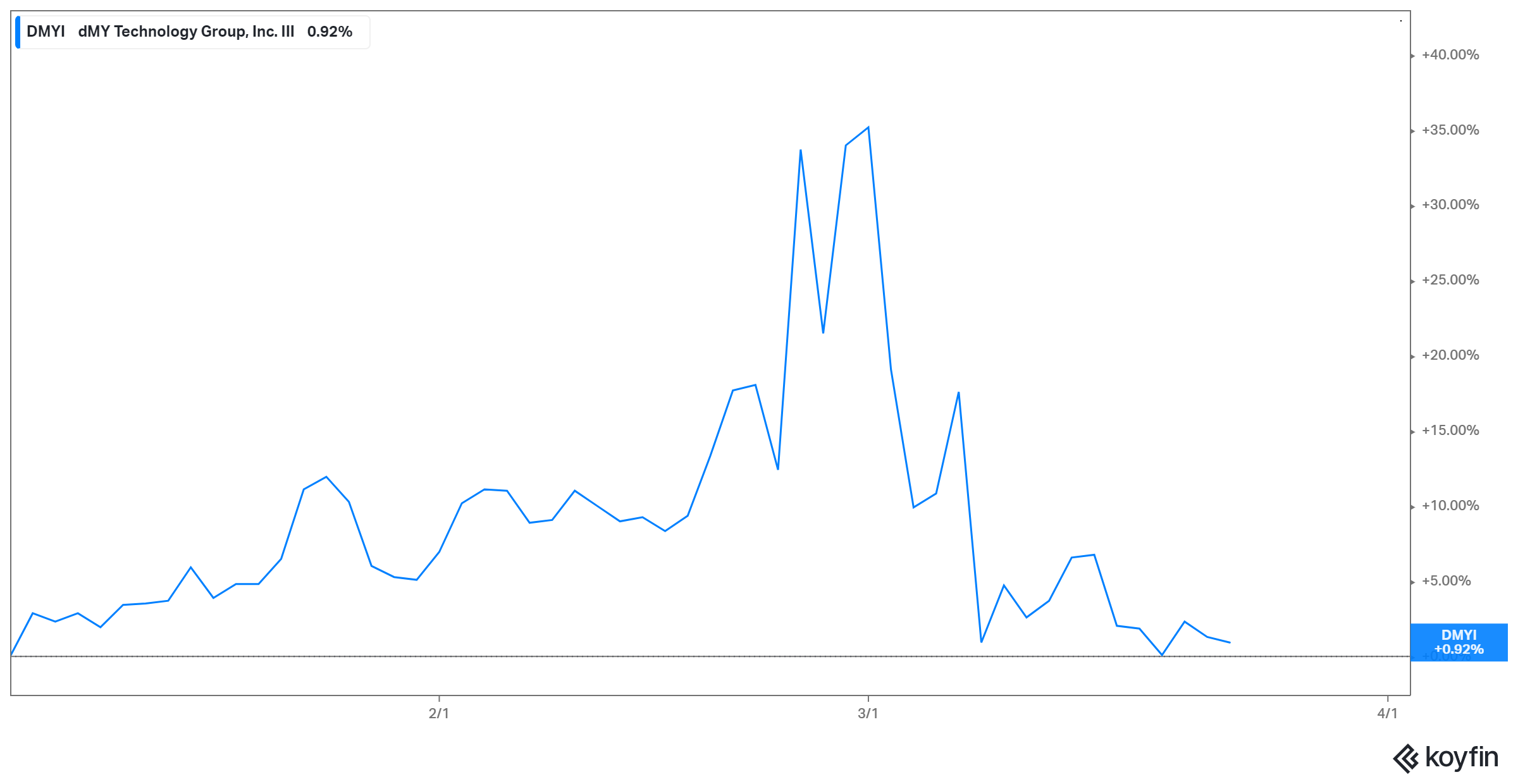 Article continues below advertisement
Article continues below advertisement
Why DMYI SPAC stock is a buy.
There are several reasons investors might like IonQ DMYI SPAC stock. First, IonQ is on track to become the first publicly-traded quantum computing pure-play company. Now that's an opportunity you wouldn't want to miss considering how pioneering companies like Tesla and Amazon have rewarded first-mover investors.
In a market where valuations are generally stretched, it's worth considering what appears to be a bargain opportunity. At about $11 per share, buying DMYI stock now is like investing in its IPO. The current price offers an opportunity to enter the stock at nearly a 30 percent discount to its recent peak.
Article continues below advertisement
If you look around, many SPAC stocks trade at a hefty valuation to their listing price despite not closing a merger or finding a target. For example, Bill Ackman's PSTH SPAC stock trades at a 190 percent premium to its IPO price despite being turned down by Stripe and no merger target news yet. Therefore, DMYI SPAC stock looks like a fair deal before the IonQ merger date.
You can sense a great business by looking at who's backing it. Some of the most prominent companies in the technology space have been attracted to what IonQ is doing. IonQ backers include Amazon, Google, and Samsung. Jet maker Airbus and defense giant Lockheed Martin have also invested in IonQ.