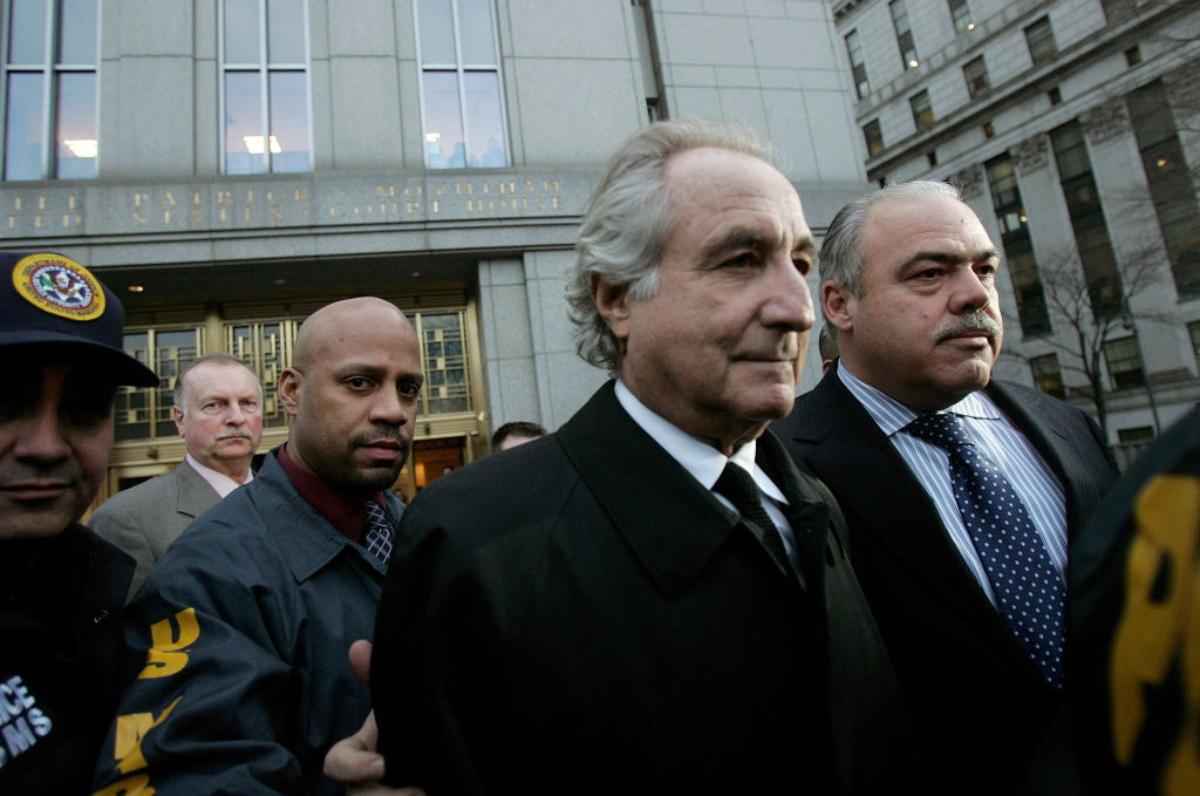 Ponzi Scammer Bernie Madoff's Net Worth Was in the Negative Billions at His Death
By Kathryn Underwood

Apr. 14 2021, Updated 2:07 p.m. ET
 Many who lost their life savings to him may be relieved at the news of Bernie Madoff's death Wednesday at age 82. Though he suffered with kidney disease at the end of his life, those whom Madoff scammed out of a total of nearly $65 billion likely had little sympathy for him. 
Article continues below advertisement
 Madoff was arrested in December 2008 and pleaded guilty to 11 federal felony counts, including wire fraud, mail fraud, perjury, securities fraud, and money laundering. He was convicted in 2009 of massive fraud through the largest Ponzi scheme in history. As punishment, Madoff forfeited $170 billion and received a sentence of 150 years in prison.  
 The New York Times reported that due to the $170 billion forfeiture, "Mr. Madoff leaves nothing of his former wealth behind." That figure included any money in Madoff's accounts, even those including funds from his legitimate business operations. Madoff did not have any net worth to his name upon his death.  
Article continues below advertisement
Madoff's massive scam places his net worth in the negative.
 In 1960, Bernie Madoff began his company Bernard L. Madoff Investment Securities LLC at the age of 22. By the late 1980s, he was reportedly making around $100 million annually. Madoff also served as the Nasdaq chairman in 1990, 1991, and 1993.  
 Madoff reportedly began by defrauding acquaintances and relatives in Manhattan and Long Island. He claimed to be using split-strike conversion to generate large returns on investments, but in reality was only depositing funds into one bank account. Funds from that were used to pay clients if they decided to cash out. 
Article continues below advertisement
 The late Hofstra University alum managed to continually fund redemptions (when clients wanted to withdraw their investment) through capital from new investors. He claimed the fraud began in the 1990s, though prosecutors and others believed it may be started much earlier.   
 In 2008, following the collapse of Lehman Brothers, many hedge fund managers and other institutional investors made large withdrawals from their Madoff accounts. Madoff confessed his fraudulent dealings to his two sons when he couldn't fulfill all of the redemption orders. They turned him in to the authorities.  
Article continues below advertisement
Among those who lost massive amounts of money to Madoff's Ponzi scheme were institutional investors, wealthy families, universities, and charitable organizations. In December 2020, the Justice Department announced a sixth installment of funds totaling $488 million to victims. 
That newest amount would result in a total of $3.2 billion restored through the Madoff Victim Fund.  
What is a Ponzi scheme?
In a Ponzi scheme, fraud is committed by organizers who promise to invest money and generate high returns. Instead, they fund returns to existing investors through funds collected from new investors. Essentially, the only way for any investor to make money is if more investors are continually recruited. 
Article continues below advertisement
 Ponzi schemes got their name from Charles Ponzi, who ran a postage-stamp scam in the 1920s. Bernie Madoff, as other Ponzi scheme frontrunners, had to continuously scout out new investors to keep up the appearance of a successful investment firm.  
 Madoff had managed to hold the fraud together for decades thanks to "elaborate account statements and a deep reservoir of trust from his investors and regulators" (NYT).