Alcoa Stock Falls After Q4 Earnings: Can Biden Revive the Industry?
By Mohit Oberoi, CFA

Jan. 21 2021, Updated 8:37 a.m. ET
Alcoa stock was lower in premarket trading on Thursday despite the company posting better-than-expected Q4 earnings. U.S. aluminum producers did not benefit much from Trump's tariffs, as global aluminum prices plunged. What's the outlook for Alcoa stock under Biden's presidency?
Article continues below advertisement
The quarterly earnings season in the U.S. used to begin with Alcoa's earnings. However, as the company is now a pale shadow of its former self, like U.S. Steel Corporation, its earnings don't attract the same attention—though metal companies' earnings can still give us crucial insights into the health of the economy.
How Alcoa performed under Trump's presidency
In Trump's four-year tenure, Alcoa stock fell almost 36 percent as U.S. stock markets rose to record highs. U.S. steel stocks underperformed the market in Trump's presidency, despite Trump's promises in his 2016 campaign to protect the U.S. manufacturing sector.
Article continues below advertisement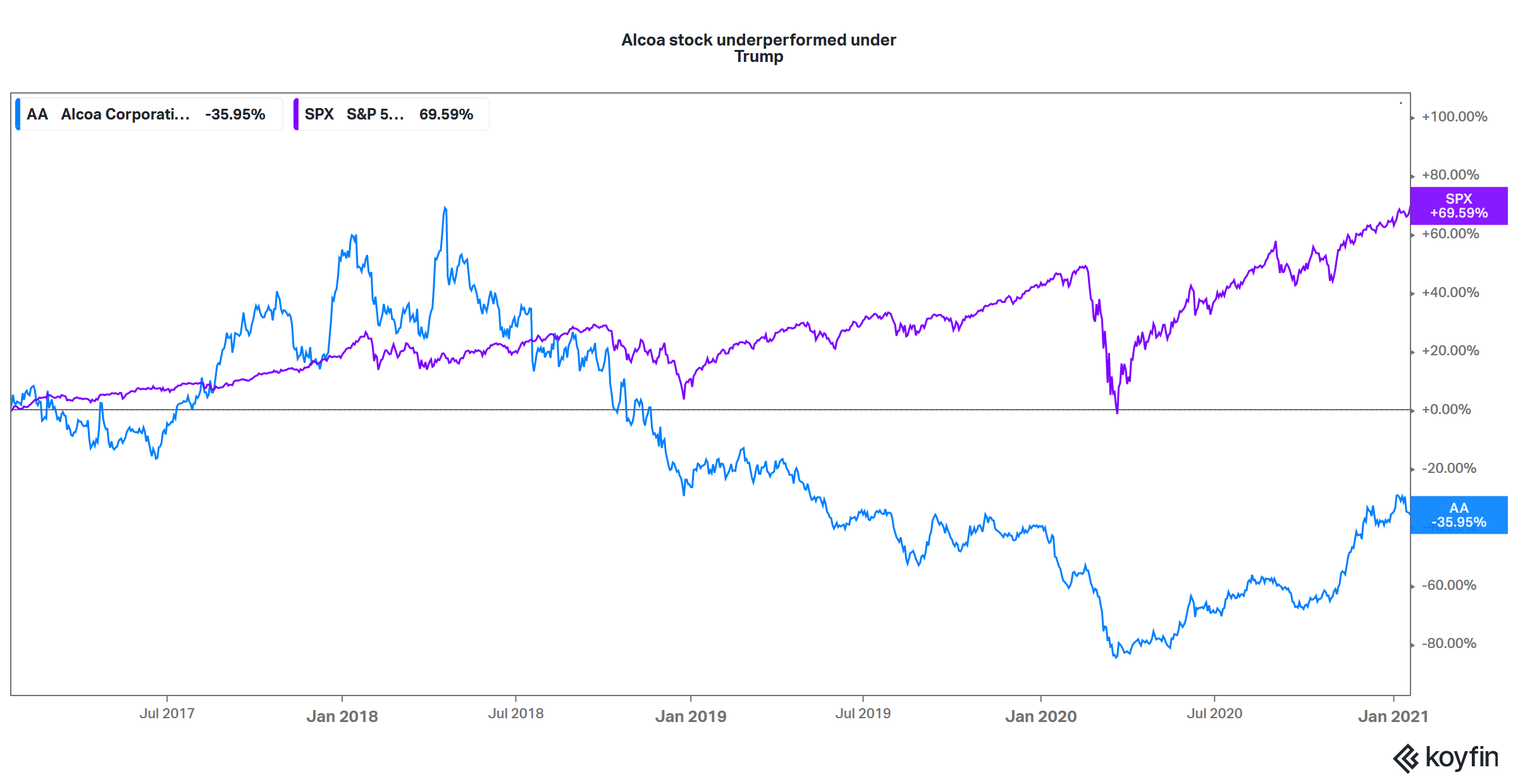 Will Biden waive Section 232 aluminum tariffs?
In a bid to protect U.S. aluminum producers from imports, Trump imposed a 10 percent tariff on aluminum imports. He subsequently waived the tariffs on Canada, the largest aluminum exporter to the U.S.
Article continues below advertisement
Biden will have to consider the conflicting demands of domestic aluminum producers and trading partners before making a decision on the Section 232 aluminum tariffs. Unlike U.S. steel production capacity, which is largely in line with domestic demand, U.S. aluminum production capacity is woefully short. Unless more smelters open, the U.S. will likely continue to rely on imports.
Article continues below advertisement
Alcoa's earnings beat estimates but stock falls
Alcoa released its Q4 2020 earnings after markets closed on Jan. 20. Its revenue of $2.39 billion was largely in line with estimates. However, its adjusted EPS of $0.26 more than doubled analysts' forecast. Typically, we'd expect stock to rise after an earnings beat. However, that wasn't the case with Alcoa, and its stock was down 3 percent in post-market trading.
Alcoa expects its Q1 2021 earnings to improve on higher alumina and aluminum prices. However, that could be offset by lower bauxite prices.
Article continues below advertisement
What will Biden's economic policies mean for Alcoa?
Biden has vowed to make massive investments in the renewable energy sector, which could boost demand for aluminum. Also, if U.S.-China relations get better under Biden's presidency, sentiment in the aluminum market may improve.
Article continues below advertisement
From a demand-supply perspective, aluminum markets look well placed in 2021. Aluminum demand is expected to rise around the world—including in China, the largest aluminum consumer. Alcoa expects global aluminum markets to be close to balanced in 2021.
Meanwhile, China's aluminum production has ballooned over the last decade, and some of its power plants are coal-based and heavy polluters. If the Biden administration takes on China for its climate policies, Alcoa and other aluminum producers may benefit. The surge in Chinese aluminum exports is the biggest challenge for aluminum producers in other parts of the world.
Also, if Biden manages to build a successful global alliance against China for its trade policies, the issue of Chinese aluminum production overcapacity could be resolved. As we saw with steel, global outrage against Chinese exports compelled the country to shut down some of its steel production. In aluminum, there's been no such global pressure on China. Here is where the Biden administration could come to Alcoa's rescue.