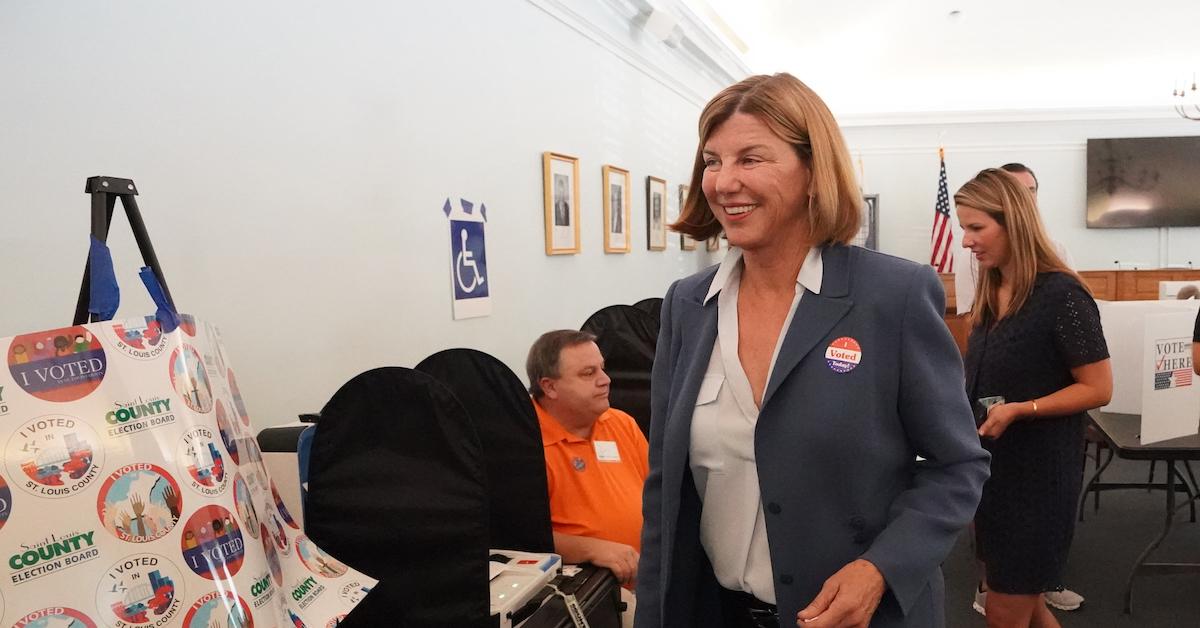 Trudy Busch Valentine's Net Worth and Investments May Impede Her Race for Senate
A Senate candidate, Trudy Busch Valentine, is in hot water with voters regarding her wealth and investments in healthcare. There appears to be a conflict of interest for some voters because Valentine's massive wealth is largely attributed to the various stock investments she has made in healthcare companies. She has pledged to stand up to healthcare companies, but some wonder if her investments and net worth will get in the way.
Article continues below advertisement
Valentine isn't the first wealthy candidate to run for Senate and she won't be the last. However, her holdings and massive wealth may bar her from winning at all. Here's what we know about Valentine's net worth and investments.
Article continues below advertisement
Trudy Busch Valentine comes from a wealthy family.
Valentine is the daughter of Gertrude Buholzer and August Anheuser Busch. Her parents were business owners who founded the Anheuser-Busch company, a brewery network. She was one of six siblings and was raised doing volunteer work such as being a candy striper at a nearby hospital when she was 13. Valentine became a nurse and works on various nursing boards.
As the COVID-19 pandemic persisted, Valentine helped administer COVID-19 vaccines. Her husband, John Valentine, died from cancer at 49 and her eldest son Matthew died from opioid addiction. These events are considered by Valentine to be additional catalysts that drive her desire to tackle health insurance issues such as cost and accessibility for Missourians.
Article continues below advertisement
Trudy Busch Valentine's campaign pledges to take down insurance companies.
Valentine hopes to represent the state of Missouri in the U.S. Senate and she's pledging to tackle a few heavy ticket issues. "Missourians need a senator who will work for them," she wrote on Twitter. Valentine says she plans to "stand up to insurance companies" put more resources into mental healthcare coverage, "help older Missourians age at home," and put more protection over Social Security and Medicare.
Article continues below advertisement
Valentine's wealth has been an issue regarding her run for Senate simply because she has made numerous investments in health insurance companies, the ones she says she plans to stand up to. For some voters and critics, there's a conflict of interest here. She has promised, however, that if elected, she won't take the Senate salary of $174,000. The Missouri Independent wrote that this promise may make another slew of problems for Valentine.
Some could argue that promise is akin to a law that prohibits candidates from "offering or promising to discharge the duties of such office for a less sum than the salary, fees, or emoluments as fixed by law." The Missouri Independent also wrote that in 2021, Valentine's income, which was between $4.25 million and $30.5 million, was between 74 to 533 times greater than Missouri's median income of $57,290. Valentine and her staff are trying to minimize the potential damage this could do to her odds of winning.
Article continues below advertisement
Her spokesperson Elizabeth Markowitz said that Valentine's life has been dedicated to service and that she hopes to continue in that line of service by running for office. She also said, "That's one of the reasons why she and her husband will put all holdings in a bling trust and why she will co-sponsor legislation to ban members of Congress and their families from trading stock while in office."
Article continues below advertisement
Trudy Busch Valentine is a nurse and candidate for the U.S. Senate on behalf of the state of Missouri.
Birthdate: June 1, 1957
Birthname: Trudy Busch
Birthplace: St. Louis, Mo.
Spouse: John Valentine
Children: 6
Education: Saint Louis University
Political party: Democrat
Valentine's net worth is a conflict of interest for voters.
When it comes to Valentine's wealth, there's quite a bit to comb through. According to Business Insider, which intercepted her financial disclosure, Valentine has a high net worth. The financial disclosure puts Valentine's net worth (combined with her late husband's) between $69.4 million and $219.4 million. With the $219.4 million figure, if Valentine is elected she would be the wealthiest member of Congress.
Article continues below advertisement
Valentine has numerous investments as well. Her financial disclosure revealed that she has stock holdings in health insurance companies such as Humana, United Health, and CVS Health. CVS Health is the parent company of Aetna. An analysis of the holdings done by Business Insider indicates that the shares are worth between $768,008 and $1.7 million.
In 2021 alone, Valentine earned dividend income and capital gains between $237,908 and $2.1 million. If you're curious about why the financial disclosures only report ranges for capital gains and dividends, it's because politicians only have to give broad estimates for all of their gains according to ProPublica. Valentine also comes from a wealthy family that owned a minority stake in Anheuser-Busch.