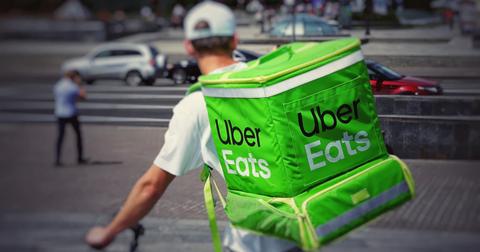 Will Uber and Postmates Announce Their Acquisition Deal Today?
By Ambrish Shah

Updated
Uber Technologies (NYSE:UBER) has agreed to buy food-delivery service Postmates for $2.65 billion. The companies will likely announce the deal today. So far, the companies haven't commented on the matter.
According to a Reuters report, "The deal has been approved by Uber's board and could be announced as soon as Monday, Bloomberg reported, adding that Pierre-Dimitri Gore-Coty, head of Uber's food delivery business, Uber Eats, is expected to continue to run the combined delivery business."
The report also said, "Uber had plans to also acquire Grubhub Inc through its Uber Eats business, but walked away from the deal as Just Eat Takeaway.com NV eventually reached a $7.3 billion agreement last month to buy the U.S. online food delivery company."
Uber stock rose 5.9% in pre-market trading at 6:30 AM ET today.
Uber's growth projections
In the first quarter of 2020, Uber posted an adjusted EPS of -$0.64 compared to -$2.23 in the first quarter of 2019. The adjusted EPS beat analysts' consensus estimate of -$0.88. The company generated sales of $3.54 billion—a growth of 14.3% from the same quarter a year ago. The ride-sharing company beat analysts' consensus revenue expectation of $3.53 billion.
Wall Street analysts expect Uber to post an adjusted EPS of -$0.85 on total revenue of $2.19 billion in the second quarter of 2020. Analysts also expect the company's sales to decrease by 7.6% YoY (year-over-year) in 2020 to $13.07 billion. The sales could rise by 42.4% YoY in 2021 to $18.62 billion. The adjusted EPS would rise from -$6.81 in 2019 to -$3.59 in 2020. Analysts also expect an adjusted EPS of -$1.56 in 2021.
Analysts' target price and recommendations
Among the 38 analysts tracking Uber stock, 32 recommend a "buy," five recommend a "hold," and one recommends a "sell." Analysts' mean 12-month target price on the stock is $40.74, which implies a 32.8% gain from the current level of $30.68. The consensus 12-month target price for the stock has risen from $40.12 in June—a growth of 1.5%.
Stock returns
Uber stock rose 0.8% on July 2 and ended the day at $30.68. At this closing price, the company's market capitalization is $53.2 billion. The stock is trading 32.8% below its 52-week high of $45.63 and 123.8% higher than its 52-week low of $13.71. On a year-to-date basis, the stock has risen by 3.2% as of July 2.
Based on the closing price on July 2, Uber stock was trading 5.9% below its 20-day moving average of $32.62. The stock is also trading 5.6% below its 50-day moving average of $32.50 and 1.0% below its 100-day moving average of $31.00. Uber's 14-day relative strength index score is 43, which suggests that it isn't oversold or overbought.
Uber stock has an upper Bollinger Band level of $37.18, while its lower Bollinger Band level is $28.06. On July 2, the stock closed near its middle Bollinger Band level of $32.62, which suggests that it isn't oversold or overbought.
On July 2, the Dow Jones Industrial Average rose by 92 points or 0.36%. The S&P 500 and the Nasdaq Composite rose 0.45% and 0.52%, respectively.