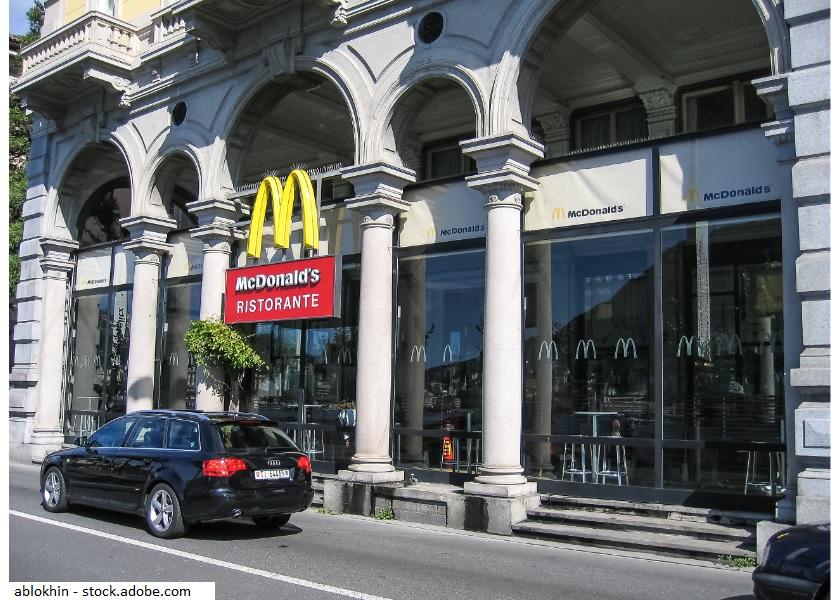 McDonald's Global Presence and the Three-Legged Stool
McDonald's (MCD), the world's largest fast food chain, has over 38,000 restaurants across 120 countries. It was founded in the US in 1940 as a standalone barbecue restaurant. It was started by Richard and Maurice McDonald. They later revolutionized the company's business model using production line principles to set up hamburger stands.
In 1955, businessman Ray Kroc joined the team and started franchising restaurants and improving the company's return on capital. McDonald's opened its first international restaurants in Canada and Puerto Rico in 1967. Today, it serves nearly 70 million global customers daily.
The franchise's most common menu items include hamburgers, cheeseburgers, french fries, chicken, soft drinks, milkshakes, breakfast items, and desserts. Moreover, the company has broadened its menu to include salads, fruits, wraps, and smoothies.
The holding company, its franchisees, and its affiliates operate most McDonald's restaurants. Its revenues consist of owned-restaurant revenue, royalties, rent, and franchise fees. In 2018, it had approximately $21.0 billion in sales and $5.9 billion in earnings.
Article continues below advertisement
McDonald's global business model: The three-legged stool
McDonald's business model, depicted by the three-legged stool of owners and operators, suppliers, and company employees, is its foundation. The balance of interests among the three groups is essential to the company's success. The company currently has over 210,000 employees. Including employees at franchisees, 1.9 million people work for McDonald's. It had 35,085 franchised restaurants and 2,770 company-operated restaurants at the end of 2018. That means approximately 93% of its restaurants are franchised.
The strength of the alignment among the company, its franchisees, its suppliers, and its employees has been key to its success. This business model enables it to consistently deliver locally relevant restaurant experiences to customers. It also enables it to be an integral part of the communities it serves. Moreover, the dynamic allows it to identify, implement, and scale innovative ideas that meet customers' changing needs and preferences.
Article continues below advertisement
McDonald's franchisees
McDonald's has a successful franchise business model wherein all restaurants are operated either by the company or by franchisees. This includes conventional franchisees under franchise arrangements and developmental licensees and foreign affiliate markets under license agreements. The company's operations assure consistency and high quality at every restaurant. When granting franchises or licenses, the company is selective, and it generally doesn't franchise to passive investors.
Overall, McDonald's combination of owned and franchised restaurants has been very profitable for its investors in the past few years.
McDonald's global footprint
Until 2018, McDonald's divided its geographic segments as follows:
The US: This was the company's largest geographic segment.
International Lead Markets: This segment included McDonald's established markets, such as Australia, Canada, France, Germany, and the United Kingdom.
High Growth Markets: These were the markets the company believed to have high expansion potential. They included China, Italy, Korea, Poland, Russia, Spain, Switzerland, and the Netherlands.
Foundational Markets: The remaining markets in the McDonald's system were included here. Most operated under a largely franchised model.
In 2018, the US contributed 36% of McDonald's total revenue. However, it contributed 46% of the company's operating income for the year. International lead markets, including Australia, Canada, France, Germany, and the United Kingdom, contributed 36% of the company's revenue and 40% of its operating income. International lead markets and the US contributed around 72% of the company's 2018 revenue.
Article continues below advertisement
In comparison, high-growth markets contributed 19% of the company's revenue. However, these contributed much less (11%) to McDonald's operating income. Similarly, foundational markets contributed just 4% to the company's operating income even though they accounted for 8% of its revenue. However, the company has reorganized its segments.
The three segments
Effective January 1, 2019, McDonald's reorganized its geographic segments as follows:
US: This segment is the same as before.
International Operated Markets: This segment includes countries in which the company operates restaurants itself. These include Australia, Canada, France, Germany, Italy, the Netherlands, Russia, Spain, and the United Kingdom. Comparable sales in the International Operated segment grew 5.6% in the third quarter.
International Developmental Licensed Markets: This segment contains mostly the developmental licensee and affiliate markets. Its comparable sales grew 8.1% in the third quarter.
Article continues below advertisement
Markets around the world
All the markets in which McDonald's operates have different cultures and taste preferences. A one-size-fits-all strategy doesn't necessarily work in the restaurant industry.
The US is McDonald's home market as well as its oldest. The US alone had 13,914 restaurants at the end of 2018. The company has a presence in almost every state, and it competes with Yum! Brands (YUM), Wendy's (WEN), and other chains. Its US comparable sales grew 4.8% in the third quarter.
McDonald's Asia-Pacific and Middle East market is very diverse in terms of tastes, so it's been careful to customize its offerings there. These offerings include rice burgers in Hong Kong, the McCurry and Pizza Puff in India, and the shrimp patty and Teriyaki burgers in Japan. The company offers the Bulgogi burger in Korea, pita bread sandwiches in the Middle East, and grilled chicken sandwiches in the African market.
The Japanese market
In Japan, McDonald's faces tough challenges due to the aging population and declining labor force. Still, it has grown comparable sales there for the last four years by offering menu items based on taste preferences and focusing on table service. This approach is an example of the customization it offers to succeed in diverse markets.
The UK market delivered the 54th consecutive quarter of comparable sales growth in the third quarter. Similarly, France and Germany marked ten consecutive quarters of comparable sales growth.
Investors can gain exposure to the industry through the PowerShares Dynamic Leisure and Entertainment ETF (PEJ) and the PowerShares Dynamic Food & Beverage ETF (PBJ).
The above post is an update of posts by Samantha Nielson and Adam Jones for Market Realist.